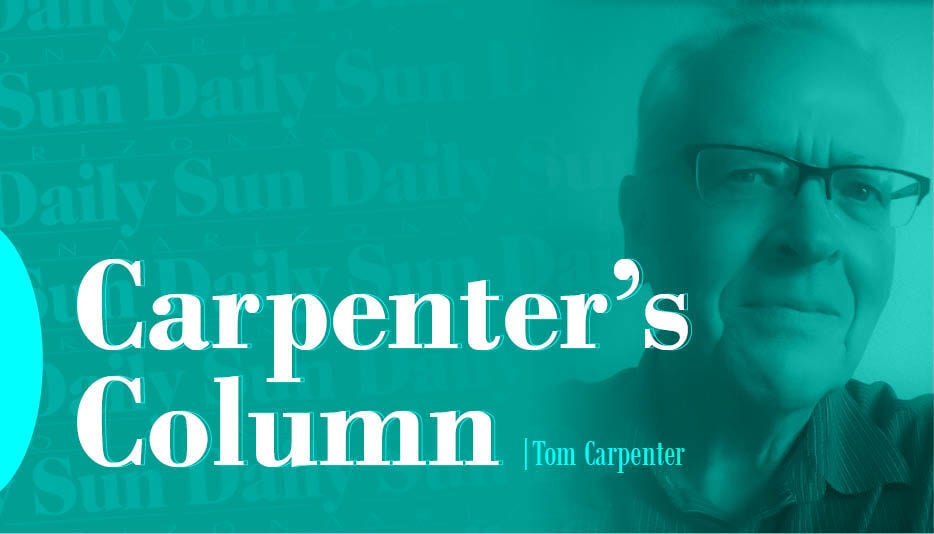 I think it's safe to assume that somewhere in the lower branches of my family tree, if not the trunk itself, somebody was handy with a hammer and a saw. Thanks to dear ol' great-great-great-great-great-(Someone stop me, please!) grandpa, there's a lot of pressure on me to demonstrate prowess with woodworking tools.
I'm sure that in the arborist's nightmare that is my family tree there is a stout branch of skilled craftsmen, of "finish" Carpenters (and I don't mean my distant cousins in Helsinki).
However, my knotty, sap-dripping branch is the "rough" Carpenter line. We can achieve plumb and level and square, but we're talking fences and back steps, not cabinets and coffins.
A Cletus Carpenter is purported to have worked as an undertaker's helper in Abilene, Kansas, in 1871. Family lore has it that Marshal Wild Bill Hickok stopped by the undertaker's shop to inquire into the status of a coffin under construction. A flurry of law enforcement had depleted the existing inventory. Marshal Hickock had a recently secured the demise of a miscreant and was anxious to conclude the matter with a quick, affordable burial.
The story goes that Wild Bill inspected the box Cletus was building and remarked, "I guess the deceased won't mind all those nails sticking through, but, you sir, are the worst coffin-maker I have ever met. I hope you find another line of work before I need one of these." Hickock was killed in Deadwood five years later. Uncle Cletus had taken Wild Bill's advice and abandoned the working tools of his profession and took up with a woman who made her living with pen and ink.
Hindsight is 20-400 in my family, so expectations of woodworking prowess followed the male line like a trail of bent nails. Despite the family history, great-uncle Roy "Scrap Wood" Carpenter tried to make a go of it as a housebuilder.
The story goes that rumors of questionable safety standards and unfair labor practices had reached the local OSHA office. An investigator paid a visit to Great-uncle Scrap Wood.
The official demanded that ol' Scrap Wood provide a list of his employees with their wages listed.
"Well, there's Darold, my finisher, who's been with me for three years. I pay him $900 a week. We have an apprentice, Ralph. He's been here six months and I pay him $500 a week. Then there's the half-wit that works here 18 hours a day. He makes 10 dollars a week and I buy him a case of beer every Friday."
The investigator said, "That's the guy I want to talk to, the half-wit."
Ol' Scrap Wood said, "That'd be me."
Even to this day, when introductions are made and fists are bumped, I can expect to hear through face masks the muffled question, "I bet you're good at building houses." My bloodshot eyes twinkle above my face mask like I've never heard that that before. All the while, I'm thinking, Bub, just be grateful my name isn't Tom Neurosurgeon.
Get local news delivered to your inbox!
Subscribe to our Daily Headlines newsletter.