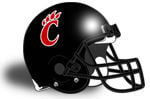 Bubba Ganter had never been so nervous for an interview, and he's had quite the colorful past when it comes to jobs.
The former Coconino Panthers football player recently joined the program's coaching staff, which head coach Mike Lapsley has been busy beefing up over the offseason.
"To come back and see what they have done to the program and how they built it up, it was attractive," Ganter said on Thursday, comfortably sitting in the coaches room where he plans to spend much more time.
The Panthers made the state playoffs in the fall for the first time since the 2005 season, posting a 9-1 record and wining the Grand Canyon Region with a 6-0 mark. It was the first year the program was under the helm of Lapsley, who was an assistant the season prior under Mike Moran.
Before Lapsley and Moran helped turn things around, the program struggled mightily. So Lapsley decided that in order to keep the program heading in the right direction, adding some coaching help could be key.
"My expectations are not to be a weak link, but a strong one that can help us all reach any goal that we set," Ganter said.
The goal is to win a 4A Conference state championship.
The Panthers were defeated in the first round at home, 10-9 to Gila Ridge, playing in the first-ever playoff game in Cromer Stadium's history. After the season ended, players and coaches felt like they wanted to keep going.
"They felt lost," Lapsley said.
But Coconino knew the right way to go about things was to take a breather.
Around the same time, Ganter himself felt like he was looking for something, searching for a new path in life. Things were coming full circle for the former Panthers standout defensive lineman, who coached the position at the high school and college levels, as well having played the position off and on in arena football.
You have free articles remaining.
He worked as a body guard for Dolly Parton and New Kids on the Block, and had several roles in Hollywood over the years, including making appearances on Nickelodeon's "Game Shakers" and "Sam & Cat."
After seeing how far the Panthers football program had come, his passion of the gridiron rekindled.
"Football's been my life, been my passion. If somebody were to ask me what do I enjoy more, it's football. Acting and all that, football comes before it all," Ganter said.
In 2018, Coconino just missed the postseason, finishing 7-3 overall to go with a 4-2 record in the region standings.
"There's a lot of pressure, I feel pressure," Ganter said. "They are not putting pressure on me, I am putting it on myself. I don't want to let Coach Lapsley -- who gave me the opportunity of a lifetime to coach for my alma mater -- down, so I do feel that pressure to bring my A game to an already A-plus program."
After having spent some time distanced from the game, Ganter started inching his way back to it. He attended Panthers games, and one stood out to him. It was the rally for a victory over Prescott in 2019 for a 34-27 win.
Ganter put a word in Lapley's ear that he would like to coach for his former school, where he played as a three-year starter for in the 1980s.
"It worked pretty well, too" Lapsley said.
The two eventually got together and talked about adding Ganter to the staff. Ganter did some soul searching as the idea of coaching the defensive line for the Panthers started to take the shape of reality.
"I had to make sure that I was willing to make that commitment, and I made sure people in Hollywood understood that when I make a commitment, I make a commitment," Ganter said.
Now, a program that's been on the rise has an increased vibe of excitement, hunger and anticipation.
"With Bubba coming on campus, it's already changed. With his addition, along with others, it says we are taking a next step," Lapsley said.
As they should be, the kids, as Lapsley said, are feeding off the the fact that the program is growing with the hopes of bringing about more success.