A year after a 1,000-year flood event tore through Timberline, Coconino County has restored flood mitigation infrastructure along the northern part of the Schultz Flood area, a necessity for managing future precipitation as nearby watersheds continue to heal.
Parts of Brandis Way, west of U.S. Highway 89, were washed out on July 18, 2018 after nearly 5 inches of rain fell onto the Schultz Fire scar within two hours, causing water carrying boulders and tree trunks to race down the mountain, rip through existing storm culverts, and flow into surrounding homes and outdoor structures.
Construction to restore the storm culverts and natural channels that stretch from the forest to alongside the highway began in late May, after county officials and local engineers spent the winter planning long-term solutions to direct water and sediment flows away from residences and roads in the case of another flood.
Brandis Way is now lined with storm culverts reinforced with various materials, progressing from interlocked blocks closest to the highway to concrete to what will become vegetation: grass was planted underneath turf reinforcement mats, which will prevent the channel walls from eroding until the grass can grow through the mats and provide additional stabilization.
Coconino County Engineer Christopher Tressler said these mats are preferable to concrete because they are more natural and less expensive. Concrete had to be used in areas where snow plows reach, though; if any blades caught the mats, they would be destroyed.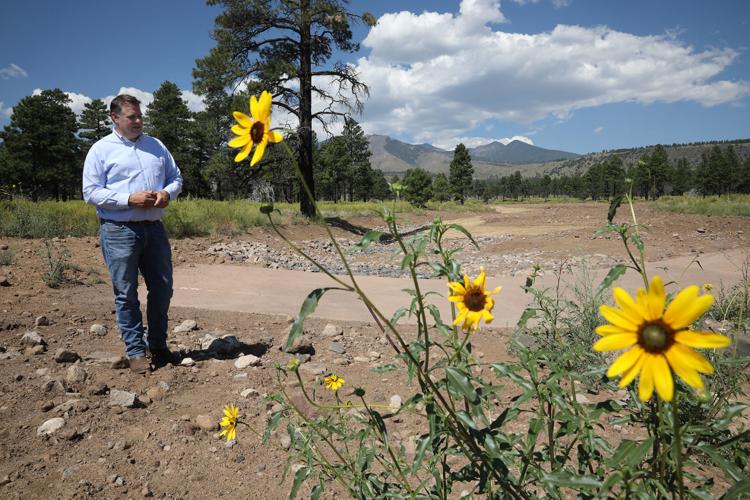 At the end of Brandis Way, where U.S. Forest Service land meets residential properties and the storm channel ends, concrete slabs forming weirs add additional structure to the dirt channel and protect underground utility lines.
Allen Haden, an ecologist with Natural Channel Design, Inc., the firm that was contracted to design the original mitigation system after the Schultz Fire and returned for reconstruction this year, said sections of this channel were widened to reduce the intensity of flowing water and debris.
Though the mitigation infrastructure has been restored, Tressler said flood preparedness has become the "new normal" for residents along the various watersheds that line this side of the mountains ever since the Schultz Fire in 2010.
You have free articles remaining.
Register for more free articles
Stay logged in to skip the surveys
Many residences throughout the area still host the Jersey barriers and flood walls installed nearly a decade ago to protect from initial post-wildfire flooding.
None of these mitigation tools were in place before the 2010 fire and flooding, but whether they will hold up to another 1,000-year flood will be determined by the event itself.
"We've designed this to handle the capacity that financially and land-wise that we could afford to do. We know that there is capacity here to handle a pretty significant event," Tressler said.
Tressler and his team are now hoping to work with the Forest Service to move mitigation efforts farther into the forest.
"We knew early on that the solution needed to start on the forest. It couldn't just be in the residential area," he said.
MUSEUM FIRE
Much like the continued flood threat beneath the Schultz Fire scar, the Museum Fire has also left the possibility of flooding in its wake for residents of the Sunnyside community.
"Soil conditions are pretty much the same as they were during Schultz. It's just a matter of putting the rain on it. If we have the rain, we are in big danger of having a large flood event that does a lot of damage to our resources," Haden said.
Tressler added that $303 million in property value could be impacted if post-fire flooding does occur in Sunnyside.