In a small, blue-walled room at the back of Flagstaff's downtown library, Stacy Murison and Jamie Paul launched into their excitement.
"It's so special to have Stacy here," said Paul, events and marketing librarian with the Flagstaff City-Coconino County Public Library.
Murison is the library's first-ever writer in residence, Paul the one who brought her to the position; both teeter on the verge of bubbling over as they list all the program has managed to do since its February beginning.
The residency is funded through an Arizona Library Association grant and has many facets beyond pulling in local authors (two per year); it also requires that each writer use the space and library resources to create public programming. For Murison this translates to four hours each week leading resume workshops and laying out writing prompts on a table in front of her office — a new one each week.
"The first day I walked in and thought 'this is one of the best things ever.' I love books, I love reading. I practically lived in the library when I was little. So to think everyday I look out the window and I have books, and then I see people from the community taking out books," Murison said.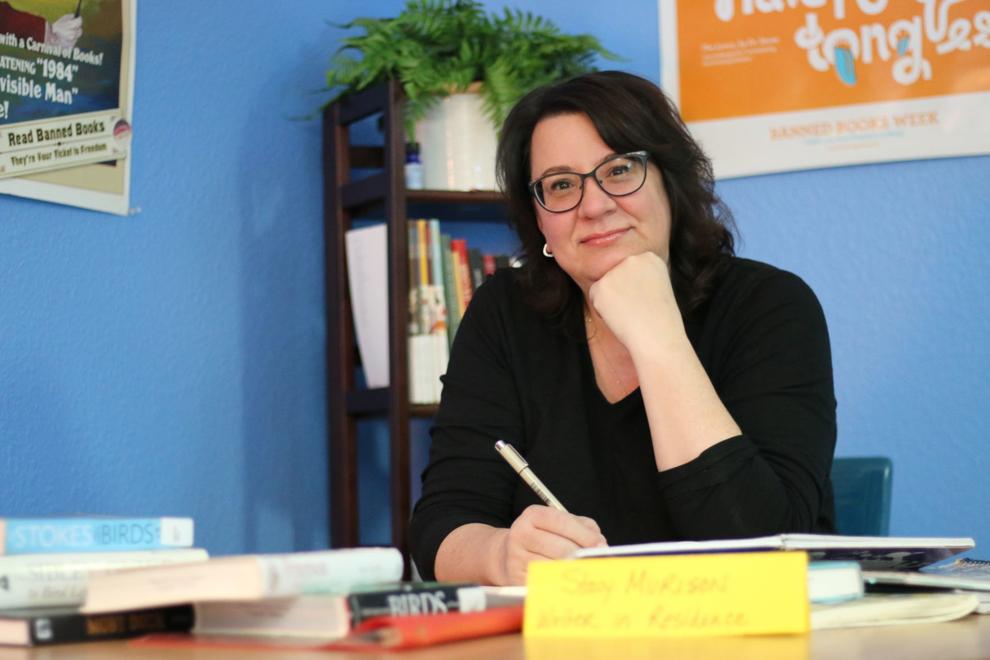 Nestled in a glass-paned, former storage space across from the "Books on CD" section and two rows away from the nonfiction books, Murison has carefully mapped out and learned the library. She moved comfortably among the stacks, picking up books for the project she's working on: Bird books, bird encyclopedias, Birdwatcher's Digest.
Murison is no birder, quite the opposite in fact, more of a "novice," she said. But the piece she is working on during the 12 hours the residency allows her each week will put her face-to-face with all things avian -- and all things Jonathan Franzen, the essayist, novelist and a figure who "everyone loves to hate," Murison said, laughing.
"Franzen loves birds and I love birds. This is gonna be a braided essay: My relationship with birds, [Franzen's] relationship with birds, my relationship with Franzen, his relationship with other philosophers. I have to start mapping these things out. How are these people connected?"
Both in her description of her current work and in reading older pieces, it's clear that Murison is a master of the so-called braided essay.
And yet it is almost unfair to confine her to a form. Instead, Murison's aptitude in weaving together disparate ideas, times and spaces is something, she said, that just sort of happens — more organically than deliberately.
Murison's 2018 essay "Hermit Crabs," for example, toggles effortlessly between the concept of home, her childhood house in Rochester, New York burning down and crabs that can carry shelter with them wherever they may go.
Or, take "The Softball." The epistolary piece to Murison's ex-boyfriend was published in Hobart literary magazine and centers on the couple playing a casual game as an imminent breakup looms.
Murison writes: "Because I was me, I had to bring up the argument again. Why were you embarrassed of me? Why did you go away without me last weekend? I was pretty good at pressing the issue way past its discussion expiration date. But, you were also good at distracting me. I remember you threw the ball back to me, and me reaching my mitt out trying to make the catch look as effortless as yours."
"I've been told I write in a double-helix structure," she said, grabbing pen and paper and drawing a visual of her stories.
The Flagstaff transplant and English composition instructor at Northern Arizona University plunges her readers into situations at once liminal and concrete as we follow a non-linear, often divergent path that somehow finds its way to home-base over and over again.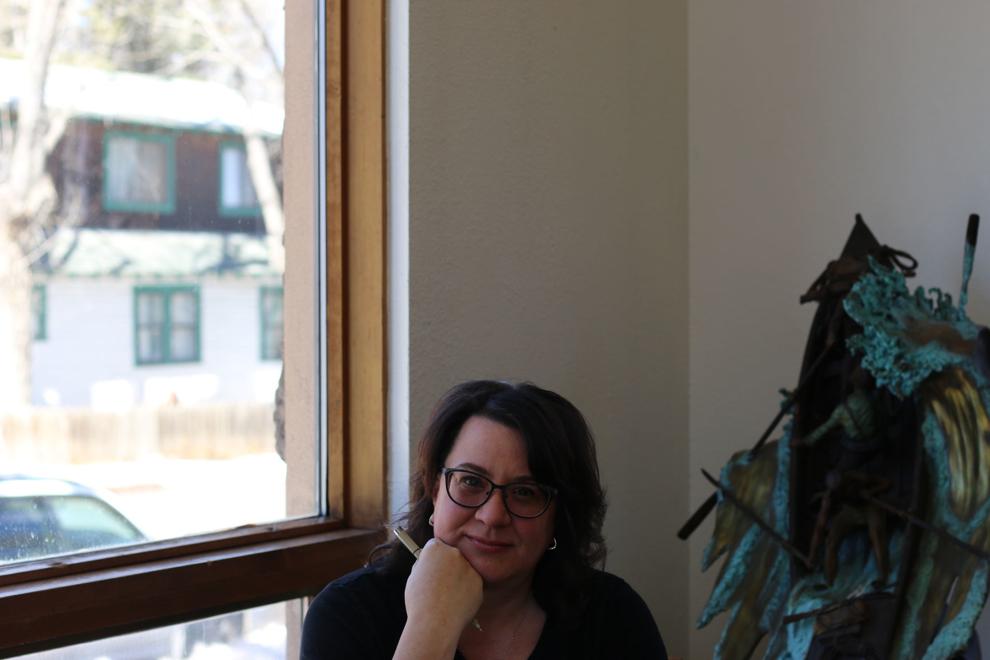 "The Softball" ends: "I'm sorry we never talked about the softball and that I may have lied (at least 30 times) about knowing where it was. It seems enough time has passed now that I can let it go. I can let it all go."
Murison's writing frequently returns to relationships, too -- be they fictional or real, familial or romantic — with stories that come heavy and oozing with loss and longing.
It's difficult for the people who know her to come to terms with the melancholy that often layers her work, Murison said. The outgoing, full-of energy, talkative and lively author hears that disconnect often.
"The rich, melancholy life I have on my interior is this quiet life surrounded by books. The actual life I live is very different so I'm kind of in this place now where I'm in a position [through writing] to move closer to the interior life and it feels good," she said.
Murison, who has a bachelor's degree in political science and a master's in philosophy and religion, spent over 20 years in administrative, nonprofit and fundraising work. Hers was a public persona, she said. She couldn't leave the house without lipstick for fear of running into a donor…not even for a trip to the grocery store.
"I thought I would be office girl for my whole life and here I am as writer girl. I couldn't have imagined or dreamed this life," she said.
Prompted by professors and authors, including Nicole Walker and Ann Cummins as well as the constant encouragement of her husband, Murison enrolled in and completed an MFA at NAU with a focus on creative nonfiction.
She prefers the genre, she said, though she also publishes in other forms — fiction included.
In mining her own life for her stories, Murison is quick to point out, "We're too focused on ourselves," the burden of the non-fiction writer maybe. So, in her exploration of the genre she strays away from "the hero complex," she said. In her stories, we see Murison as if from above -- the world isn't spinning around her, rather she is spinning in it.
The destruction and reshaping of the hero complex is something Murison seeks out, actively, she said: By finding the ability to laugh at herself, to empathize with the peripheral characters in her stories, to write fiction and imagine how another person might be experiencing a situation.
As the lone character in her story "Ascension Garden," Murison visits her grandmother's grave with two candy bars, one for each of them.
"But if someone came to the cemetery that day, what would they have seen?" she said. "Because I think of that as a very private moment of grief, but for all I know someone was cutting flowers to place on the gravestone two graves down, or the gardener was tending to the hedges."
Murison has been published in Assay: A Journal of Nonfiction Studies, Brevity's Nonfiction Blog, Hobart, McSweeney's Internet Tendency, River Teeth, and The Rumpus among others. Murison will be the writer-in-residence until the end of April, at which point the torch will be passed to author Karen Renner. The library plans to renew the residency on an annual basis and will begin recruiting writers by way of applications next fall.