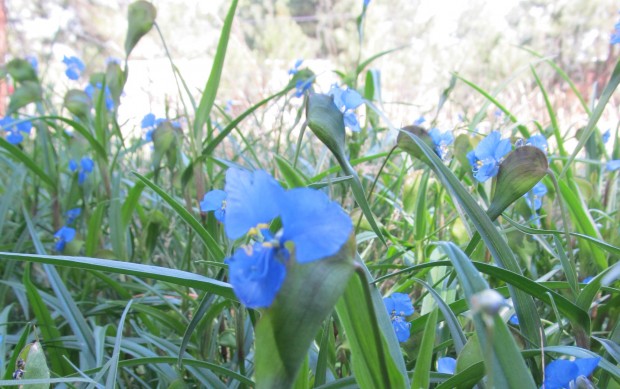 What a monsoon season, and what a blessing.
There are many plants around Flagstaff that come out only with our summer monsoon storms.
An example is the dayflower, which is forming huge patches this year. It reminds us about the importance of summer moisture and also about the power and beauty of collaboration.
The dayflower, like most other flowering plants, has both female and male reproductive parts bundled into each flower.
This organization is unique to flowering plants and helped this newly evolved group to become more widespread and diverse throughout the world than older plants, such as pines and other conifers that came before them.
Pines produce separate female and male cones. The dayflower's striking cobalt blue petals and huge yellow anthers attract pollinators, which deposit pollen on the receptive female stigma and gather pollen from the male stamens at the same time.
If by chance the female doesn't receive pollen toward the end of the life of the day-old flower, the male stamen will curl up and self-pollinate the flower.
This is a great adaptation for guaranteeing the success of the flower.
Other monsoon-adapted plants include Torrey's craglily and broadleaf four o'clock. They are all limited in range to the Four Corners states and northern Mexico. The broadleaf four o'clock has magenta-colored flowers and, like the dayflower, closes its daily flower by about midday, avoiding damage from afternoon monsoon storms or excessive heat.
SYNERGY BETWEEN ANIMALS, PLANTS
Have you noticed innumerable clumps of sunflower seedlings sprouting up all over your yard, along with the odd peanut plant and strange little annual grasses? They occur against tree trunks, next to rocks and out in the open. According to biologist Tad Theimer at NAU, these plants sprout from seeds that have been cached or buried in the soil by birds and mammals, including Stellar's jays, ground squirrels and, yes, even mice. So much activity going on right under our noses.
The point of caching food is to return to it and eat it.
However, the animals lose track of some of them. Over-caching or forgotten caches represent other examples of synergy in nature, occurring between distantly related plants and animals-the plants get their seeds dispersed by animals that eat only some of them. Certainly the animals eat many seeds, though plenty obviously survived this year.
By contrast, Abert's (tassel-eared) squirrels have been busy devouring developing seeds from the bumper crop of cones on the ponderosa pines this year, making mincemeat of the cones they scatter on the forest floor.
Spreading down the gravelly margins of Flagstaff's streets is the weedy invader purslane, as well as other weed species. It has flat, green succulent leaves and pink stems. Wow, what an amazing plant it is, as it turns out. This Old World plant contains more omega-3 fatty acids than other plants and is also loaded with vitamins and minerals. It is quite tasty in salads, soups and more. Archaeological evidence indicates that it reached North America in pre-Columbian times, presumably carried as a food by Native Americans across the New World.
These are just a few of the many botanical surprises right here in our town.
Here's to summer in Flagstaff.
Gwendolyn Waring is the author most recently of "A Natural History of the Intermountain West: Its Ecological and Evolutionary Story," published last year by University of Utah Press. She has lived in Flagstaff since 1975.