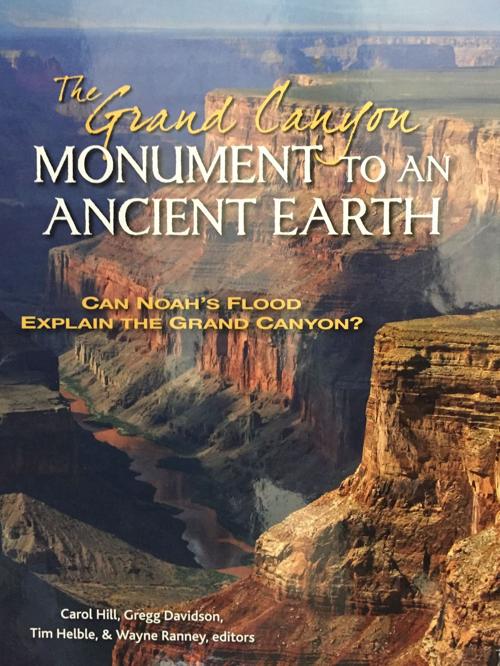 When it comes to relaying the history of the Grand Canyon, a new book co-authored by longtime Flagstaff resident Wayne Ranney takes a different approach to one of the world's most famous geologic features.
What sets the book apart is how it places religion front and center in its discussion of the canyon's geology. In 240 photo-rich, textbook-style pages "The Grand Canyon Monument to an Ancient Earth: Can Noah's Flood Explain the Grand Canyon?" highlights the stark divide that continues to exist between some religious views of the canyon's formation and the prevailing science about its more than 6 million-year-old evolutionary history.
The book does what geologists have failed to do for decades, said Ranney, a former geology professor who has written several books on Grand Canyon. It directly confronts a sector of Christian believers, called Young Earth Creationists, who maintain that the Grand Canyon's layers were created in one year during Noah's flood and that the event happened along a timeline of Earth's history that goes back just 6,000 to 10,000 years.
Page after page of the book is dedicated to explaining those beliefs and then showing how the canyon's geology conflicts with and debunks them.
Ranney and Carol Hill, one of the book's lead authors, say the book was needed to counter what they see as a concerning trend of science being pushed to the wayside everywhere from school classrooms to political debate stages.
Even more worrying is when those same religious beliefs fuel the policies of politicians who reject mainstream science about things like climate change, said Randy Moore, a University of Minnesota biology professor who has studied Young Earth Creationism for more than 30 years.
"That's when there's a real problem, when politicians invoke Young Earth icons like Noah's flood as an explanation for policy," he said.
For their part, two local Young Earth Creationists said they were intrigued with the book's overall concept and were eager to read it.
"Even though I'd probably disagree with (the authors') foundational thesis, it's cool to hear that people are dialoguing and thinking about does the Bible relate to the Grand Canyon," said Jon Albert, executive director of Canyon Ministries, an organization that runs regular Young Earth Creationist day tours on Grand Canyon's south rim and river trips through the canyon.
At the same time, Albert and Nate Loper, president of the Flagstaff-based Genesis Creation Science Institute, agreed that they couldn't see a way that Young Earth Creationism could ever embrace the evolutionary history of Grand Canyon that stretches over millions of years.
It would undermine "the whole gospel mission," Albert said.
A WIDESPREAD BELIEF
Hill, a geology professor with the University of New Mexico, said it was a realization that nearly half of the American public believes the Grand Canyon was created in a biblical flood compelled her to start the writing project.
Public polling shows about 45 percent of people ascribe to Young Earth Creationism, a figure that has stayed constant since the 1980s, Moore said.
The concept appears to be gaining interest at the Grand Canyon. Since Canyon Ministries started daily rim tours in 2013, interest has picked up dramatically and the company is on track to double its volume from last year, Albert said. National Geographic's Grand Canyon store in Tusayan also carries a well-known Young Earth Creationist book, Moore said.
Loper explained that Young Earth Creationists, also called flood geologists, believe the Grand Canyon was formed during Noah's flood, which deposited layers of sediment and fossils one on top of the other. They believe the canyon was carved after the flood when an earthen dam holding back a massive lake was breached, releasing a torrent of water that followed the path of the Colorado River, he said.
While Hill and Ranney agreed their book likely won't change the minds of devoted Young Earth Creationists, its goal is to provide answers for people who may be questioning that belief system and may not know much about the canyon's geologic past. Many of the book's 11 co-authors are Christians themselves, giving them both credibility and relatability among Christian readers, Ranney said.
"When my co-authors go to their churches on Sunday, they have a lot of people in middle ground who want to know the truth but don't know which way to turn, the pastor or the park ranger," he said.
Both Hill and Ranney said they know of no other book that has directly confronted the Young Earth Creation view of the canyon's formation. In fact, geologists have long avoided doing so in public forums, to the detriment of science, they said.
"The whole geologic community in the 1970s and 1980s never engaged the topic of creationism and that's how we got where we are. Creationist literal biblicists were the only ones addressing the idea of how Earth was created while geologists were just talking among themselves," Ranney said. "We've stepped out of our comfort zone of our tribe to actually tackle the issue. Now we know that our disengagement previously has led to this place where so many people don't understand why we think the Grand Canyon is old."
The book aims to promote the idea that Christianity and a Grand Canyon formed by millions of years of erosion are not mutually exclusive, Ranney said.
"It's not antagonistic, it's not attacking, it's telling people that it is okay to be a believer and to believe the Grand Canyon is old," he said.
Moore, the biology professor, also said he hasn't seen another book that so directly and accessibly addresses creationist claims as they relate to the Grand Canyon.
"What most other geologists have done is shrug off these other Young Earth Creationists as fringe people. They're not. It's almost half of U.S. population," Moore said. "Any idea that is accepted by almost half of the population needs to be addressed and critiqued."