Innumerable times each day, Billy Weldon bolts into the street, wielding his fluorescent vest and stop sign like a shield between oncoming traffic and the students, staff and families of Marshall Elementary School.
It's a job he has been doing twice a day for 13 years -- entirely as a volunteer -- sharing smiles, stories, hugs and high-fives with all who pass by, all the while protecting them from cars. There has never been a single accident, or even a close encounter, during his time there.
"It's just the best job I've ever had in my life. All the little kids love me and I love them. It's fun," Billy said. "No matter if it's raining, snowing -- whatever -- I'm going to be here."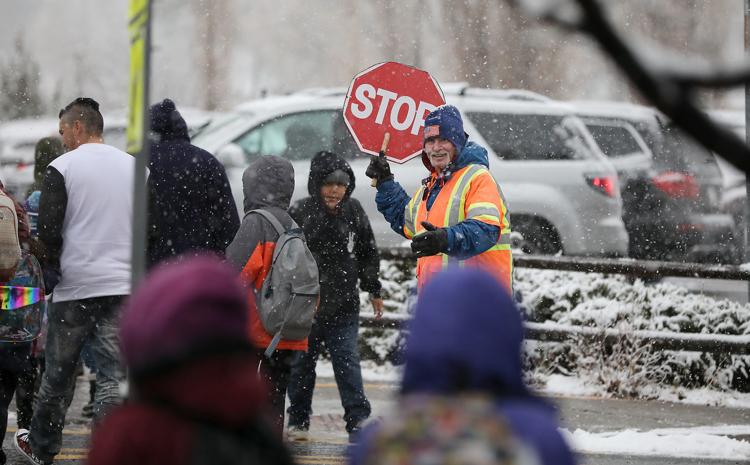 The story of how it all started has nearly become Flagstaff lore. After a career as a salesman for the Fred Nackard Liquor Company and later an Eagle Mountain Construction employee, it was during his retirement that Stacie Zanzucchi, former Marshall principal and a longtime friend of Billy's, asked if he could volunteer one day. Afterward, he called her and asked if he could do it again -- and has continued nearly every day since.
"There's an old saying, 'If somebody doesn't have a smile, give them yours,' and Billy does that for every student, every teacher, every parent. Every day," Zanzucchi said.
Observing him fulfill this role with such skill and obvious delight, you'd think it was his one calling.
Billy, a Vietnam War veteran, has been active in supporting other Arizona veterans and the Flagstaff community, where he has lived since 1950. He has been recognized with numerous military and community awards, including two Bronze Star Medals, a Purple Heart and the title of the 2014 Arizona Daily Sun Male Citizen of the Year. He also served as the region commander of the Arizona Military Order of the Purple Heart and helped establish every county in the state a "Purple Heart County" and Marshall as the Arizona's first "Purple Heart Elementary School."
"Truly, each and every kid is at the center of his motivation to be up even when it's pouring rain. It's his favorite commitment and he has so many," principal Janelle Reasor said, noting that Billy has become part of the Marshall culture over the years. He takes his participation in jog-a-thon fundraisers and school assemblies as seriously as he does student safety.
"He is the first person many of our kids see in the morning and often the last person they see in the afternoon," Reasor said. "He is that smile, that high five, that hug that sets the tone for these kids as they walk in."
Reasor has nominated Billy for America's Favorite Crossing Guard, an annual contest held online by Safe Kids Worldwide, a nonprofit that works with families and communities to protect children from injuries.
Popular vote will determine the five finalists of the competition, who are reviewed by a judging panel to choose the winner, who will receive $500 worth of new crossing guard gear and accessories, as well as a pep rally and award ceremony. As of Thursday, Billy was in 12th place.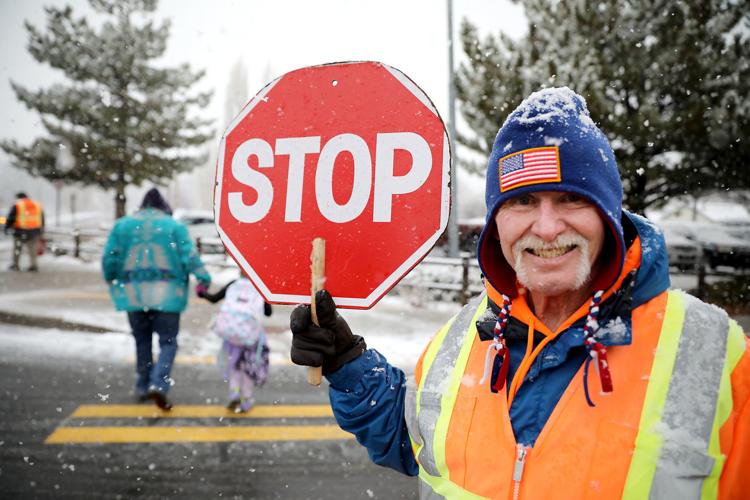 Daily dedication
By 7:15 each morning, Billy has arrived at the intersection of Thorpe Road and Bonito Street, ready to usher teachers and children arriving for before-school programs safely to the front door. In the moments between their arrivals, he sips coffee from a black thermos that he has perched on the fencepost behind him or shares a joke with his fellow crossing guard, Eric Escobedo.
"He's lively," Escobedo said. "Some other crossing guards I work with are just here to do their jobs. We don't have conversations. With Billy, we have conversations and you see him with the kids, the parents and the teachers walking back and forth. He tells jokes. It makes the environment fun."
As morning arrivals become more and more frequent, Billy abandons his coffee, exchanging it for the energy that visibly fills him as he interacts with the Marshall community, giving out hugs and high-fives even mid-intersection in response to their exclamations of "Good morning, Mr. Billy" or even "Hi Uncle Billy Boy Bob."
"See you later, alligators!" he tells a later group as they approach the school, moments before calling out to a woman hurrying back to her car, "Don't slip on the ice!"
When another student approaches to cross the street, concern immediately wrinkles his face. "You look tired. Did you get enough sleep? Do you feel good?" When she assured him it was just sleepiness, he relaxed and wished her a good school day.
In the afternoon, he repeats the process, staying as late as an hour after school is dismissed.
Billy estimates that he knows about a third of the names of the more than 500 students who attend the school, as well as many of the school staff and nearby residents who often pass by during his time there.
Even when he does not know the name, though, he knows the person, remarking on details about them as they pass.
One girl just became a big sister to a new brother. A pair of brothers are big fans of the Dallas Cowboys. Another student's father recently went through surgery.
Other students have nicknames, often assigned by Billy himself. Brothers Bennett and Ellis have been named "Big B" and "Big E."
As their mother, Tree Hernandez explained, the name was a promotion for Ellis, who started as "Little E" when he was too young to attend the school but accompanied his older brother at drop-off and pick-up. Now that he has made it to kindergarten, though, Billy changed his nickname to "Big E."
"Billy is just awesome. He cares for all the kiddos and the parents," Hernandez said. "If Billy's not here, everybody gets grumpy. So he's kind of their first line of smiling defense. It's fun for the parents, too, because when the kids aren't around, he has a wicked sense of humor."
She added that Billy always checks up on her husband, who is a firefighter.
Big E will soon be celebrating his birthday and, like every Marshall student who informs the crossing guard, will be receiving a birthday card and $5 personally from Billy. In response, students have not only thrown birthday parties for him, many have also invited him to their high school and college graduations.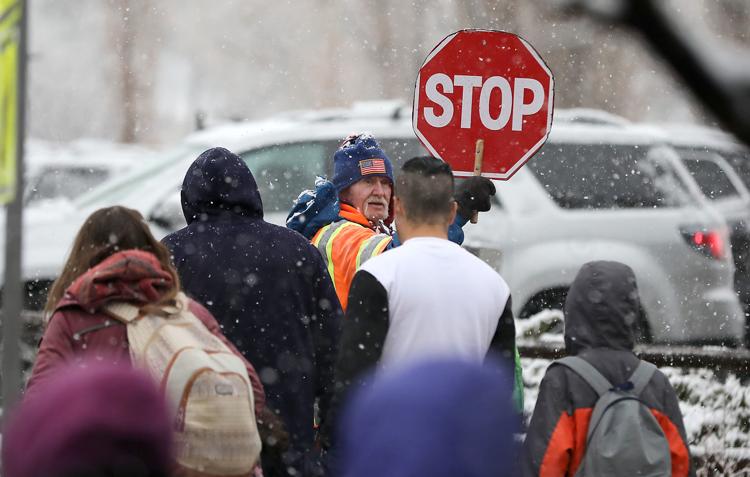 Although being a crossing guard has its challenges -- like never sleeping in or being late, as well as drivers with erroneous turn signals -- he radiates only positivity when speaking of his role as a crossing guard.
"There's nothing more important than getting up in the morning to come here," he said. "If I quit anything, I'll never quit this."