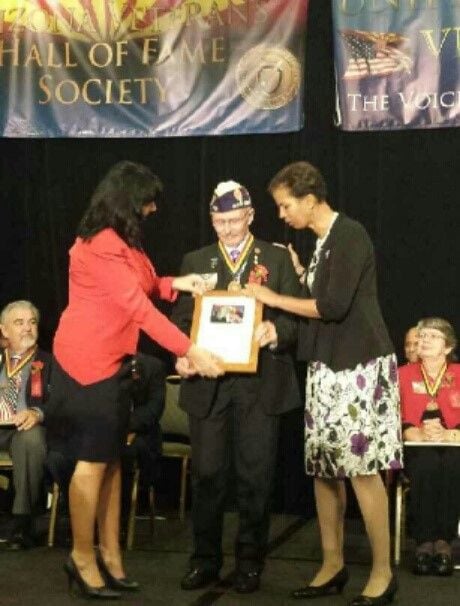 One of Flagstaff's best-known veterans was inducted into the Arizona Veterans Hall of Fame last month.
It was one of the biggest honors that has ever been bestowed upon him, said Billy Weldon, who was one of 25 inductees in the 15th class of veterans since 2001.
The inductees are chosen based on what they have done in the years since they finished their military service, said Lawn Griffiths, a former inductee who now manages media relations for the Arizona Veterans Hall of Fame.
Honorees are involved in everything from civic clubs to church work to veterans activities, Griffiths said.
"Just about everybody inducted has had direct involvement in some kind of military program that makes sure veterans get a good shake," he said.
In Weldon's case, he has a long history of community activism, especially when it comes to veterans services.
He is active in the Veterans of Foreign Wars and the American Legion and is the state commander for the Military Order of the Purple Heart.
He helps veterans navigate VA services and benefits and volunteers his own time and money to drive veterans in need of medical care to the appropriate clinics and hospitals around the state, said Lupe Velasco, commander of the local post of the Military Order of the Purple Heart.
After spearheading an effort to convince each of Arizona's 15 counties to proclaim themselves Purple Heart Counties, he is now working on state legislation, expected to be introduced next month, that would proclaim Arizona a Purple Heart State. It would be the third state in the country to do so, Weldon said.
The proclamation serves to recognize men and women who were wounded or lost their lives in combat, he said.
On top of his other commitments, Weldon volunteers as a crossing guard at Marshall Elementary School, saying hello and giving high fives to dozens of backpack-toting children nearly every morning and afternoon.
"They love what he does and he's there every day no matter what," Velasco said.
Weldon was born in Goodyear, Arizona, in 1947 and has been a Flagstaff resident since 1953. He went to Emerson Elementary School, Flagstaff Junior High School and then Flagstaff High School. Immediately after graduation, he joined the U.S. Army and did two tours in Vietnam — once with the 101st Airborne, and once with the 173rd Airborne Brigade. He was wounded in October 1967. He retired eight years ago from the Fred Nackard Pepsi Company in Flagstaff and has devoted his time to volunteer service ever since.