PEORIA -- If this is what self-imposed exile — aka retirement away from Flagstaff — looks like for Bill and Barbara Packard, then everyone should be so fortunate.
They have retired deep in the desert to a gated country club community, ensconced in a handsome custom-built ranch house overlooking a golf course fairway. Though neither plays the sport, there's something tranquil and reassuring to gaze out the floor-to-ceiling living room windows and watch duffers chase a tiny white ball — though it can get unnerving when stray shots land in the swimming pool.
Beyond the fairway, the view extends to encompass the dun-hued foothills, stitched together with all manner of cacti that shimmer in the seemingly constant cloudless sky. It's lovely and they're lucky, the couple says, for this view, but when a visitor notes that there isn't a ponderosa pine within 10 of miles and the color palette is devoid of forest green, they give pause and nod.
The question that must be asked, that the Packards fully expect will be broached, is this: What is this couple who lived in Flagstaff for 40 years, whose good works became inextricably linked to the community through decades of nonprofit volunteer efforts that benefited untold numbers of residents and organizations, doing down in the Valley?
The answer — well, the long answer, spanning 181 pages — can be found in Bill Packard's new memoir, "Going Full Circle: Confessions of a Serial Nonprofiteer," which publishes next week. The book, proceeds of which will go to nonprofits, is an unflinching look at the rewards and challenges, the many headaches and considerable in-fighting, of running nonprofits that seek to help homeless and low-income residents as well as support worthy community organizations.
But the short answer, which the book saves for the denouement, is that the Packards became disillusioned in 2018 when the free food pantry they were running as part of their Full Circle charities was forced to close after — in the couple's telling — the larger and nationally funded Flagstaff Family Food Center essentially cut off access to extra food they would get from organizations, instead choosing, the Packards say, to have it thrown in dumpsters instead.
The resulting controversy, which rippled throughout Flagstaff's close-knit nonprofit community, involved some of the major players in town — the food center, the Sunshine Rescue Mission and Hope Cottage, and larger partners Feeding America and St. Mary's Food Bank. The Packards say they emerged bruised and battered, their hard-earned reputation for uber-volunteerism that had earned both wife and husband separate Arizona Daily Sun "Citizen of the Year" honors quite sullied.
They felt no other choice but to leave town, head down the mountain to an oasis in the Valley.
"I'll be honest with you," Barbara, 72, says, sitting next to Bill, 71, on the living room sofa, "my heart was broken. I so hurt. I was just, oh —"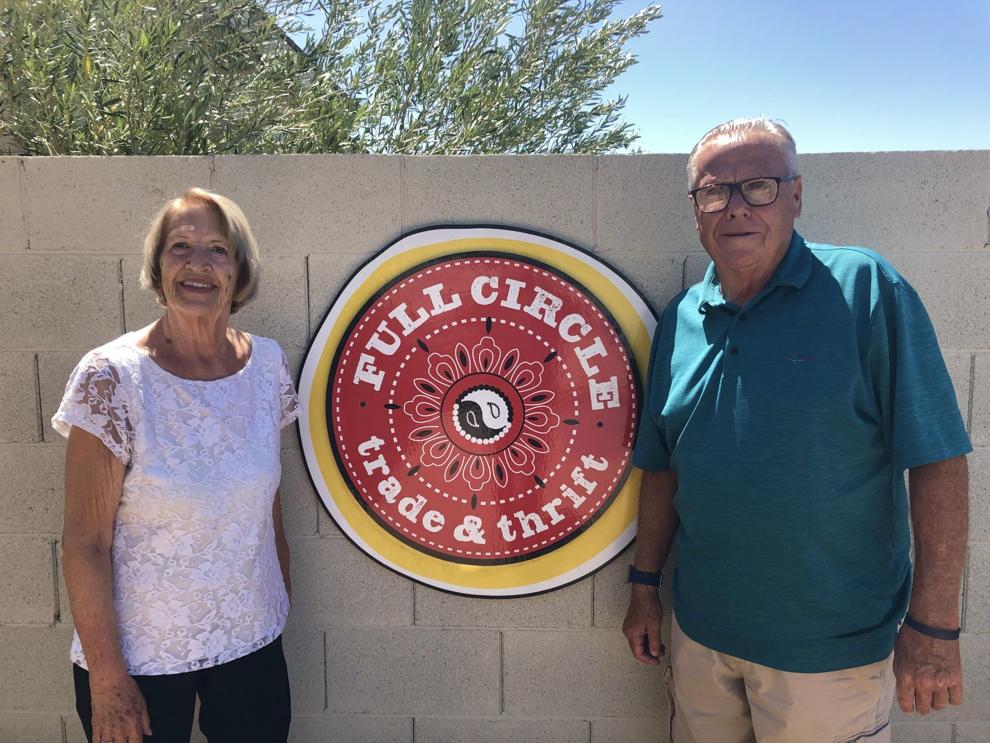 Bill steps in — like many long-married couples, they sometimes finish each other's sentences — to explain.
"I was reluctant to leave Flagstaff, but my wife feels better down here and it was time," he says. "Once we closed (the food pantry), if we hadn't done anything, I would've gone stark raving batty in Flagstaff. I liked to be involved. But given how that ended, it would've been hard to be involved."
Barbara cuts in: "You go to the grocery store, to public places, and my friends, I'd see them from afar and they'd turn away quickly and not want to come (talk)."
Bill: "It was like we'd done something wrong."
Barbara: "Everyone knew (why) the pantry closed and they wouldn't say anything. They'd turn away. I can't live with that. Why can't you just give me a hug or just say I'm sorry it happened? It's how we were treated that made us leave. Bill had broad shoulders, but I couldn't take it."
Neither Chris Budwig, then acting executive director of the Flagstaff Family Food Center, nor Stephanie Boardman, then executive director of Sunshine Rescue Mission, returned social media requests for interviews about the pantry issue. But Packard, in his book, excerpts emails from and accounts of meetings with the former nonprofit chiefs that elide how, as Bill writes, "St. Mary's and the Food Center have accomplished what they set out to do in the beginning, get us out of the picture."
Accounts may differ, but this much is certain: It was an unfortunate ending to a stellar and unselfish nonprofit life for Bill and Barbara.
They, for years, voluntarily ran the St. Vincent's Thrift Store before opening their own secular Full Circle operation that gave sales directly to area nonprofits. Bill took time from his successful career as a construction contractor to start, and for a while run, the still-thriving Poore Medical Clinic. Bill also took over the struggling Cash for Local Change program, promoting small local businesses, from the Flagstaff Arts Council and boosted its giving.
But the couple's last and most ambitious venture, opening a food pantry not affiliated with the hegemonic Feeding America national program, proved their undoing. And, it turns out, soured them on Flagstaff.
Stepping away from Flagstaff
So, here they are in retirement in the Peoria exurbs, the last Western outpost of development off the 303 Freeway.
It's a good two-hour drive back to Flagstaff, but the couple doesn't do it often. And not just because the COVID-19 pandemic has hindered travel, and not because, in January, Barbara had a minor stroke from which she is recovering. Like spurned lovers, Flagstaff has hurt the Packards, and the scars are slow in healing.
Ask them what life is like now, and Barbara gives a wrenching two-word answer: "Too quiet."
Before the pandemic, both volunteered at local Valley food banks, but they are slowing down now with age and now mostly keep to themselves. Bill's primary project for the past year has been writing "Going Full Circle," which is both a memoir of their Flagstaff years and a primer for people wanting to get the most out of operating nonprofits.
"I don't think anyone's told the story from the viewpoint we had, as volunteers and not on someone's payroll and not beholden to anybody," Bill says. "I wrote what we saw."
Nothing if not blunt, Bill pulls no punches in calling out the shortcomings and petty in-fighting among Flagstaff nonprofits competing for the same piece of funding pie. To some, the book may read like score-settling, but Bill and Barbara consider its frankness a needed corrective to a nonprofit culture that often aims too low and sometimes even fails to deliver on that.
Bill smiles, adjusts his black horned-rimmed glasses, and acknowledges that some Flagstaffians who read "Going Full Circle" will feel the sting of his assessment. But, throughout his volunteer career, Bill has chafed at the unwritten (and unspoken) maxim: "Speak no evil of another nonprofit." Now, he feels free to relate how things really unfolded.
He takes some shots at some of Flagstaff's most revered institutions — The Arboretum, the Museum of Northern Arizona, the Flagstaff Arts Council, the Catholic Church and the Flagstaff Medical Center — for falling short in various ways, mostly having to do with feeling entitled to money (grants) without willing to work for it, or pulling back from big initiatives and settle for "putting Band-Aids" on problems.
Full Circle's giving model revolved around having 100% of the sales proceeds each month going to select nonprofits which, for the month in question, would have volunteers work at the store and also enlist two area businesses for the Cash for Local Change program.
"They were happy to take the money we gave them, but when it came to participating, they weren't there," Bill says. "That they refused to even try to do that was aggravating. We were just asking for one month. It wasn't like we were asking them to do it all the time."
He calls out the former directors at The Arboretum and Museum of Northern Arizona for failing to get their organizations to work for their grants. Same with the Arts Council under former director John (J.T.) Tannous, whom the Packards helped out by taking the struggling Cash for Local Change off the arts council's hands. Packard writes that when it was the arts council's month to get money from Full Circle in exchange for volunteering and reaching out to local businesses, Tannous declined to do the work but still expected the $10,000 monthly payout, which the organization received, minus a fine.
"It was puzzling," Bill writes, "to understand why the gung-ho groups were outnumbered two to one by those who were simply ineffective."
Tannous, now the executive director of the School of Acrobatics and New Circus Arts in Seattle, read excerpts of Packard's book but would not address specific issues. "My only comment is: 'Congrats to Bill on publishing his story,'" Tannous wrote in an email.
Why nonprofits founder?
Packard hypothesized that the larger the organization — ones with paid personnel — the more they slacked off. What grated on him the most was a lack of accountability because, as he writes, "leadership of the nonprofits in Flagstaff changed jobs as if they were playing musical chairs."
Asked about this insular, cozy "say-no-evil" pact among nonprofits, the Packards both chuckle. Bill leans forward on the couch to make his point.
"There's no mechanism to drive them out of business," he says. "If they don't do anything but still get the funding, they're still in business. No accountability. It's hard if you're not getting involved in the actual operation to know what's going on at these places. There are people that sit on boards and don't go to the nonprofit and actually participate, and they really are in a fog about what they think they know."
The Packards perhaps are in a unique position to judge because they were deeply involved in dealing with scores of nonprofits, yet they never took any salaries for working and organizing St. Vincent's, Full Circle, the Poore Clinic, Cash for Local Change or the food pantry. In fact, the couple doesn't like to point this out, but they put in their own money, as well as their time, without asking anything in return.
Bill owned a construction business but admitted that, at times, he spent more time working at Full Circle or the Poore Clinic than at his real job. He waves it off, though, saying, "when you hire good (construction) people, you don't need to babysit them."
The Packards' motivation for being "serial nonprofiteers," as the subtitle dubs them, is rooted not just in their Catholic faith and devotion to good works but in a family tragedy.
In 1999, the couple's eldest son, Bill IV, died in a car accident driving on Interstate 17 from Flagstaff to their home in Munds Park. The loss devastated them but, in their grief, they looked outward instead of collapsed inward. They both redoubled their efforts at volunteering.
"It's remarkable how big the club is when you've lost a child," Bill says. "Everybody who lost (a child) wants to reach out and help you, and we appreciated that. We met people that mourned for a year, folded up their tent. But they didn't seem to gain anything from doing that. We felt like we had to get back to some normalcy asap."
Barbara: "(Volunteering) gave me purpose, and I did it in Billy's name. We had to keep one foot in front of the other because B.J. (their younger son) was only 12. It brought joy to our life, volunteering. We were doing something with our life and that got us up in the morning."
Bill: "And it gave us a chance to work as equals and work together."
That first volunteer effort for St. Vincent de Paul Society gave them succor but also opened their eyes to some harsh realities. Bill liked helping people directly volunteering for the society's Traveler's Aid program and started getting more involved on the thrift store leadership, attending board meetings because no one else was.
Bill found that the thrift store manager, a hired employee, "appeared to be 'borrowing money' from the daily receipts" and fired her. As he writes, Barbara stepped in out of desperation and "started cleaning house" and increasing donations to the store. Bill had bigger plans, seeking to get the church to seek a million-dollar federal grant from HUD for affordable housing in Flagstaff.
His motivation? "We wondered why nobody was doing anything to fix the underlying problem," he wrote. "We could only treat the symptoms, not the disease."
Bill's proposal to St. Vincent's leadership was shot down.
"They didn't believe in us enough to take the chance," he wrote of church leaders. "… I realized we had gone as far as St. Vincent was willing to let us go. I was crushed."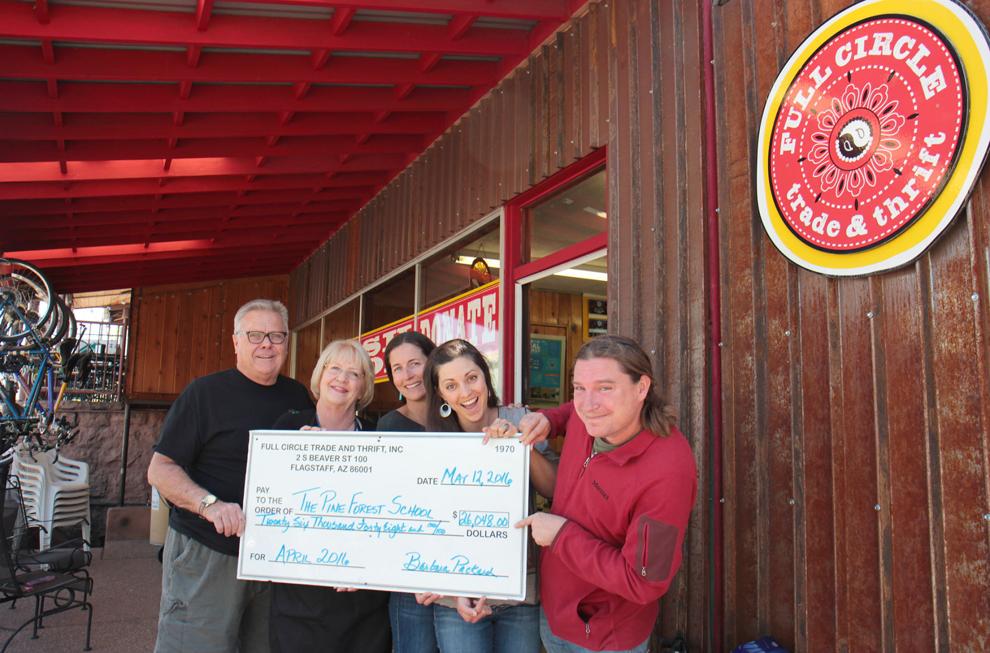 They kept battling
There would be other battles, won and lost. A second plan Bill developed to build affordable housing failed, but the Full Circle Thrift Store blossomed. In four years, he wrote, Full Circle handed out three quarters of a million dollars to local nonprofits. The couple's biggest disappointment, however, proved to be the pantry.
Its failure continues to rankle.
"Barbara took it hard," Bill says. "We worked hard for the community."
In a way, with the warts-and-all book, the Packards are still helping the community. They have devised something of a contest for local nonprofits to win the first 30 days of the book's proceeds.
True to the couple's ethos, nonprofits will have to work for it, though, writing a 400-word email essay detailing "how to use that money to make your nonprofit stronger … for tomorrow and beyond."