There are a handful of happenings that usher in the holidays in Flagstaff: The moment the lights on the large spruce next to NAU's Blome building become visible from Milton Avenue; Little America coated in twinkling colors; a frozen Lake Mary (depending on the year); Allen's Trees displaying their first pines for sale; and the Vora Financial Holiday Parade of Lights.
The parade -- which has been organized and carried out by the Greater Flagstaff Chamber of Commerce for over 20 years -- was given the name when local financial advising and wealth management company Vora Financial became its sponsor in 2008.
This Saturday marks exactly a decade under the Vora moniker, begging a glimpse of the man whose name is behind the lights. 
Dharmesh Vora has called Flagstaff home for nearly 30 years. Before that it was Kingman, where he spent his teenage years learning the ins and outs of his parents' business, the Star Motel. Before that it was northern California, and before that Bombay, India. 
"We migrated to California in 1983, when I was 13," Vora said.
Vora's parents both worked as manufacturing pharmacists before moving to the U.S. and becoming hotel managers in northern California. 
Vora studied at NAU, worked for a Fortune 500 life insurance company, became a financial adviser and then opened Vora Financial in 2003. Though the company has existed since 1991, Vora said it didn't officially become its own LLC until 2003; five years later it would move into the Birch Avenue office where it remains today. His tenure in finance just hit 28 years, he said. 
"Shortly after the market correction was when we moved the business to Birch Avenue," Vora said.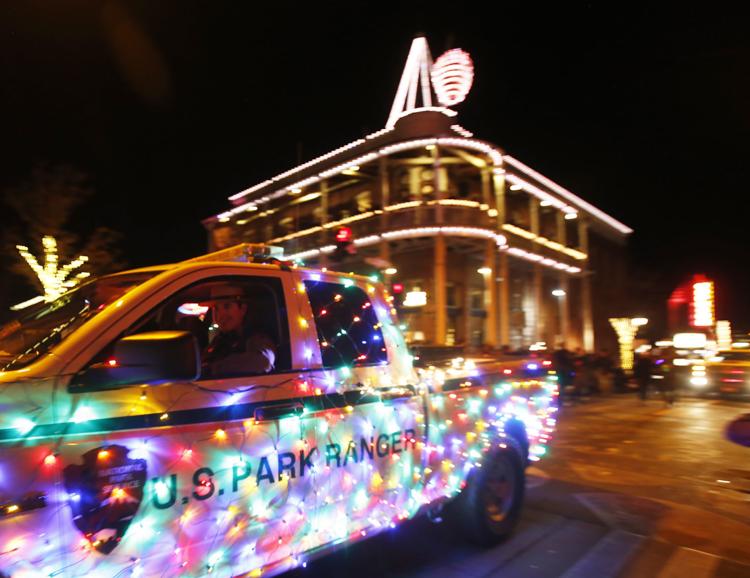 As most businesses faced severe upheaval in the aftermath of the 2008 financial crisis, Vora was in the process of growing. 
"Everybody was closing their doors and downsizing and we actually expanded during that time," he said. "We felt that the community needed the support, people needed help, you know? Our practice works to preserve and protect their wealth and there were strategies that we used to help people during that time."
Two of the larger market crashes in the last 30 years proved to be defining both in Vora's life and his career. It was the effects of the 1987 "Black Monday" crash that led his mother to close her businesses in the early '90s: a motel in Ash Fork, one in Tucson and the Star Motel in Kingman.  
"In fact, what made me get into this industry was this [market] correction in in 1987. Because of that crash, a lot of people lost a lot of their assets in real estate," Vora said. "I felt what better way to help people protect what they have and help them make financial decisions."
Nowadays, estate planning, fiduciary wealth management, financial advice, parade sponsorship -- all are boxes that Vora Financial checks off. 
Though the company won't have a float in this year's parade, its employees can be found atop of a Flagstaff Fire Department fire truck, waving along with Santa.
According to Julie Pastrick, President & CEO of the Greater Flagstaff Chamber of Commerce, crowds can expect to see a total of 57 floats this year. 
"Plus last year we had about 15,000 spectators, and this year we're expecting a similar amount," Pastrick said. The Chamber opens its application for parade entries in September and starts receiving inquiries as early as summer. 
In addition to all its behind-the-scenes work, as Pastrick calls it, the Chamber is responsible for organizing parade volunteers, of which there will be over 50 this year. 
Despite his name being attached to the parade, Vora is quick to point out that he is one of many pieces of the puzzle.
"My hats off to the Chamber because they and their staff work really hard in putting it together and efficiently, too. It's a massive undertaking," he said. "I really appreciate that the businesses put the time and effort in. I can sponsor whatever, but if you don't have participation from the community, it would be a one-man show and that's just no good."
The temperatures at the 2018 iteration of the parade will be colder compared to last year's. But Pastrick hopes that won't deter the crowds.
"It's so great every year to see all the kids come out and the community come together," Vora said. "Just thinking about it I'm getting all happy." 
The Vora Holiday Parade of Lights takes place from 6-8 p.m. on Saturday, Dec. 8 in historic downtown Flagstaff. The parade route begins on Sullivan Avenue, makes its way down Beaver Street, wraps across Aspen Avenue and then goes north on San Francisco Street. Streets downtown will close at 2 p.m. on Saturday.