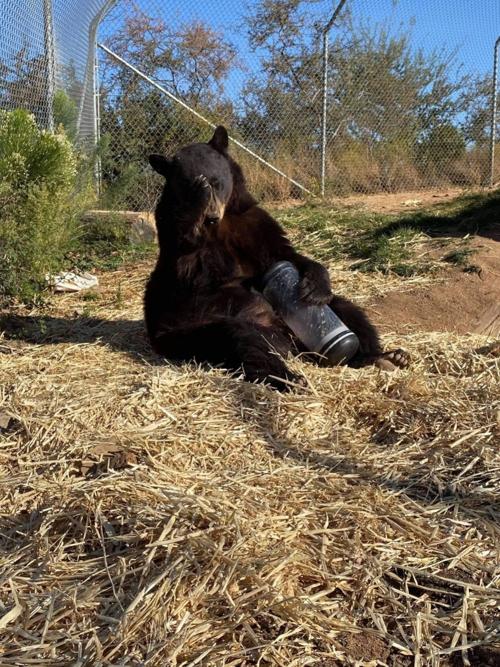 The product tester, a tawny grizzly bear named Cypress weighing on the far side of 500 pounds, went at the Grubcan tooth and claw, with gusto, not necessarily because of a strong ursine work ethic but because, well, she's a freaking bear and there was food inside that camping canister.
Her job: open the blasted thing and get the grub.
As captured on video, Cypress first nosed around the top of the cylindrical prototype tossed in her den, her left paw trying and failing to gain purchase while the brute force of her right paw failed to crack the exterior. She walked away to a corner, as if to regroup, then returned to the Grubcan with seeming new resolve. She tried to bite the bottom with her bared teeth. No luck. She summoned whatever fine motor skills a critter with no opposable thumbs can muster to have at the top latch. It didn't budge. Finally, she just stood on it with her front paws, until log-rolling off and nearly face-planting.
End of test video and, alas, no grub for Cypress.
But great success for Flagstaff resident Holly Jaleski, the founder and co-inventor of the Grubcan with husband Jim. That last product test at the Out of Africa Wildlife Park in Camp Verde gave Jaleski the confidence that her unique design for a bear-proof food canister would pass muster later when it really mattered, at the Interagency Grizzly Bear Committee test for certification as bear-proof.
Grubcan did, indeed, get that seal of approval — the final step in a dizzying entrepreneurial journey that saw Jaleski take a kernel of an idea born of backpacking frustration in 2018 and eventually turn it into a thriving business.
It is quite a success story.
Jaleski once worked as a clerk at the Flagstaff REI outlet and, after developing schematics and prototypes with Jim, an engineer, and learning the marketing and manufacturing end working with the Flagstaff-based business incubator nonprofit, Moonshot, Jaleski eventually found herself in Seattle at REI's corporate offices ready to make a pitch to have the giant outdoors retailer carry the Grubcan.
Jaleski had entered a nationwide REI innovator contest and was selected as one of 355 finalists to meet with the corporation's buyers. In the video she prepared for the competition, did Jaleski mention that, by the way, she was an REI floorperson?
"Oh, of course, I used that," Jaleski said. "In fact, that was the first thing I said. 'I'm an REI employee in Flagstaff…' I was really nervous. They put you in room all by yourself and you wait for the buyer and her team to come in and meet with you. I had a whole presentation ready. I'd practiced it."
What happened next was surprising, to say the least.
"So they walked in and immediately said, 'We want your bear canister.' I was like, 'Uh, I have a presentation. Do you want to hear it? Or see the video (of the product testing)?' They said, 'Sure, let's watch the bear video.' It was great. They got it. We ended up just talking about when I could get it ready. They understood it really fulfilled a much-needed niche. It's so different than all the other bear canisters out there."
That difference? It's all in the design.
"Most (canisters) a big, honey-jar shape," she said. "They are too big and bulky and they stab you in the back. I wanted to make one that, like my tent, I could carry in my backpack, in the middle of pack without feeling it."
Jaleski's annoyance at lugging around awkward and uncomfortable food canisters is, essentially, the origin story for her company. It all transpired at a camping trip in Yosemite National Park in 2018.
"I was carrying the bear can on that trip," she recalled. "It just fit better in my pack than in Jim's. We hadn't even gotten two miles out — this was the beginning of a five-night trip — and the (canister) was digging into my back and really bothering me. For whatever reason, I realized this was the first time I thought I should do something about it."
Do something, as in build a better backpacking device to carry food safe from the prying paws of bears.
Many people entertain ideas for improving existing products but, mostly, they never make it out of the sketch-on-the-back-of-an-envelope stage. Jaleski, however, said she had a secret weapon.
"Luckily, I happen to be married to an engineer, a very genius engineer and that helps," Jaleski said. "A big reason a lot of people's projects don't get off the ground is because, if you need an engineer to help you, it takes a lot of money and a lot of perseverance. I had this idea in 2018 and even with an engineer husband, it's taken that long for us -- because of the different prototypes."
An idea takes shape
Initially, Jaleski knew what she wanted: something sleek and lightweight that didn't bulge in a backpack. Sounds simple enough, but they went through scores of designs and prototypes before hitting upon a cylindrical shape made with the same material used in bullet-proof glass and featuring a bear-proof lid with what Jaleski calls a "gravity latch" that baffles bears but that people can open without having to use tools.
The lid is such that it can only be opened when the Grubcan is in the vertical position. Bears, Jaleski acknowledged, can be quite ingenious and cunning when it comes to pilfering human food. They've been known to open car doors and walk through cabins and open refrigerators to get a snack. But the couple seemed confident that bears, known for their brute force more than fine-motor skills, couldn't figure it out to stand the Grubcan on its end in the vertical position.
"We at first wanted to make it a whole clam-shell kind of thing so it was easy (to open), but to get the lightness that we needed we couldn't make that design," she said. "That tube design is small but you've got to be careful to make it so (the bears) can't pick it up with their mouth and bite it. We went through a lot of prototypes.
"In all the testing we've done — we've left it for days with the black bears at Out of Africa and at Bearizona — and the bears have never done that (put it vertical). The bears you see on our website videos were always working on it horizontally, laying it on the ground. There's a picture where the bear has it slightly vertical at an angle, but you can see, he's not really working on it. He looks frustrated. They'd just keep slipping it and turning it over but never actually put it between their feet and trying to turn it."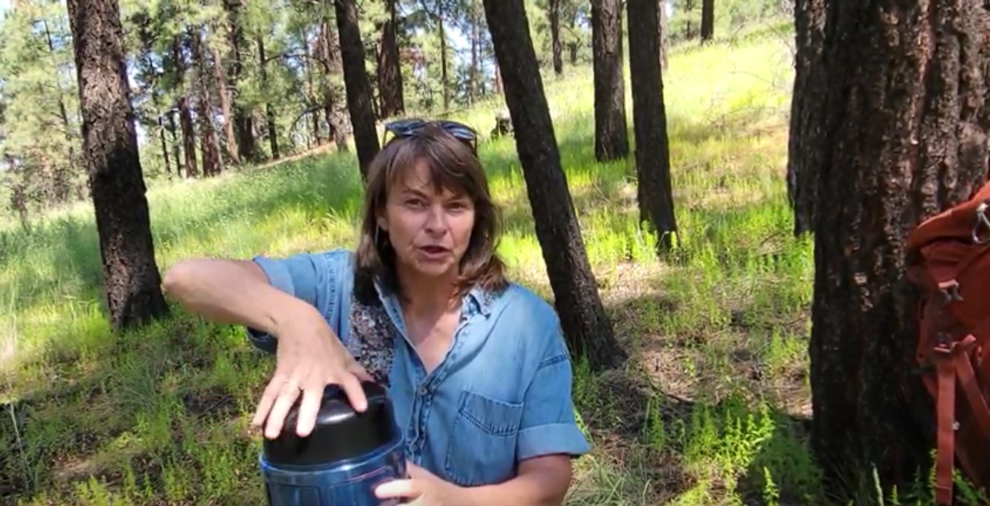 Once the issues with design and materials were ironed out, and REI and other retailers signed on, Jaleski still faced other challenges. Namely, finding a manufacturer. She said she tried for more than three months to interest companies in the United States to produce the Grubcan. But she said she was consistently rebuffed.
"This was in the summer before COVID hit," Jaleski said. "We called and begged and pleaded with U.S. people to make it, and we had an order for 5,000 from REI, but we just kept getting no after no after no. After three months, we finally said, I guess we're going to have to go abroad."
She found a manufacturer in China willing to make the tubes and do the injection molding. Jaleski is quick to note, though, that the Grubcan is assembled, packaged and shipped at the couple's shop off of Highway 89; they employ five workers.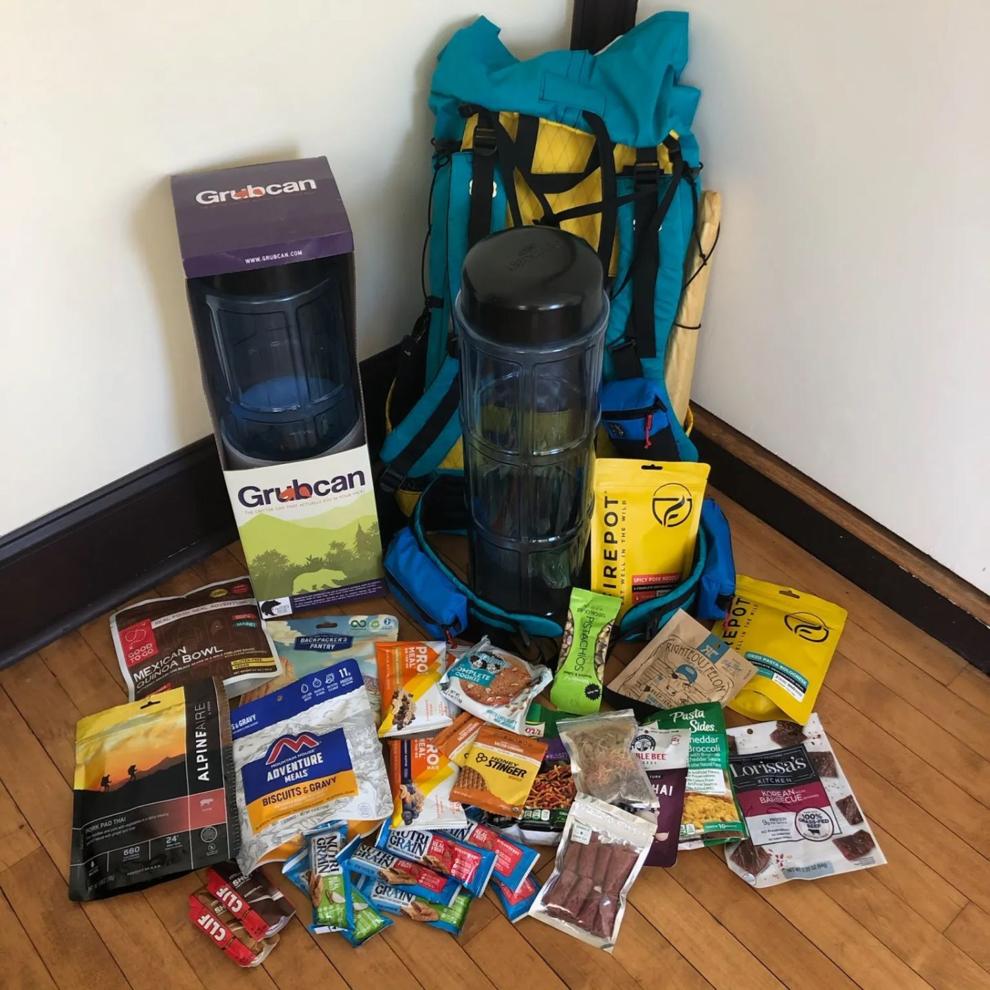 Jaleski has been so busy with the Grubcan — and her other product, the Diddysack, for storing and disposing of waste while backpacking — that she hasn't had a lot of opportunity to do long-distance hikes with the Grubcan in tow. One thing she's not worried about, though, is bears getting into the food supply when she does venture forth.
"I've been backpacking for 40 years," she said, "and I've never had a bear come. But I'm very careful."