She strutted. She vamped. She flipped her platinum locks, tall and flowing, as if Amy Winehouse and Dolly Parton had collided in a hair salon. She worked the crowd, shimmying with impunity, dollar bills from admirers stuffed in her Grand Canyon of cleavage. She twirled in her thigh-high white kinky boots, ripped off her barely-there purple rhinestone skirt. She fluttered eyelashes with the wingspan of a red-tailed hawk.
Now, as the final funky strains of Rina Sawayama's "XS" blared through the sound system, drag performer Rose Chambeau had the crowd under her spell. Rose had gone well beyond excess by this point. Dollar bills rained down on the stage. But, clearly, some capstone gesture was needed for the finale, some over-the-top move that would rouse the Friday night crowd to new levels of mirth.
So, as she lip-synced "A little bit more, a little bit more," Rose gathered herself, arms akimbo and legs spread, and executed the splits, flawlessly, not an easy task given those precarious platform heels. Had it not been for the hoots and hollers of the crowd, you might have been able to hear what had to be the shredding of Rose's hamstrings. But, no, nimble despite her plus-size, Rose popped back up, then bent decorously to retrieve the ticker-tape-parade of dollar bills scattered on the stage.
Whoa, and that was just the opening number of the Friday night drag show at Civano on South San Francisco Street, a coffeehouse by day, gay club by night.
Now that pandemic restrictions have been lifted and businesses mostly are back to normal, Flagstaff's newest gay club has commenced during Pride Month what owner Mario Pulkkinen promises will be weekly drag shows.
Pent-up demand, clearly, had found an outlet on a warm Friday evening, music and patrons spilling out onto the street.
Inside, lights flashing epileptically and woofers throbbing with a reverberant pulse, people danced along as punky drag performer Dillon Duvet rocked Pink's anthemic "Raise Your Glass," followed by leopard-skinned-clad Jewel slinking around to Kesha's "Cannibal," and Anastasia more than doing justice to Jessica Simpson's "Irresistible," her red dress hiked up seductively.
Presiding over all the fun was Pulkkinen, in his persona as hostess Maria Maserati, whose spackled-on makeup, severely arched eyebrows and catty one-liners made her seem like Joan Rivers back from vacation in Hades.
After a decade in Tucson, Pulkkinen and husband John had been looking for a new location for its hybrid café-nightclub, a place they considered more LBGTQIA-welcoming. They had searched the West, from Colorado to Nevada and even Wyoming. But it just so happened the couple was having brunch at Tourist Home, pre-pandemic, when they noticed a "For Lease" sign a few doors down on San Francisco. They called the realtor and, that same day, signed the lease.
Then COVID came, and by the time the Pulkkinens had moved north and got the space ready, the pandemic put plans on hold. They stuck with it, though, despite not qualifying for government-assisted loans.
"We wanted a place that was gay welcoming," Pulkkinen said, "and Flagstaff was perfect."
The wait, they said, was worth it. And the crowds they expected did, indeed, materialize. So, too, did the talent for the weekly drag shows, which had not previously been a staple of Flagstaff's nightlife scene, though there have been scattered one-off performances at various venues for years.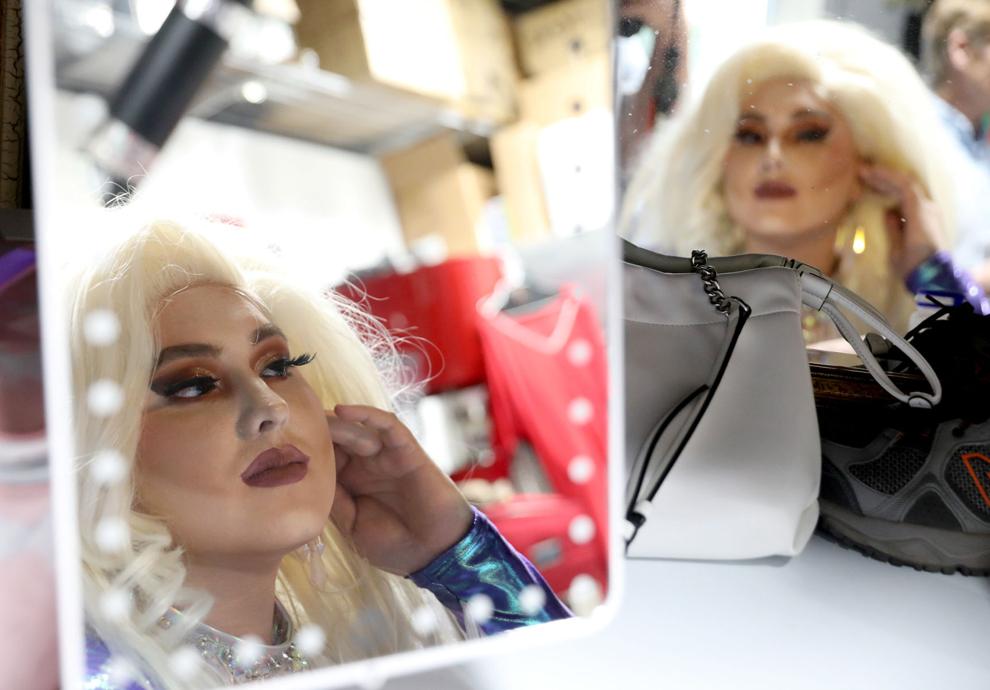 The performers could not wait to glam up and take the stage. Rose Chambeau, avatar for recent Northern Arizona University graduate Daniel Cusick, has been a regular in the bar scene, but Dillon (Aaron Espinosa-DuRose) and Anastasia (Michael Lee) are new to the art but already seemed to be carving out a following among the crowd, which ranged on this night from Gen Z to baby boomers.
And these drag queens certainly were feeling the love.
Lee is a fry cook at McDonald's by day. By night, though, Lee becomes Anastasia, kind of a melding of Britney Spears, Jessica Simpson and any number of pop divas. Patrons have responded, perhaps identifying with the nostalgia that Lee so adores.
"The crowd is so great," Lee said. "I made $150 in tips, all in dollar bills. That's just enough to get some food afterwards and cover what I spend in making my own costumes."
It's not about the money, though. That's nice and all, but more important to the performers is the welcoming vibe they get from the crowd, which Pulkkinen says often is more straight than gay. The drag queens say that feel empowered and can be their true selves in a society where they don't always feel comfortable enough to do so.
Espinosa-DuRose is an example. He grew up in the small town of Dillon, Montana — hence the stage name — and was shunned because of his sexual orientation.
"My family, aside from my mom, was not accepting of me being gay, let alone this," he said, pointing to his punk-inspired "lipstick lesbian" look he sports on stage. "My dad was like, 'If you have to be gay and swallow that pill, don't be too gay.' Even just having nails on. That was too far. I moved out the day I turned 18."
He said friends told him that Flagstaff was gay-friendly, so here Espinosa-DuRose is. Shy by nature, he said, it takes a drag persona to bring out his true personality. In addition to his Pink-like outfit of ripped jeans, fishnet, lace and spiky pink hair, Lee wears two long, dangling earrings with faux-diamonds spelling out "Anxiety."
But all angst fades once he assumes his persona as Dillon. He often refers to Dillon in the third person, as if he were a close friend.
"You know, Dillon's going to do what Dillon's going to do," he said. "For me, drag is my outlet. But Dillon gives me that confidence to do what I want. I mean, drag has been around since Shakespeare. For some people, drag is a gateway into gender (identity).
"What people don't understand about drag is that it is a spectrum. There is no right or wrong. Some people are pageant girls, big gowns and up-dos. Then you have the alternative girls and ones who gender bend. You'll get men who will dress up as a drag queen dressed up as a drag king."
Espinosa-DuRose, as Dillon, melds all sorts of gender nonconformity offshoots.
"I like to keep people on their toes," he said, winking.
There was no doubting that last Friday. Dillon had patrons not only on their toes but up on their feet, stomping and singing along to "Raise Your Glass, punctuating the chorus with fist pumps.
Drinks may have been spilled, dollar bills may have gone flying, but the crowd and performer didn't seem to care, so transcendent was the moment.