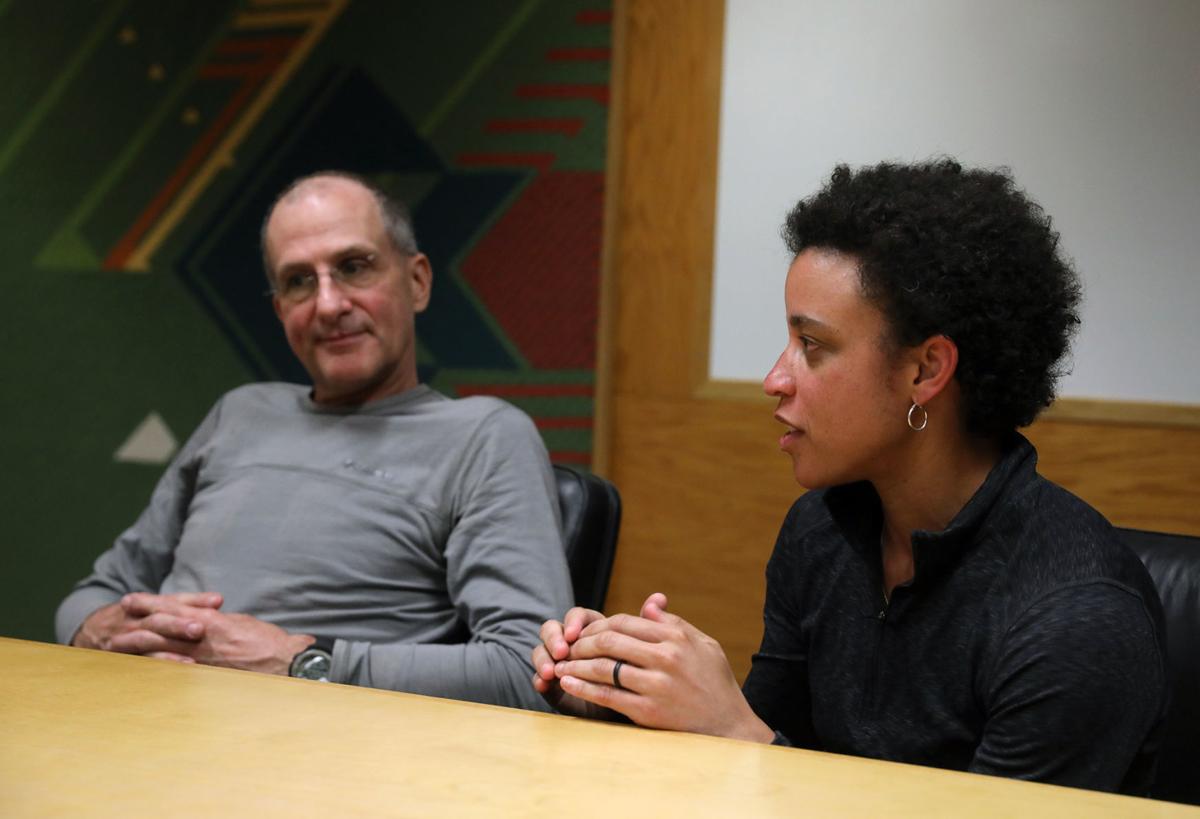 The lights of the Coconino Community College Commons looked like stars in the night sky above astronaut Donald Pettit and astronaut candidate Jessica Watkins as they shared their NASA experiences with an audience of about 80 community members Monday night.
The presentation was a last-minute addition to the Flagstaff Festival of Science, which will officially begin Friday with a presentation by General Charlie Duke, the 10th and youngest person to ever walk on the moon.
Watkins arrived in Flagstaff Sunday morning with the rest of NASA's 2017 astronaut class for geology field work training in areas throughout northern Arizona, much like the Apollo astronauts did half a century ago. Pettit, as well as Canadian astronaut Jeremy Hansen and members of the United States Geological Survey (USGS) Astrogeology Science Center, are helping with instruction.
"It's a pretty special thing and it's a pretty special place and we're definitely honored to be able to spend some time out here," Watkins said.
Monday night, still dusted with the proof of their outdoor work, the two took a break from geology to share their love of science with the Flagstaff community.
Pettit, a chemical engineer who has spent more than 370 days in space, delighted audience members of all ages with tales of the International Space Station's "regenerative life support system," or as he calls it, "the coffee machine."
Using a series of photographs depicting clusters of tubes and wires, he explained how the crew's urine is converted back into purified water, transported throughout the ship and eventually used to rehydrate packaged foods and beverages like coffee.
"This process has an uncanny ability to take yesterday's coffee and turn it into today's coffee," Pettit joked.
The system helps save water on the station by recovering up to 80% of the water in urine, he said, and NASA engineers are currently working on technology that would bump it to 95%.
With technology this elaborate for something as simple as making coffee, though, complications are bound to follow here as much as anywhere else on the station.
"Part of being an astronaut is being a plumber, an electrician and a mechanic, because you're living on a complex machine and it breaks a lot," Pettit said.
Managing all these tasks, in addition to conducting research, can create up to 14-hour workdays, Pettit said during a news conference after the presentation, so there is not a lot of free time for astronauts to play around in space. Nevertheless, he remained luminous when speaking of his time aboard the space station, fondly calling it his second home.
Mission accomplished
To gain the experiences Pettit has gathered in his career, though, is a rare and challenging feat.
"It's been a long journey to get here," said Watkins, a planetary geologist who has aspired to become an astronaut since she was 9 years old. "It has been more about trying to keep that option open … because the numbers are not really in your favor, so it's not really something you can plan for."
She added that she crossed her fingers and hoped for the best when she submitted her application, even though she had the benefit of previous experience with NASA.
Watkins was a NASA intern as an undergraduate student and studied the geology of Mars at NASA's Jet Propulsion Laboratory as a graduate student. Later, during her postdoctoral studies, she spent two weeks at the Mars Desert Research Station in Utah to help test a new helmet display and joined the team that operated the Curiosity rover.
Now she has a new team of 12 other future astronauts, nicknamed "The Turtles," with equally diverse experiences. The group includes several pilots, doctors and engineers, as well as a combustion scientist, Navy submariner and microbiologist. Additionally, two members of the class are Canadian.
Each class is given a nickname by the previous class. Pettit's 44-person class of 1996 was nicknamed "The Sardines" because of its size. "The Turtles" was inspired by a speech by Vice President Mike Pence in which he compared the candidates to a box turtle on a fence post: neither could have arrived where they are now without the help of others.
This group has spent two full years together completing the NASA astronaut training, which includes learning Russian, how to fly T-38 jets and operate robotics, as well as how to live on the space station and complete spacewalks.
Watkins recalled training in space station models replicated in warehouse spaces or submerged in a pool 40 feet deep.
Because divers, suit technicians and test directors surrounded the candidates when they practiced spacewalks in this pool, flying the jet was the most dangerous part of training.
"You could have a bad day in a jet if you're not paying attention," Watkins said.
Other less risky trainings included learning how to eat in space and how to operate the arm that can move payloads and astronauts when they are outside the space station.
Now that her training is nearly complete, Watkins told members of the media she has a newfound appreciation for how varied a career as an astronaut can be.
"It's definitely different, but equally as positive and as awesome as I hoped it would be," Watkins said.
Like the rest of her class, upon completing this process Watkins will hold a technical role in the Astronaut Office until she is given a flight assignment.
She now has high hopes for someday seeing Earth from space.
"We have all these divisions that we create – political, geographical divisions – but when you're from that vantage point, you see one Earth. There are no lines drawn on Earth itself. We are all just on this one body and that's all we have. So I look forward to that perspective," Watkins said.
Get local news delivered to your inbox!
Subscribe to our Daily Headlines newsletter.