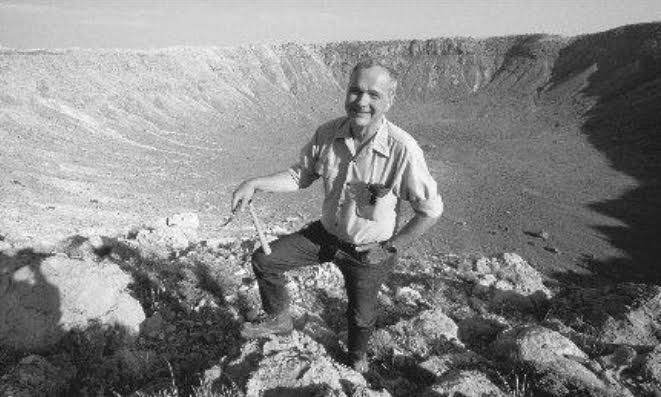 You're already aware that Flagstaff earned a nice little asterisk in connection with the Apollo moon missions, that every astronaut who walked on the moon trained near Flagstaff first: at Meteor Crater, at the Grand Canyon, and at Cinder Lake, out by the Cinder Hills and Doney Park.
Nice as that distinction sounds for Flagstaff, in an important sense it underestimates Flagstaff's contribution. In the 1960s, the race between the US and the USSR to put a man on the moon was exactly that: a race. It was part of the ideological struggle for the hearts and minds of people the world over: a showdown between democracy and communism. Which would plant their flag first? National honor and ideological superiority were at stake.
But the intensity of that space race made it difficult to ask or answer an essential long-term question: what should be the main purpose of humankind's exploration of the solar system? Would it be merely a nation versus nation showdown, a continuing race to place flags? Or would we, could we, find a way to pursue more meaningful goals, for all humankind?
And it was fundamentally in and around Flagstaff that a provisional (later to become permanent) answer to that question was adopted: America would explore the moon — and later the rest of the solar system — for the sake of science, to gain knowledge on behalf all mankind, more in coordination than in competition with other nations.
This approach was provisional, but that was only on the part of NASA. A science-first approach was first nature for the handful of scientists who understood that there were important scientific questions to be answered about the moon.
Foremost among these was Gene Shoemaker of the US Geological Survey. Immediately after President Kennedy's May 1961 call for America to land a man on the moon, the USGS set up a new Astrogeology Research Program, a subdivision of geology that scarcely existed previously. Shoemaker was tasked with heading up this new division.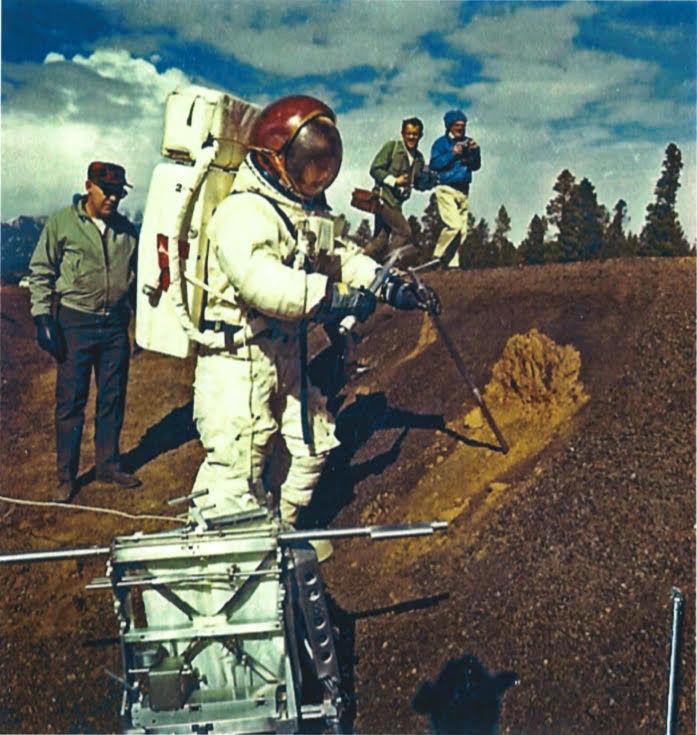 In 1963 Shoemaker requested and received permission to move his astrogeology team to Flagstaff, setting up a new USGS facility on McMillan Mesa, where it still stands today, albeit enlarged. The choice of Flagstaff was no coincidence. Shoemaker's first USGS assignment involved extensive northern Arizona fieldwork and his Ph.D. dissertation dealt with the impact dynamics of the Barringer meteor crater. Also critical to his choice was the potential synergy with the Lowell and Naval observatories, both already involved through NASA with America's space program.
Some of the scientific contributions that could only be gained by visiting and sampling the moon included: 1) analyzing lunar rock compositions (to help determine how the moon was created or captured); 2) providing solid answers in the geological debate over the relative roles of lunar volcanism and impact cratering; and 3) assessing the depth and reactivity of the dust that theoretically coated the lunar surface (was it too deep to walk on, or land the LEM safely? And was it potentially reactive, even explosive, in the presence of oxygen?).
Years later, Shoemaker reflected on the importance of Flagstaff-area geologic training for the Apollo mission, "One of our mainline efforts here was to…work out the most efficient and effective way that you could do human exploration. My notion…was to…get a maximum return on what the astronaut themselves could do on the moon…the idea was [that] Apollo [would prove]…that it really made a difference to scientific discoveries by having a human being there."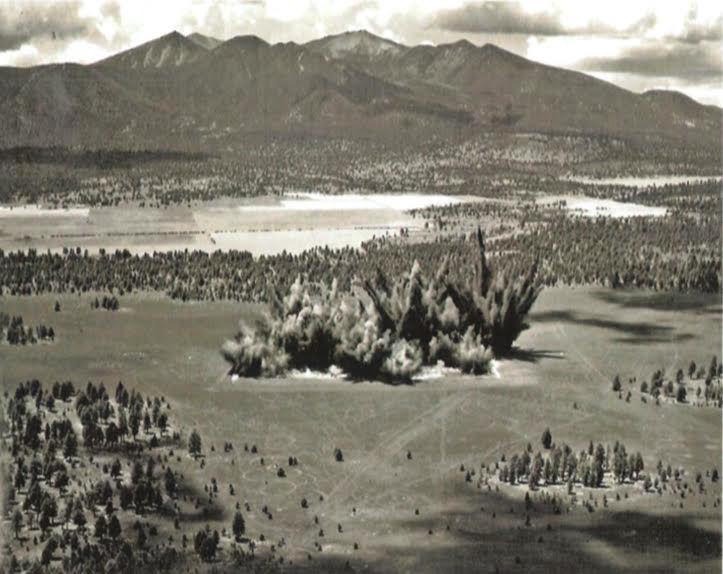 At Cinder Lake, the USGS-Flagstaff team used explosives to create two crater fields for astronaut training, each virtually identical to a planned lunar landing site.
And what did the astronauts think about their training near Flagstaff? In their own words, the Apollo astronauts "got geology" here, that the training engendered "enthusiasm for all that could be achieved in the geological study of the moon." Apollo 16's Charlie Duke will speak of his experience when he revisits Flagstaff for this September's Festival of Science.
On Saturday, June 15, the Roving Rangers will offer a ranger-guided walking tour of Crater Field #1. Group size will be limited, and consequently reservations are required. Call Karen Malis-Clark (928-699-9054) for full details, and to reserve spaces.
Karen Malis-Clark is an 8-year volunteer with the Roving Rangers, following her career with the Coconino National Forest. Bill Wade is a 12-year Roving Ranger, volunteering through the National Park Service.
The NPS/USFS Roving Rangers volunteer through a unique agreement between the Flagstaff Area National Monuments and the Coconino National Forest to provide Interpretive Ranger walks and talks in the Flagstaff area each summer.
Submit questions for the 'Ask a Ranger' weekly column to askaranger@gmail.com
Get local news delivered to your inbox!
Subscribe to our Daily Headlines newsletter.