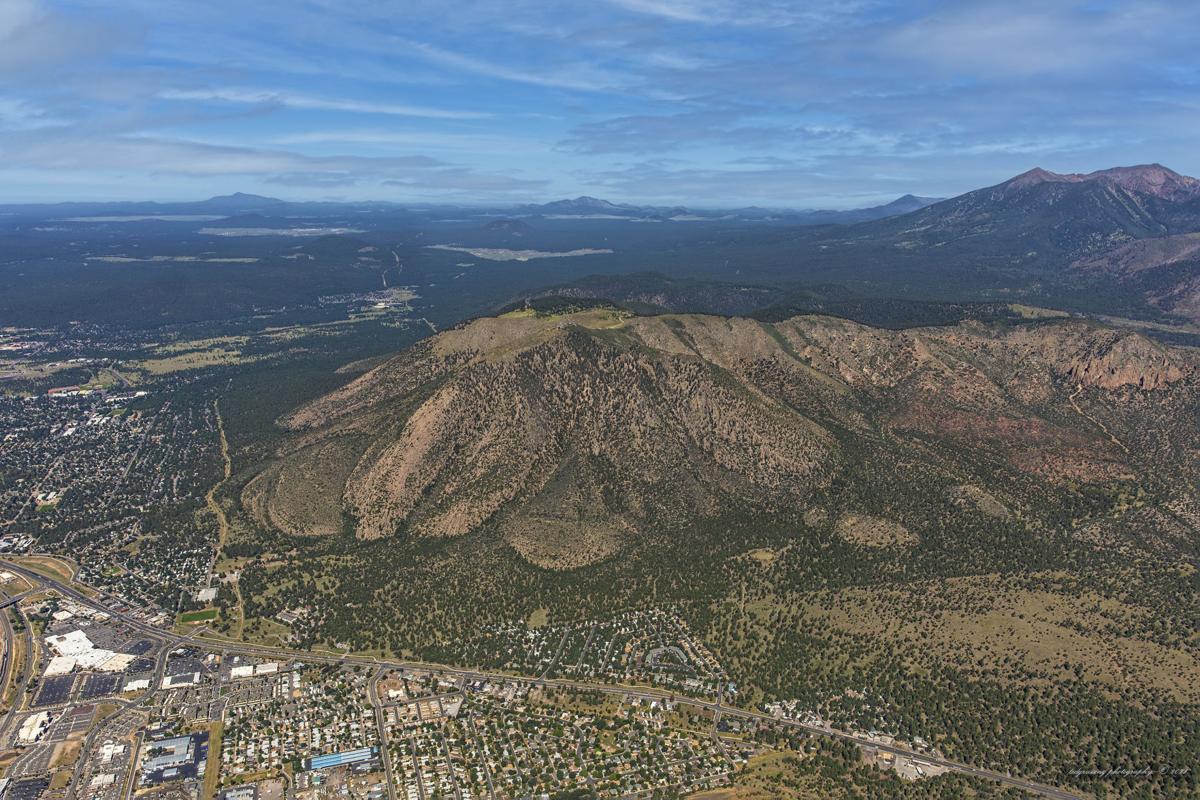 All of the mountains near Flagstaff are volcanic in origin, with the highest of them all, the often snow-clad San Francisco Peaks, serving as a sacred presence for millennia to Native tribes, and more recently as a beacon to travelers to the Coconino National Forest. It's sometimes easy to overlook some of the smaller but no less interesting volcanoes that dot our stunning landscape.
Looming a bit closer to Flagstaff's east side is Mount Elden, climbing steeply to an elevation of 9,301 feet above sea level and rising 2,000 feet above Sunnyside. Mount Elden is a popular playground for hikers, mountain bikers and lovers of nature. But its volcanic origin is sometimes forgotten as its larger brother to the north has the classic volcano profile.
Geologists classify four or five types of volcanoes and San Francisco Mountain is a stratovolcano. These form from repeated eruptions of airborne cinders and ash that become interbedded with lava flows that spill from the summit crater and cascade down the slope. Stratovolcanoes are large and form what many think of when they think "volcano," because the iconic forms of Mount Rainer, Mount St. Helens and Mount Fuji are this kind.
Mount Elden is another type called a lava dome or dome volcano. Lava domes form when stiff, very viscous lava erupts and simply piles higher and higher into a rounded dome shape (viscosity is a measure of a liquid's resistance to flow: the higher the viscosity the more resistant it is to flow). When the viscous lava erupted from the vent at Mount Elden, it was thick and pasty, piling up vertically rather than flowing away to produce a long-traveled lava flow. As the lava cooled and solidified, it formed a type of rock called dacite. This is the rock type people see on the Fat Man's Loop and other Mount Elden trails.
Mount Elden initially produced large gaseous blasts of hot ash and rock that was strewn across the ancient landscape. When the ash cooled, its texture formed tuff, a stone later mined by early Flagstaffians in the construction of a few homes and businesses, such as the Pita Pit building on the southwest corner of Aspen Avenue and San Francisco Street.
The amount of silica in a magma or lava determines its viscosity: the more silica present, the more viscous it is. Dacites have an average silica content of 65% to 70%. The smaller, nearby cinder cones like Sunset Crater erupted less viscous lava (called basalt, with an average silica content of about 50%).
Besides Mount Elden there are several other dacite dome volcanoes in our area — Bill Williams Mountain (the oldest at around 6 million years old), Mount Sitgreaves, Mount Kendrick, Schultz Peak, O'Leary Peak, and Sugarloaf (the youngest at about 95 thousand years). All of these dome volcanoes formed in a similar manner and have similar rock types. But they erupted at different times, with the older domes generally located to the west and younger ones to the east. Mount Elden erupted about 500,000 years ago.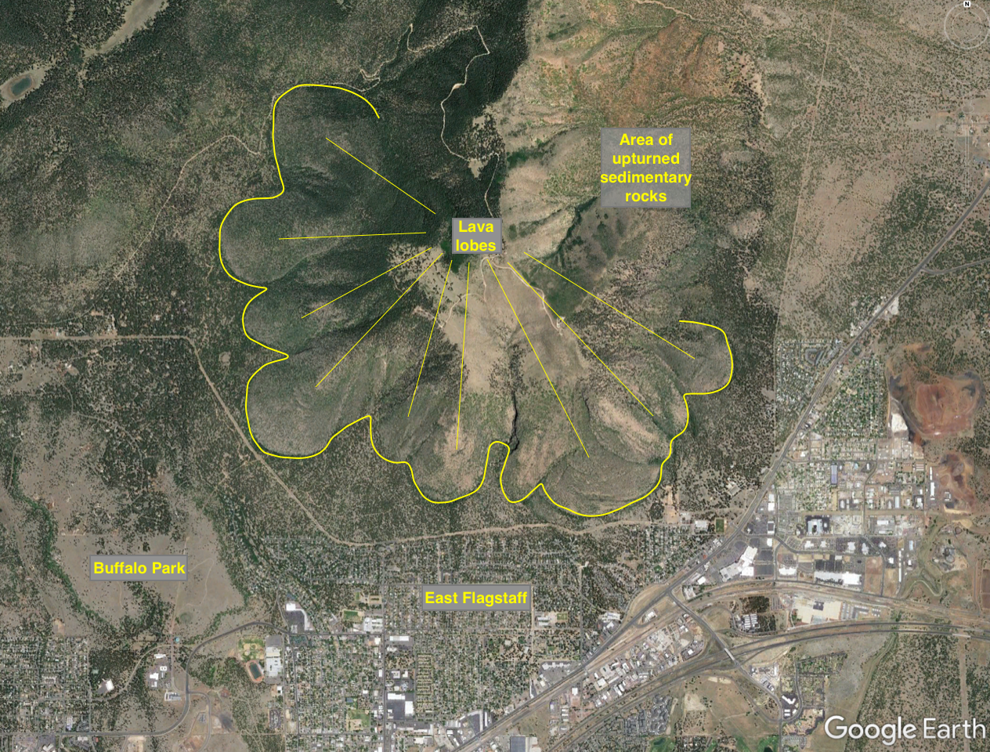 Curiously, the lava at Mount Elden was not entirely unable to flow. As the hot viscous lava piled higher and higher, its slopes became oversteepened such that the hot lava began to creep ever so slowly downhill. Tongues (or lobes) of lava are still evident when one flies over or around the mountain today (see the accompanying images). Even though these lobes are half a million years old, their forms remain beautifully preserved. Lava with this viscosity must have had the consistency of toothpaste that may have seemed immobile overall but was nonetheless and imperceptively creeping downhill.
Mount Elden is also unusual in that the injection of the stiff magma uplifted the sedimentary bedrock on the mountain's eastern side. These once flat-lying sedimentary rocks (which also form the walls of Oak Creek Canyon) are now orientated vertically here. The interpretation is that as the magma was forced up, it rotated the layers upward, like a trapdoor opening.
Indigenous people also used the Mount Elden dacite in the construction of their pueblos, including using dacite temper in their pottery! It's true that from fiery origins, warm hearths and homes can provide a restful night's sleep.
Wayne Ranney is a geologist, river guide, author and retired professor of geology living in Flagstaff. He has authored numerous books including "Ancient Landscapes of the Colorado Plateau" and "Carving Grand Canyon." Wayne is the recipient of the 2021 John D. Haun Award, given by the American Association of Petroleum Geologists. He has received other national and regional honors for his writing, lectures, blog postings and guiding.
The NPS/USFS Roving Rangers volunteer through a unique agreement between the Flagstaff-area national monuments and the Coconino National Forest to provide interpretive ranger walks and talks in the Flagstaff area each summer.
Submit questions for the Ask a Ranger column to askaranger@gmail.com.