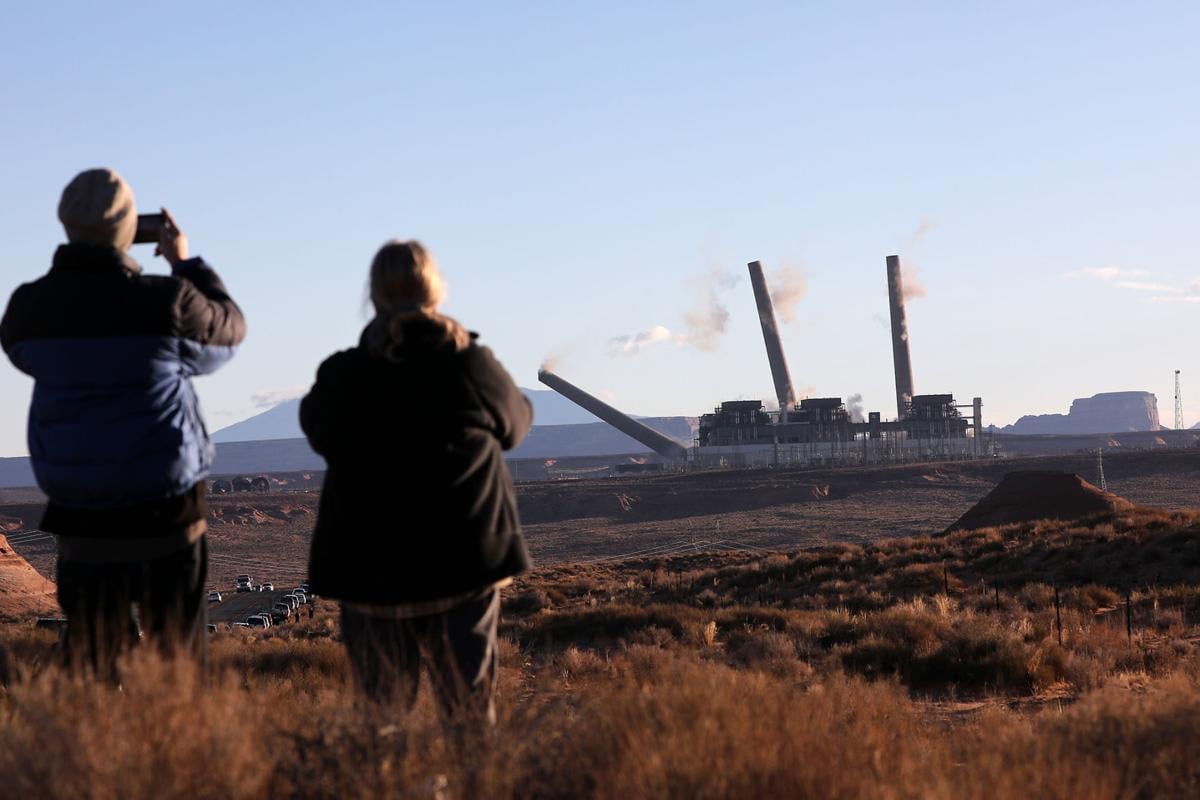 The loss of the Navajo Generating Station is expected to show up in Coconino County's pocketbooks this fiscal year.
During a monthly budget update with the Coconino County Board of Supervisors this week, County Finance Director Siri Mullaney said the loss of NGS translates to a decrease of $40 million in county property tax revenues.
The generating station just outside Page ended operations near the end of 2019 and the power plant's three smoke stacks came down after a controlled detonation in December.
Because of the state formula that counties can use to determine tax levies, the loss of NGS changing the assessed value of the property means a loss of revenue for the county, Mullaney told the board.
County Vice Chair Lena Fowler pointed out it's not just the county's property tax revenues that will be impacted by the change, but also the revenues of other organizations in the county that fund themselves through the use of property taxes, such as Coconino Community College.
"So we'll see it in our health department, our flood district, our schools and fire districts," Fowler said.
The county may still see more money come in from property taxes this year than the year before, but revenues won't be nearly as much as what could have been expected before the closure. 
The news comes as county staff are in the early stages of working on the fiscal year 22 budget.
Deputy County Manager Lucinda Andreani is leading that budget process and both Andreani and county supervisors have indicated they want to build the budget in a conservative way, similar to the budget passed for fiscal year 21.
Andreani said last month that although the budget will be conservative, they want to avoid cuts to county staffing.
"A longtime philosophy the board has held is that through downturns we maintain service levels, and of course we're a service organization, so that involves people," Andreani said in January.
On Tuesday, Andreani suggested the Board of Supervisors also include an examination of county staff compensation during this budget process, even if increases in staff pay can't immediately occur this year.
She also said in January that they want to give county departments an opportunity to take a look at the future and determine what significant needs departments have moving forward, although the actual expenses are also likely to be deferred.
Like local governments across northern Arizona and the country, Coconino County has seen revenues drop as a result of the COVID-19 pandemic.
In fiscal year 20, the county saw lower revenues than the prior year beginning in March and continuing through June and into fiscal year 21. Only by October had the county's revenues recovered to the point that the organization was exceeding revenues brought in at the same time the previous year.
That trend continued through November and December.
"Something to keep in mind, while [revenues are] positive when compared to fiscal year 20, it's not where it would normally have been had we not had the economic impacts of COVID," Mullaney said Tuesday. "We hope that these numbers that we're seeing now really do represent a period of recovery. We had been cautiously optimistic that was the direction things would continue to head; now we have a couple months of data there, so we're hoping that we can have more of a recovery outlook as we move forward."
Mullaney said that throughout the pandemic revenues from retail sales tax have remained strong along with county revenues from vehicle sales. But, as the county saw the introduction of new revenues from online retail sales, it might be hard to tell what those numbers say about the local economy.
When it comes to the county's current budget, Mullaney said the county is on track to meet its savings goals both for salaries and travel categories.
So far, the county has spent more than $4 million out of the general fund on COVID-19-related expenses, but the county could be seeing partial reimbursement on some of those funds.