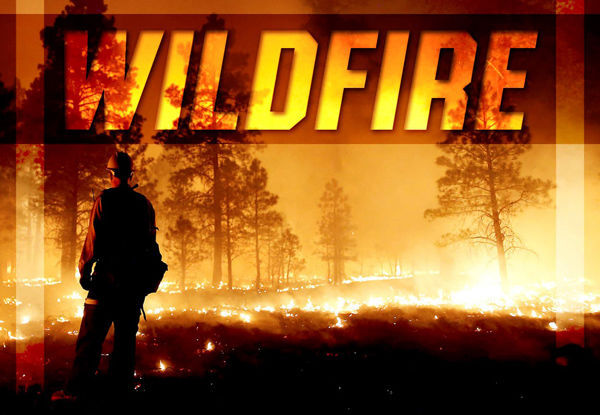 Father's Day weekend was an active one for wildfire in northern Arizona as the Backbone Fire near Strawberry rapidly grew and a new fire began burning southwest of Flagstaff.
That fire, dubbed the Rafael Fire, is believed to be about 18,000 acres in size after only being discovered Friday and is 0% contained.
Fire managers say that growth is in part due to strong winds from the west and low humidity, as well as the terrain in the area.
The fire began burning about north of Perkinsville and west of Sedona in Yavapai county but has since spread into Coconino County, nearing areas around Sycamore Canyon.
The fire's growth forced the Coconino County Sheriff's Office to announce evacuations of some areas of the forest late Sunday night. Evacuations were ordered in areas around Sycamore Canyon and south of Forest Road 535, off of Forest Road 231. Garland Prairie was put into the ready state for potential evacuations.
The area impacted is popular for camping.
Fire managers believe the fire was ignited by a dry thunderstorm that passed across the region late last week. Fire managers believe the same storm ignited as many as five other fires north of Paulden and west of Highway 89, but so far, all those fires are significantly smaller than the Rafael Fire.
The total acreage is estimated to be about 1,800 acres. A type three incident management team appears to be working on the Rafael Fire and the other smaller blazes in the area.
Smoke from the Rafael Fire is highly visible from Sedona and has likely impacted other communities as well, such as Flagstaff.
Backbone Fire
Meanwhile, a type 1 incident team took control of managing the Backbone Fire this weekend.
On Friday, the communities of Strawberry and Pine were both ordered to evacuate and the fire continued to grow over the weekend. Based on a flyover Sunday night, the fire is now estimated to be about 32,700 acres in size and it is 0% contained.
There are 334 personnel assigned with more on the way, said spokesperson Jayson Coil during a briefing on Monday morning.
State Route 260 is closed between Camp Verde and State Route 87. Likewise, 87 is closed north of Payson to Clint's Week.
Since its start, the fire has largely been moving north but also spreading somewhat to the east and west.
Coil said while there is threat to Pine and Strawberry, there is also an emerging threat to Camp Verde as the fire continues to grow northward.
On Sunday, firefighters used heavy equipment to reinforce fire lines south and west of Strawberry and Pine in order to help protect those communities and fire lines have now been built around Strawberry. Fire managers are also looking at conducting prescribed burns in the area in order to deprive the fire of fuel nearby.
Coil said they are improving forest roads in the area southeast of Strawberry, on top of Deadman's Mesa, as they hope to prevent the fire from crossing and establishing itself in Hardscrabble Canyon.
There have been some spot fires across that road, but Coil said they are working to prevent those spot fires from spreading and further growing the fire to the east.
Difficult terrain in the area has limited the way that firefighters on the ground have been able to safely work on the fire and fire managers are relying on aircraft to do much of the work.
"This is a huge challenge in this terrain because the easy parts aren't the important parts," Coil said.
They also want to prevent the fire from crossing into the west side of the Verde River, Coil said. If the fire crosses that river, it will greatly complicate their efforts to counter the fire and they will thus be monitoring the area very closely, Coil said.
Smoke from the fire is highly visible from Camp Verde. Coil said they now have two containment lines between Camp Verde and the fire as they expect the fire to continue to move in that area.
At 5:30 p.m. tonight there will be a live streamed meeting at the Payson Highschool where fire managers will provide additional information on the Backbone blaze.
Adrian Skabelund can be reached by phone at (928) 556-2261, by email at askabelund@azdailysun.com or on Twitter at @AdrianSkabelund.