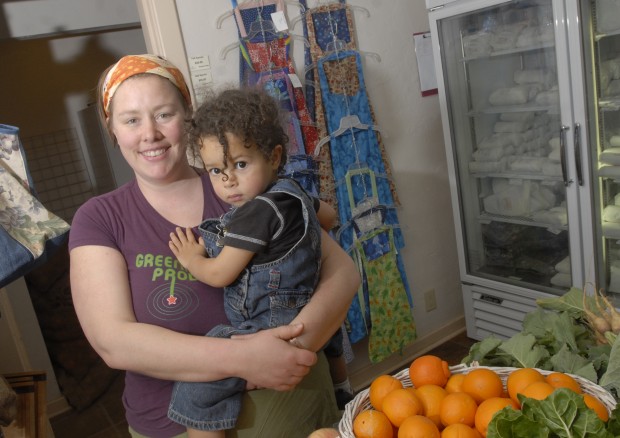 Bags of pink lady apples from Willcox.
Lemongrass stalks from Camp Verde.
Bunches of chives from Cornville.
Boxes of winter squash from Chino Valley.
Crates of red potatoes from Phoenix.
Shade-grown coffee direct from a Flagstaff family-owned farm in El Salvador.
At the very beginning of its spring season last week, the shelves and tables at the Flagstaff Community Supported Agriculture (FCSA) store and office on West Cottage Avenue brimmed with a cornucopia of organic, certified, naturally grown or pesticide-free produce.
A weekly share is $20 for eight items, and signs on the walls directed shareholders to correct items for their weekly distribution:
"This week's share -- 5 red potatoes, 3 navel oranges, 1 bunch carrots, 1 bunch cilantro, 1 bunch yukina savoy, 1 bunch mustard greens, 1 bag spring mix, 1 bag spinach."
Multiple deliveries during the week prepare for the weekly distribution on Thursday, when participants come into FCSA between 1 and 8 p.m. to collect their shares.
Some of the items in the store are daunting to identify and cook, like the yukina savoy (a Chinese cabbage), rutabagas, turnips and King Richard leeks.
"That's the most challenging thing for people -- what do you do with turnips?" said Karna Otten, FCSA coordinator. "We have a food blog for recipes."
Under the leadership of Gary Nabhan, a sustainable agriculture activist, CSA, a nationwide movement, started in Flagstaff in the fall of 2002 as a partnership with Crooked Sky Farms in Glendale, Otten said.
Starting with 70 members, the organization has grown to 151 shareholders.
"There's room for a lot of improvement and growth," she said. "I think Flagstaff could support more farmers' markets and CSA. I think 150 is not a lot in terms of our population."
In 2007, Otten, who moved here six years ago from Minnesota, took over the reins from the previous coordinator, Andrea Meronuck.
Otten, 33, rejected the idea that she's a one-woman show at FCSA, and said she has a database with more than 50 volunteers.
"It couldn't exist if it was only me," she said. "It's important for me to be dispensable. If I left tomorrow, someone else should be able to step in and do my job."
After purchasing a share when she first got here, Otten said she soon found out kale was not just for decorating salad bars.
"I bought a share, and I loved it," Otten said. "It changed how I ate. Organic -- I never understood the big picture."
You have free articles remaining.
Otten, who sings and plays guitar, still worked as a musician and did the CSA newsletter on top of that.
"I wouldn't change anything," she said. "I was finally doing what I wanted to do."
After becoming FCSA coordinator, she stopped doing her music gigs and has lived on a modest wage from the profits of the business.
FCSA operates nine months out of the year, October through June. There are three 12-week seasons: Fall, winter and spring.
About 14 months ago, the group moved from its location in the Bilby Research Center at NAU to the building that was formerly home to Aradia Bookstore.
The move facilitated an expansion of services, including a new store inside where folks can buy produce and other food products year-round.
"The one thing I wanted was to help create more opportunities, more access for people," Otten said. "My idea was to open a store where people can buy things that are in the farmer's market May through October, but producers and vendors are growing and making year-round."
Otten has added other products to the store, such as bread, olive oil, honey, jam, relish, fudge, cheese, meat, eggs and even frozen Molly's Tamales each week.
"Every week it grows, it seems," Otten said. "It's a constant evolution in here."
With the addition of coolers, the store could also supply organic meat, like Flying M Ranch free-range beef.
"It's became more of a store -- a place people shop first," she added. "I really want to emphasize the community part of it that exists because the community supports it."
One of the suppliers, Crooked Sky, uses organic and heirloom seeds and farms without chemical pesticides, herbicides or fertilizers. Produce and fruit also are delivered from Whipstone Farm in Chino Valley, Flying M Ranch in Coconino County, Wong's Farm in Marana, and Tickaboo Ranch in Camp Verde.
Also, a variety of backyard egg producers supply chicken duck, goose and even huge emu eggs.
"We don't mark things up," she said. "Everything is at the price of the producer. We take a small percentage. I want the farms to still be able to meet their own needs."
Her work with the cooperative dovetails nicely with her work as the mother of her son, Jola, who is almost 3.
"He's my driving spirit," Otten said. "I wanted a space where kids are always welcome. I think I was lucky in this food community; I always felt I could have him with me."
To further help families in need, the market will soon have machines so people with food stamps can shop with their cards.
Also, the new CSA Scholarship Project will enable 10 to 12 families with food insecurity to apply for full or partial scholarships toward a CSA share.
"My passion is food and community," Otten said. "We're not turning anyone away."