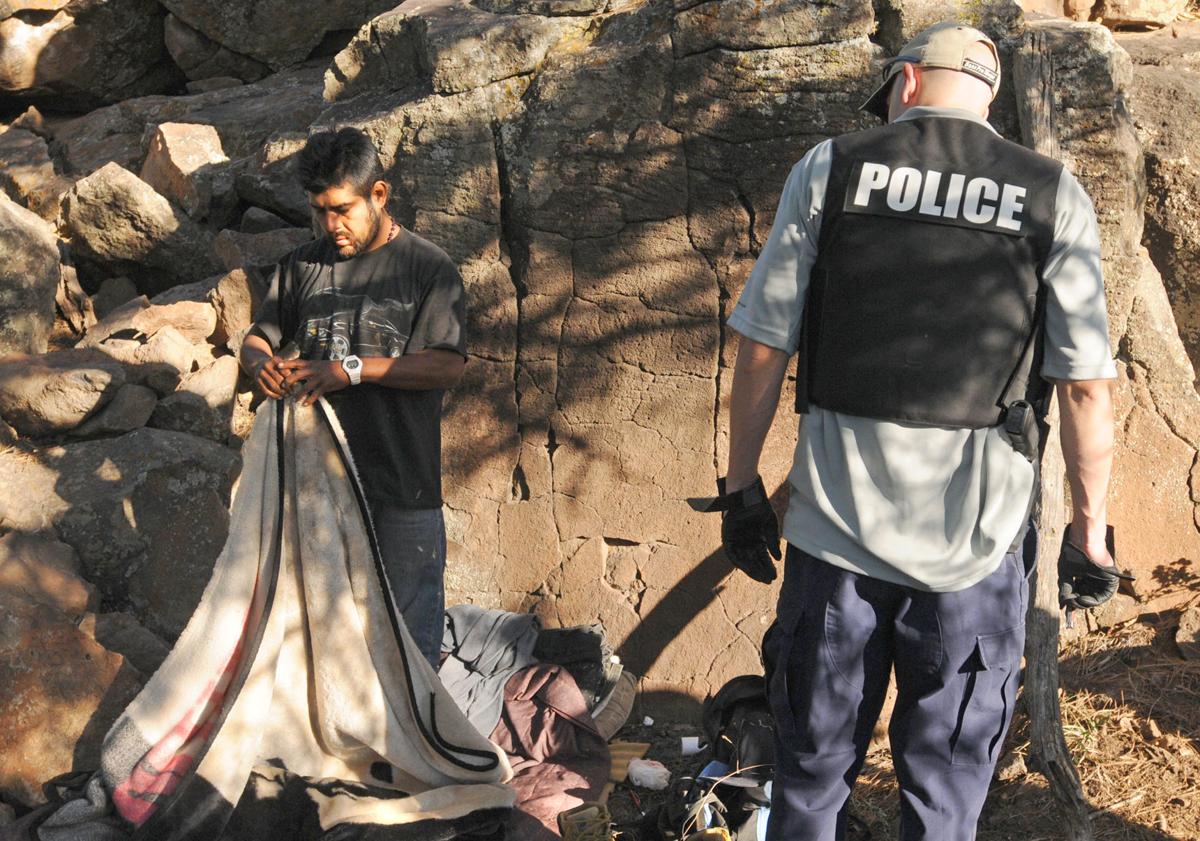 A Flagstaff city ordinance that some contend "criminalizes sleep" will stand unchanged after city council members declined to change or repeal the city's camping ordinance at its work session Tuesday night.
The ordinance, which was adopted in 2005 and amended in 2009, makes it a Class 3 misdemeanor, the lowest level, for people to camp within city limits on public property, including in public parks, on city streets and sidewalks or any undeveloped land within city limits.
The ordinance defines camping as sleeping or making accommodations to sleep, including setting up a structure or tent to sleep in, storing personal belongings, making a fire or cooking outside a city-provided barbeque pit or grill. The ordinance also prohibits sleeping in a vehicle parked on public property if it is deemed "camping" instead of "napping."
The ordinance separates camping from "napping" and "picnicking" by defining the last two as "brief and intermittent use of city property for recreational purposes during daylight hours."
Dan Musselman, the interim police chief, told the council the ordinance is an important way for police to reduce the danger of a catastrophic fire, and said other laws, like littering and criminal damage, are hard to prove and enforce.
"We believe this ordinance is necessary to help protect our city," said Marianne Sullivan, the city attorney assigned to the police department. "Enforcement is very limited."
Officers are required to give only a warning for a first offense and provide violators with a list of resources for places to stay for the night and other services for those experiencing homelessness, Sullivan said. Those camping out of "necessity" -- meaning the shelters were full or they were fleeing a dangerous situation, like domestic violence -- can use that as a defense against a citation.
Since the ordinance was first enacted, the number of shelter beds in the city for men and women has grown, supplemented by overflow beds in local churches. Last year, police made just one arrest for illegal camping.
In the last five years, 23 people have been arrested and cited using the ordinance, and 266 warnings have been given, according to statistics provided by the police department. Of the arrests, three of the persons had other charges, including littering, reckless burning and trespassing.
When the ordinance was implemented in 2005, the city actually experienced an increase in wildland fires within the city limits, with 89 fires reported that year compared with 70 the year before. Since then, the number of wildland fires in the city has fluctuated, with the lowest number of fires, 40, in a year reported in 2011 and 2015, and the highest number, 88, in 2007.
The largest dropoff in wildland fires actually happened before the ordinance was enacted, in 2001, when 70 fires were reported, compared with 116 in 2000, according to police department statistics. Forest treatment for fire prevention began in 2000, Musselman said.
In a presentation to the council, representatives from the police department listed 11 other cities that have similar ordinances, including Payson and Prescott in Arizona. Portland, Oregon, was also listed, but the ordinance there is no longer enforced. Of the 11 cities that do enforce the ordinance, Flagstaff had the lowest number of arrests in 2017, with only one. Denver had the lowest number of the other cities, with five, and Fort Collins, Colo., had the most, with 495.
However, many members of the public who attended the meeting said the ordinance puts even more of a burden on the most vulnerable in the community.
"There is no compassionate way to enforce the anti-camping ordinance," said community activist Klee Benally. "Life is already hard enough for our unsheltered relatives on the streets."
The city and state already have laws that address littering and unattended fires, Benally said, adding that the repeal of the ordinance would not encourage more people to camp on city property.
In the years that there was not a camping ordinance, there was not a swell of people looking to sleep in parks, inside parked vehicles or on unimproved land, he said.
"The law is unjust, redundant and harmful," he said.
Several of the 16 speakers who addressed the council identified themselves as homeless, and some said they were members of local indigenous tribes. Many said they had become homeless after a personal tragedy, like the loss of family members; others said they had jobs in the city, but still did not make enough to be able to pay rent anywhere.
Emily Melhorn, a speaker at the meeting, said her husband used to be employed seasonally in several national parks, but the seasonal housing did not accommodate spouses or pets. She recalled a time when she slept in tents on cold nights, and she would have been even more demoralized if an officer had awakened her and told her she was in violation of the law.
"My value as a human isn't dependent on paying rent," she said.
Jody Clements, who identified herself as homeless, said she breaks the law each day by sleeping in her RV.
"It would be legal for me to take up a shelter bed and leave my RV parked unoccupied," she said.
She told the council she has the means to take care of herself, like buying food and clothing, but said she is not able to save enough for rent.
Clements said the police department's suggested alternatives to illegal camping are also impossible, because it's a violation of the zoning code for her to live in an RV parked on private property, privately-owned campsites are too expensive and camping on national forest land has a 14-day limit, after which campers must move at least 5 miles away.
"This year, it's too dry (to stay in the forest),"  she said.  "I'm afraid of fires, too," she said.
Police focused on litter abatement as a reason to keep the ordinance, but Clements said there is a double standard for litter left by the homeless population and litter left by tourists, like broken sleds in the winter.
"Messes left by wealthy people are less objectionable than messes left by poor people, I guess," she said.
Not all members of the public who spoke were in favor of changing or repealing the ordinance, however. Three speakers spoke in favor of keeping the existing ordinance.
On the dais, only Councilwoman Eva Putzova expressed a desire to eliminate or amend the ordinance.
"I feel the ordinance is unnecessary," Putzova said. "We have other laws that prevent arson and littering. What we are really policing is sleeping. I feel very strongly that sleeping should never be illegal."
Putzova suggested the city find a creative solution, like designating a parking lot as a place where people could legally park and sleep without fear police will ask them to move.
The council opted to have a future discussion about ways to accommodate the homeless population, but chose not to take up amending the camping ordinance.