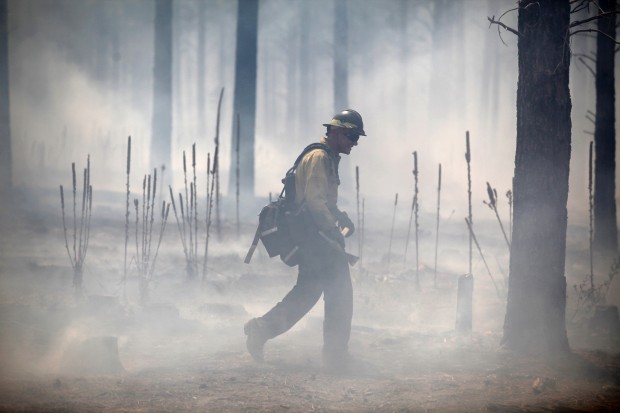 Hundreds of firefighters from New Mexico and Arizona gained ground Thursday in fighting a wildfire on the private forested lands near homes and cabins north of Parks.
Firefighters battling the wildfire were able to start cutting a dozer line and conduct burnouts, which rob the fire of additional fuel, overnight Wednesday. Those burnouts are the main reason the fire's size is now estimated at 3,400 acres, up from the 1,000 acres forest officials reported at noon Thursday.
The wildfire was 30 percent contained as of Thursday evening.
Lighter, low-to-the-ground fires fanned out from the core of the Eagle Rock fire near Spring Valley homes, where power was restored Thursday.
Evacuations for part of the area remain in place after the wildfire threatened homes at its height on Wednesday afternoon.
Above Spring Valley on the surrounding Kaibab National Forest land, the wildfire torched clusters of trees on RS Hill and marched up Sitgreaves Mountain, sending dark plumes of smoke over green fields and dwarfing firefighting helicopters.
That main, intense part of the blaze on the hills also might have cast off enough airborne embers to start another fire some miles away, which was contained Thursday.
Two outbuildings in the Spring Valley area had been burned and two utility trailers were partially burned as of Thursday, according to Forest Service personnel.
Local residents from Parks who live east of Spring Valley Road were being allowed to return to check on their homes or retrieve belongings because the fire was burning away from that area today.
In all, 60 residences were evacuated Wednesday evening. A Red Cross evacuation center has been set up at Maine Consolidated School.
A total of 316 firefighters and support personnel are assigned to the fire and include four hot shot crews, a 20-person hand crew, 16 engines, two water tenders, three helicopters, one dozer and many individual firefighting personnel.
Fire managers were able to use aerial resources for part of Thursday due to slightly lower winds.
On Wednesday, red flag weather conditions of high winds and low humidity drove the forest fire from 30 acres in the late morning to 1,000 acres by nightfall. The gusting winds also grounded air tankers and helicopters.
You have free articles remaining.
There is no estimated containment date for the forest fire. The cause of the fire is under investigation.
"Today is a brief respite in the wind," Punky Moore, spokeswoman for the Kaibab National Forest, said on Thursday.
The National Weather Service has forecast winds of 15 to 18 mph Friday, with gusts up to 25 mph.
Two residents reported their neighbors had called the Forest Service on Tuesday night to report the beginning of a wildfire but complained that the Forest Service responded on Wednesday morning.
Moore said the Forest Service hadn't received any calls until Wednesday morning, when the fire was also spotted by two people in watchtowers. But she said the agency was double-checking the phone log and messages.
"Our fire staff officer is checking into the records and we'll put that out as soon as we hear anything," Moore said.
Locals came by one area where the road was closed even to Spring Valley residents (past an initial checkpoint) to ask a sheriff's deputy how firefighting was progressing, or when they might be able to return home.
On a more northern stretch of the fire accessed by news media with permission, the head of a 20-person crew from Hopi and the Bureau of Indian Affairs said the crew was glad for the call to fight a fire on midday Wednesday, even if it meant dealing with high winds that threw a lot of embers.
"Some of our grandfathers and dads did this, so it passes down in our genes and we like to fight fire," said Terrance Honvantewa.
Farther north, National Park Service firefighters unrolled hoses to keep watch on a calmer end of the fire, next to a home beside a couple of verdant ponds in Spring Valley.
There was no word Thursday afternoon on when those evacuated would be allowed to return, but the restoration of electricity in the area was a sign that evacuation orders could be lifted soon.
Kaibab Lake on the Williams Ranger District is closed to boating due to fire operations. The east side of the lake is closed to fishing. However, it remains open for camping.