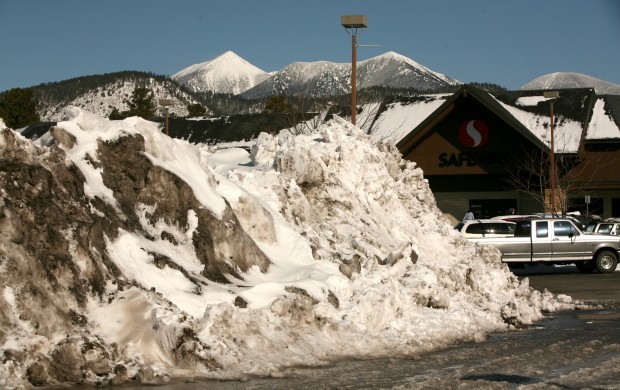 Flagstaff is beating most U.S. cities large and small this year for snowfall, having already surpassed the average snowfall for an entire winter of 109 inches.
There has been 118 inches of snow -- nearly 10 feet -- here so far. The normal through Feb. 22 is 72 inches.
This is only the third winter in the past 11 that has seen Flagstaff top the 30-year average.
March is typically Flagstaff's most snow-filled month, however, and national forecasters are giving better-than-average odds of more precipitation next month.
Among cities over 100,000 in population, Syracuse, N.Y., leads the list. But its 86 inches to date is nearly 3 feet less than Flagstaff, a city of about 60,000, has received.
Flagstaff has already broken one record this winter, said National Weather Service meteorologist Justin Johndrow: 78 consecutive days with 6 inches of snow on the ground, as measured by whether there is snow of that depth covering more than half of a piece of ground at the Flagstaff airport.
He's forecasting a weak storm that could bring some snow tonight, and a slightly stronger storm for the coming weekend.
"That one has the chance to be more significant than the midweek," he said of the forecast weekend storm.
Hardest hit in this last one was the North Kaibab, with Jacob Lake receiving 18 inches of snow from Sunday night to Monday morning. An employee at the Jacob Lake Inn reported about 2 feet from Saturday night to Sunday morning.
Snowfall in Flagstaff ranged from 5 inches to 9 inches, with 8.6 inches at Flagstaff Pulliam Airport.
Official record-keeping on Flagstaff's weather began on September 9, 1898, and a 30-year period ending in 2000 has been used in the last decade to determine what is average weather-wise.
In that case, the 30-year average for the city's snowfall is 109 inches, or 9 feet, due partly to heavy snow years in the 1970s and 1980s.
Tallying all the winters since 1899, the area averages 7 feet of snow per winter -- about 84 inches.
Flagstaff last beat both averages in the winter of 2004-2005.
Flagstaff averages 198 days annually of what the National Weather Service considers the snowfall season. It begins Oct. 24, on average, and typically ends May 9.