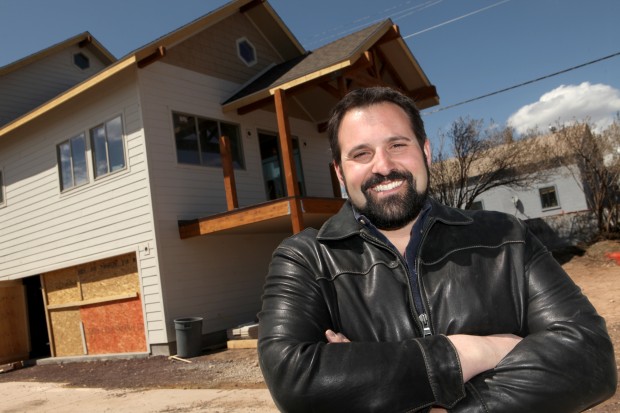 David Carpenter's high-performance Hilltop Condominiums originated in the sustainability fervor of his NAU days.
Along with their sprightly Shih Tzu puppy, Roxie, Jennifer and David Carpenter climbed from the first to the third floor in their home Wednesday afternoon, their feet landing on elegant stair treads fashioned from scraped bamboo.
Once upstairs, they settled on a soft couch that faced a deck and majestic view of the San Francisco Peaks.
Welcome to Hilltop Gardens, the five-unit condominiums just north of NAU on South Fontaine Street, which were designed and built by Hope Construction, the contracting business owned and run by the Carpenters.
A tile mounted on a post outside testifies to the fact that the condos were given a 2009 award by the county's Sustainable Building Program.
Incorporating a rainwater catchment system, solar panels, spray foam insulation and high-efficiency appliances, the complex is a prime example of green-building techniques.
Directly across the street, Hope Construction is building a custom home for a professor at NAU, which also incorporates sustainable building principles.
"I put a camera on the top of this building," David Carpenter said. "I'm filming five months of construction across the street. I'm going to compress it to one minute and put it on our website."
Raised in Chicago, Carpenter, 36, worked as a carpenter for 10 years before coming to Flagstaff to attend NAU.
The first thing Carpenter built while a student was a little blue-gray house up the street.
In fact, the South Fontaine area has become a kind of experimental lab for the builder.
"We can afford to do this all right here," he said. "This whole little section is not in the flood zone. That's why we can do this."
His experience with big-city life played out in some of his plans for Hilltop Gardens.
"I would say my living in Chicago influenced my design in some respects," he said. "But it was certainly living and going to school here in northern Arizona that sparked my interest in green building."
Some of the Chicago-style features at Hilltop are the city-loft style dwellings that are each about 2,000 square feet, as well as patios with sweeping views and rooftop decks.
Although they wanted to sell the units, they have all been temporarily rented, "until the real estate market emerges back from the ashes," Carpenter added.
While at NAU, Carpenter developed a passion for sustainable building and pursued a degree in construction management.
Carpenter said all the talk among students and professors, as well as long conversations about sustainable building with his fellow student Justin Erickson, determined his career path, which culminated in starting Hope Construction four years ago.
"We've found our niche," he said. "We're building our eighth project right now. I took a college student's idea and turned it into a business."
After graduating, he did a brief stint in Newport Beach in California, before returning to this mountain town.
"I worked for a large contractor, and I call that my master's degree," Carpenter said. "Flagstaff for me just seemed like a great place for someone my size -- a small business. I knew the area and the neighborhood where I wanted to do my business. I first saw the property when I was attending university, and I thought how cool would it be to build something on that hill."
Carpenter said it's the builder's role to guide and educate customers in sustainable building concepts.
"The trend is definitely going toward that," he said. "I saw the trend moving upward."
Carpenter noted he usually uses the term "high-performance building" when referring to his building style.
"Green building is a very big, catchall phrase," he said. "It might be a building that is highly efficient or uses local materials or is healthy for the occupants because it doesn't use chemicals. High-performance building has to do with energy only."
Hope Construction is a hybrid of both green and high-performance building, he added.
The focus on energy saving produced another logo attached outside Hilltop Gardens: An "Energy Star" sign.
Energy Star is a government-backed program that helps businesses and individuals protect the environment through superior energy efficiency.
Carpenter said energy consumption is much lower than a normal home, with the yearly bill running less than $1,000 for heating, electricity, hot water and cooling in a larger Energy Star home.
Having good windows, caulking holes in a house, installing a two-stage furnace and using alternative energy sources such as wind and solar will help a home become a top energy performer, Carpenter said.
Jennifer Carpenter, who came to work with Hope about three years ago, occupies a desk that butts right up against her husband's in their shared office upstairs.
"I wouldn't change anything," she said. "It's really nice being partners and working together."
A graduate of ASU and former special education teacher, she also took classes here in interior design so she could help their clients with their choices in finishings, like flooring, paint and countertops.
She also handles paperwork, marketing and advertising.
With no background in building, there was a lot to learn.
"When I met David, that's when I learned all about it," she added. "I feel I learned very quickly -- the building science."
The two have become a powerful voice in the industry.
"[With] David and his wife Jenn and Hope Construction, their programs all run through the county Sustainable Building Program and have been models in our community for sustainable building, and how to do it here locally, from single-family to multi-family units, like the condos," observed Amanda Acheson, the manager for the county's program.
Visitors Wednesday afternoon to Diablo Burger on Heritage Square were treated to free cheeseburgers even though the restaurant was officially closed for renovations.
Owner Derrick Widmark was overseeing work being done by Hope Construction, his original contractor on the space, which opened in March 2009.
"I'm a big fan of David's work," Widmark said. "We built the restaurant together. David is truly committed to green building. He's not just in it because it's a fad. He's always looking for sustainable and creative solutions."
The Diablo project was a "TI," or tenant improvement, Carpenter said.
"You go in and build out the interior for a customers," he said. "It was a hair salon, then a deli. It was just a kind of giant core, a concrete shell."
Hope Construction is big on using local materials, like the copper tabletops in the restaurant.
"We are the copper state," Widmark said, with a laugh.
The restaurant is only 600 square feet.
"Working with David, we made the most out of what was a challenging space," Widmark noted.