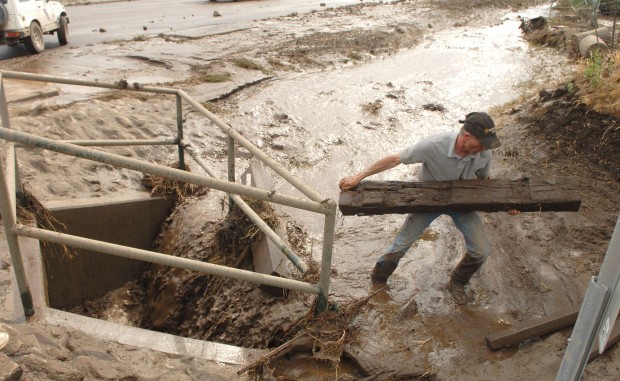 A 12-year-old girl died and dozens of homes were damaged Tuesday in a flash flood that sent residents of Timberline, Fernwood and even parts of Doney Park fleeing.
A cloudburst over the San Francisco Peaks fell on the area burned last month in the 15,000-acre Schultz fire, moving boulders into roads and pushing sheds across yards.
Residents said the approaching water and ash sounded like an avalanche, a jet engine, or a loud truck as it came off the mountains into Timberline, flooding some homes and leaving many others with mostly mud in the yard.
As the water receded and some pulled their belongings out of the mud and mucked out flooded garages, they also asked: Who, if anyone, would cover these losses in an area where most don't have flood insurance and newly purchased insurance had yet to become effective?
Randie Wareham and husband Chris carried wedding photos, their daughter's belongings, and a grandmother's diary from their home on Tuesday afternoon, stunned by what had just happened.
The couple and builders were doing a major renovation when the water, mud, ash and straw came through their living room windows, flooding every room in their home.
"We saw a wall of mud and debris," Wareham said.
Builder Andrew O'Banion heard horse corrals breaking, and the chicken coup flooding, as everyone gathered what they could, watching rain fall near Schultz Peak.
Shortly after, they remembered the 16-year-old black lab left at home.
O'Banion pushed against the mud blocking a screen door to retrieve the dog, who barely had its head above water.
Chris Wareham said he was appreciative that his family had all survived, minus some chickens. Randie cried as she attempted to choose what to take from their very muddy home.
The Warehams bought flood insurance on July 6, as Coconino County had advised all in Timberline to do.
But the insurance has a 30-day waiting period before it becomes effective.
"We have a lot of damage here," said Coconino County Supervisor Liz Archuleta.
The county planned to hand out more sandbags today.
The Godesiabois family, with mom Julie and kids Emmett and Molly, set about digging out an air compressor and finding things in their yard, which had been grass but is now mud.
"It tore down that 6-foot fence over there," Molly said, pointing.
A large storage building was flooded. The garage that held many of the family's belongings was full of mud. The lawnmower was buried in mud. Mud was everywhere.
Even opening the gate into the driveway was difficult, due to the amount of mud piled against it.
"I feel a little overwhelmed right now," Julie Godesiabois said.
The family had been alerted to the flood by barking dogs, and the water and mud had washed up against the side of the home.
Another resident, Maren Zobott, heard the sound of rushing water, but no rain.
"I was on the phone with my friend, and I said, 'Oh, there's the shed floating by.'"
Her home was undamaged inside.
VOLUNTEERS CLEAR CULVERTS
Bands of residents with shovels again went street to street clearing culverts and helping what homes they could.
Those who weren't home at the time of the flood weren't allowed in by Coconino County sheriff's deputies, but those already home were allowed to stay.
Sandbags held in some areas, but gave way in others.
The sandbags didn't work for Stephanie McCarthy, whose shed was also moved about 100 feet by the water.
"The garden's completely demolished, but at least the house is OK," she said, as she shoveled mud.
Her fence was also broken.
Jesse Maestas, a resident for nearly 10 years, lives on the side of Crisp Hill and escaped damage.
Sandbags were effective in protecting his shed, and he put them out because he has seen flooding before.
"This is way more water, because of the fire," he said.
As he spoke, his dog played in the mud, road graders pushed large rocks off roads, and neighbors cleared blocked ravines.
Some looked to the Peaks as they worked, gauging the darkness of the clouds, and the odds of more rain.
"This ain't the end of this," Maestas said. "It's only the beginning."