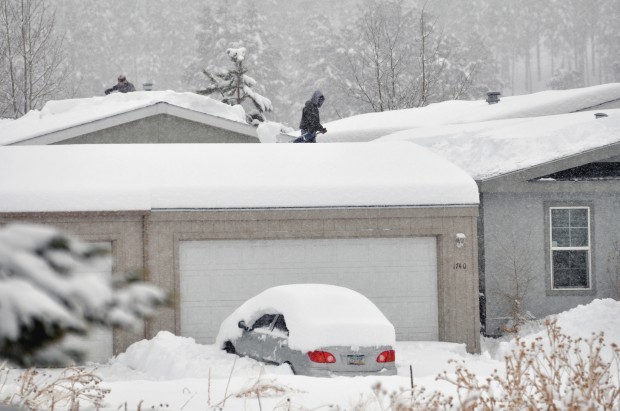 The last in a series of storms to hit Flagstaff this week had dropped more than 21 inches of new snow in parts of Flagstaff by today at 1 p.m.
The strongest portion of the storm was slated to hit just before midnight, with another strong wallop of snow -- up to 2 feet -- to fall Friday into Saturday, said Brian Klimowski, meteorologist for the National Weather Service station in Bellemont.
"It's likely going to finish in the top three of all time," Klimowski said.
Snow started falling around 10 p.m. Wednesday night, and overnight snow levels were as low as 4,500 feet. By midday, levels had risen to 6,500 to 7,000 feet. Snow level was slated to go as high as 7,500 feet with the arrival of the main front, Klimowski said. Precipitation will intensify late this afternoon and early evening.
The front is expected to bring winds of 30 to 40 mph, with wind gusts of up to 60 mph, he added. The strong winds are a concern because of their effect on structures and trees loaded with snow.
After the front passes, snow levels will plummet to 5,000, Klimowski said. Another 1 to 2 feet of snow will continue to fall Friday and into Saturday.
At the lower elevations below the Mogollon Rim, Klimowski said flooding is a major concern.
"We're still anticipating very high crests late tonight an early Friday," Klimowski said, adding that areas of concern include Oak Creek and the Verde and Agua Fria Rivers.
Storm total, counting Monday through Thursday 32 to 36 inches in the Flagstaff area.
In the city, officers were keeping on top of calls.
"The city is very manageable from a law enforcement perspective," said Lt. Ken Koch of the Flagstaff Police Department.
He added that officers were not reporting spikes of any auto collisions in the city as of 2 p.m.
Koch said that officers were making contact with truck drivers on CB radio to give alternative parking spots in the city beyond the Sinclair Truck Stop at Little America on Butler Avenue.
Among the chosen spots were the parking lots at Northern Arizona University and the Marketplace at the Flagstaff Mall.
As of 3 p.m., the Sinclair Truck Stop was full.
Throughout the day, Interstate 40 remained open to allow traffic to pass, but the highway will close at 6 p.m. today. Although Interstates 17 and Highway 89 were closed early today, I-17 southbound was opened briefly to let traffic through. I-17 southbound will be closed at 6 p.m.
Traffic problems were at a minimum, according to law enforcement officials.
"Surprisingly, it doesn't seem like we've had as many calls as the storm in December," said Sgt. Gary Phelps of the DPS office in Flagstaff.Phelps said residents who live within the I-17 closure area are being allowed to come and go, but they must show people at the roadblocks that they actually do live in Kachina Village, or Mountainaire, or Munds Park.
Be the first to know
Get local news delivered to your inbox!