Fourteen of Arizona's 15 county treasurers have signed an open letter to the Arizona Legislature voicing their concerns over two pieces of proposed legislation — SB 1138 and SB 1139.
Both bills take an ideological approach to finance and investment, and county treasurers are concerned about what that will mean for Arizona taxpayers. Both pieces of proposed legislation could be categorized as "anti-ESG."
What is ESG?
ESG is a term used to describe any environmental, social, or governance policies developed by businesses or financial institutions that might appear political.
Companies and financial institutions across the country have been building policies related to social equity, environmental responsibility and internal governance for years. Such policies encompass anything from Diversity Equity and Inclusion (DEI) training to plans for carbon neutrality to donations to nonprofits that fight for reproductive rights.
When a company takes a stand on a political, environmental or social issue, the move could affect the ability to do business in Arizona under proposed Anti-ESG laws.
Republican Sen. Jake Hoffman represents Arizona's 15th District and has authored both bills. He said ESG policies are fundamentally vehicles for political discrimination. He calls ESG part of a "woke" and "globalist agenda."
According to Coconino County Treasurer Sarah Benatar, the bills restrict business based on ESG policies and they will have real, direct impacts on the everyday taxpayer.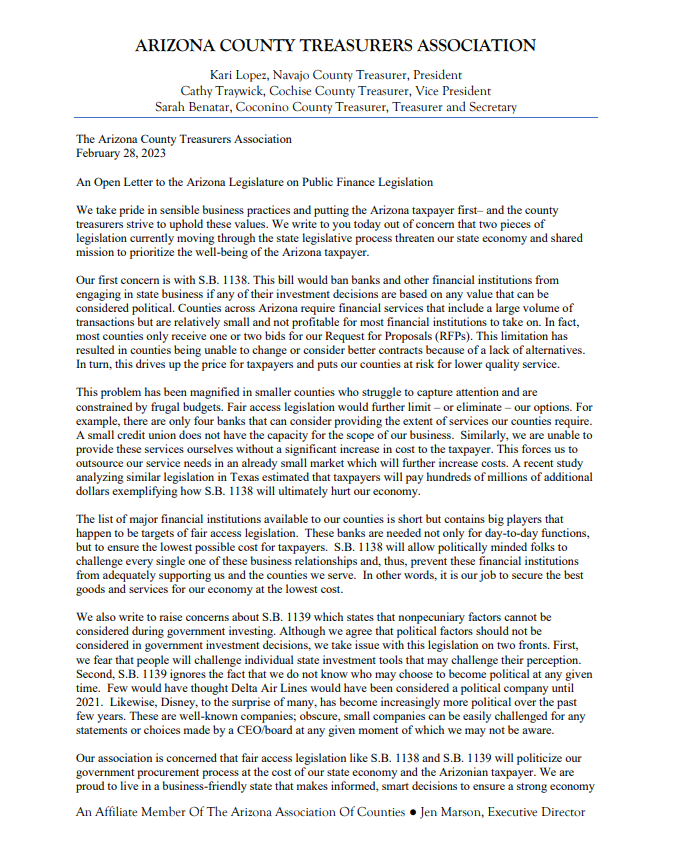 The county's bank
The Coconino County Treasurer's Office serves as the bank for all county departments and for every taxing district in the region. Public schools, fire departments and water district monies, for example, are all on deposit with the treasurer's office.
Still, the treasurer needs to work with a federally insured banking institution to execute actions such as issuing county payroll and depositing property tax collections.
The critical relationship between the county treasurer's office and their private banking partner is one of the reasons why Benatar is concerned about Arizona's anti-ESG bills.
SB 1694 was on its third read on the House floor this week. It would not only prevent local governments from having their own DEI training programs, it would also keep counties and municipalities from entering into or renewing contracts with companies that promote or adopt theories of implicit bias, cultural appropriation, allyship, systemic oppression, structural racism, gender identity or sexual privilege.
If the measure passes, most banks would not be able to work with any Arizona counties. And that is a problem, Benatar says, because it's already difficult to find financial institutions that have the size, range and capacity to work with local governments to begin with.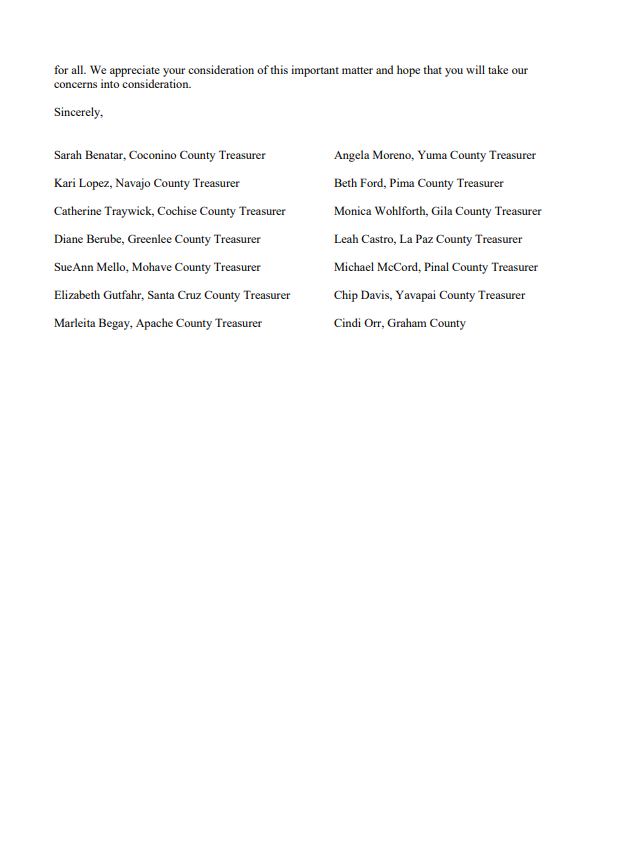 "There are laws in Arizona that were put into place to essentially protect taxpayer money from a bank collapse. A big thing is that the FDIC ensures deposits up to $250,000. Everything else is uninsured. In Arizona, if it's a government entity, everything above $250,000 has to be ensured at 102% by a bank. That alone takes out a lot of the smaller financial institutions," Benatar said.
According to the open letter Benatar signed, along with 13 other county treasurers — 10 being Republicans -- "Counties across Arizona require financial services that include a large volume of transactions but are relatively small and not profitable for most financial institutions to take on."
There already are not a lot of incentives to bid on county contracts for banks. Most counties, according to the letter, receive only one or two bids per Request For Proposal from private financial institutions.
At any given time, Coconino County has between $30 million and $90 million in checking accounts after tax collections, according to Benatar.
"We see over a billion dollars in transactions in this office a year. That's another thing. We need to be able to bank with a financial institution that can handle that," she said.
Basically, the only financial institutions that can work with Coconino County -- or any Arizona county, for that matter -- are large. Large banks are more likely to espouse ESG policies and are the prime targets for bills like SB 1694 and SB 1138.
"We went out to bid last year, in 2022, for banking services," Benatar said. "We had two banks respond, Wells Fargo and JP Morgan. Both have ESG policies. So, in theory, neither would be able to meet requirements if this passes."
The best-case scenario, Benatar said, is the pool of possible banking partners is narrowed significantly.
"That ripple effect, you create monopolies in the sense where maybe we get one bank if some of these go through. Then, of course, if you only have one bank responding, costs will go up. Who's going to cover those costs? It's our taxpayers," she said.
Benatar added that, in the worst-case scenario, all financial institutions are weeded out either through their inability to meet the county's banking needs or their choice to operate with ESG policies.
"How are teachers going to get payroll if I don't have a bank I can work with?" she asked. "I'm going to literally be walking down to the post office here and getting money orders. Then, when you think about it, even deposits of all the cash that everyone gets and property tax collections, where am I physically going to put the money?"
If the county can't work with a large bank, Benatar said, Coconino County residents will not be able to pay their property taxes electronically. The county will also have to find an alternative for checking — writing or cashing checks -- that would also increase costs for taxpayers.
SB 1694 prohibits counties from contracting with banks that espouse certain social policies, particularly related to DEI. Benatar's concerns aren't tied to any desire to support or reject DEI training. Rather, she's concerned about the limitations the law might produce for her office.
Proponents of the legislation assert the bill takes aim at social policies that could shame workers, and is an important tool in combating "woke finance."
"These [DEI trainings] have become a prevalent tactic of the left to shame employees and to shame folks within the trainings. This would prohibit any public entity from requiring it or spending monies, public monies, on it. This gets us back to doing the job they've been hired to do on behalf of the people," Hoffman said in a Senate government committee in February.
He said feels banks and corporate leaders who implement DEI training are forcing policies on the public, despite not being elected officials.
It's the spending of public moneys on social issues — particularly when it comes to government contracts -- that bother supporters of anti-ESG measures like House member Anthony Kern (R).
"I just got an email, just in the last hour, from a 'woke' company that is doing state business with us. I will be looking into this company who is affiliated with BLM, has ESG policies, supports the likes of Bernie Sanders ... a human rights campaign, Howard Dean and so on and so forth. This is a company that is doing state contracts," said Anthony Kern, a Republican state senator who voted in favor of SB 1138 in February. "I am giving my tax money to these people!"
SB 1138, referenced in the treasurer's open letter, goes one step further than SB 1694. It prohibits financial institutions from doing business in Arizona, full stop, if they "discriminate" based on social credit, environmental, social or governance-based criteria.
"Banks and credit card companies, and credit reporting agencies have been discriminating based on political ideology. This bill is an attempt to stop that.," Kern said. "It is nothing but discrimination. It has nothing to do with business practices; it has more to do with political philosophies on bank CEOs. They need to stop."
Investment and ESG
Benatar also manages the county's investment pool. That's why she's concerned about the investment limitations SB 1139 might impose.
"A lot of companies are looking at ESG, whether they have a policy or they're investing based off ESG. They're looking at ESG scores as a form of a risk factor," Benatar said.
SB 1139 would make it impossible for her to consider the corporate governance policies or social or environmental goals of a company when managing investments. It defines ESG policies and goals, in statute, as "non-pecuniary factors," and limits the data county investment managers can consider when deciding where to invest.
Hoffman said while on the Senate floor in February that the measure will keep investors from discriminating against businesses based on their political beliefs.
But Benatar said when she's looking at investing public monies, she needs all the information she can get. She said she looks first at safety, then liquidity, then yield on a bond or corporate paper.
Limiting the facts she can consider, Benatar said, is limiting her understanding of the safety of an investment.
Benatar added: "Every county treasurer is elected and represents their communities. If I believe that a risk factor means looking at the long-term risk of a company that I'm going to invest in, corporate bonds and commercial paper, I should be able to look at for example, 'Who are their customers? What are their policies? Are they looking at the long-term future? Are they being smart with how they're governing themselves?'"
Dave Wallack works with nonprofit For the Long Term, an organization with a mission to "support state and municipal financial officers in leveraging the power of their offices to deliver long-term economic growth." The nonprofit advocates for sustainable, just, and inclusive markets and is fundamentally opposed to the anti-ESG bill.
Still Wallack echoes that ideology, on some level, is beside the point. Pension fund fiduciaries and state and county treasurers do not have the luxury of making decisions based on ideology, he said.
"The entire market is not focused on risk management because they're 'woke.' They're focused on it because investors want it and they can make more money," Wallack said.
Hoffman said large banks and investors "discriminating" against companies based on how they perform as proponents of ESG might also have a cost.
"The largest institutions, the largest financial institutions, in the world have openly admitted to using ESG to discriminate against who they're going to do business with. You shouldn't be discriminated against for your political affiliation," Hoffman said. "You shouldn't be discriminated against because you produce a high yield for your investors ... doing business that is entirely legal."
Wallack described information about a company's internal governance practices, or social or environmental goals and policies as data that any responsible investor would want.
"Frankly, it's never been a political issue. The idea that it's a political issue is kind of insane. With a 20-, 30-, 40-year horizon, the idea that you wouldn't even look at climate issues, why wouldn't you want to have information about how a company manages their work force?" he asked. "It's got to be a coldhearted look at, is this industry going to grown, or turn into something else? How do we put our chips on the table in a way that makes sure we have the funds we need day in and day out? They don't have the luxury of bringing their personal values in."
Benatar said bipartisan organizations are opposing Arizona's anti-ESG bills, including the Arizona Association of Counties and the Arizona County Treasurer's Association. Still, SB 1139 has passed the Arizona Senate and has been transmitted to the house; SB 1138 was also passed on the third reading by the Arizona Senate in February.
Benatar said that if she can't look at nonpecuniary factors as defined by SB 1139, she'll be focused primarily on the yield of an investment -- which Hoffman said is one of the reasons why the bill is a good thing for Arizonans.
"This is where we focus on delivering the highest ROI possible for the people of Arizona," Hoffman said just before SB 1139 passed on the Senate floor on February 16. "We have pensioners, we have investment funds, we have state land investments ... every single one of them deserves for us to be investing in a way that drives the highest possible return for that money. To do anything else is to be the detriment of our stakeholders -- our firefighters, our police officers, our children."
Benatar said a focus only on return led to trouble for Orange County in the 1990s.
In December of 1994, Orange County Treasurer Bob Citron announced the county investment pool had lost $1.6 billion. Much of that loss has been credited to Citron focusing on investment yield.
"If I wanted to chase yield, I would have a portfolio that's 100% in corporate bonds," Benatar said. "Going out to five years, maximizing as much interest rate as I can earn, that's not the safest thing to do. It's not, because you never know what you're going to need.
"Let's look at our community. Look at the flood control needs we had in our county. We needed more cash on hand to be able to address that. That's part of why those other two [safety and liquidity] are so much more important than how much I'm going to earn on this bond. Again, it's important to earn and to be making money, but not sacrificing taxpayer safety. Honestly, we need to have the cash, because if you sacrifice either you're losing money."
She said she never wants to be in a position where she has to explain to taxpayers that she made poor investment decisions, or sold bonds at a loss.
"That's why you have to diversify. You have to look at everything. You have to understand the whole. That's why we need those tools in our tool box. We can't take them out," she said.
Democratic Sen. Priya Sundareshan voted against SB 1139, stating that the bill limited the process of decision-makers and, "introduced political factors into the process [of investing]."
Hoffman said the bill does the exact opposite.
"This bill does not introduce political factors. It overtly removes the politicization of state investments," he said.