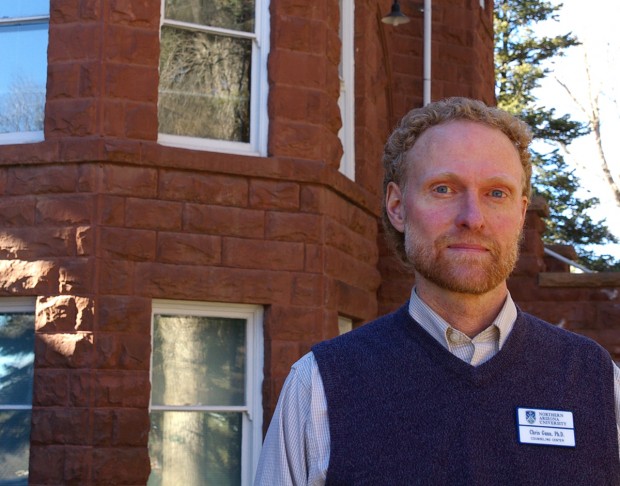 Day two in a three-day series
Once or twice a semester, Dr. Chris Gunn comes across a student so unstable that he and his colleagues at Northern Arizona University get together and decide: Call the parents? Suspend? Have committed involuntarily for psychiatric care?
Speculation has strongly leaned toward alleged Tucson mass shooter Jared Loughner as having untreated paranoid schizophrenia, and his behavior was erratic enough that his school, Pima Community College, suspended him until he could provide a mental health clearance.
The propensity for people with serious mental illness to commit extreme violence like the kind seen in Tucson is exceedingly rare, said Gunn, a licensed psychologist and director of NAU counseling and testing services. Typically, he said, mental illness sufferers are much more likely to be victims of crime, not perpetrators.
But he did say that more young people are coming to NAU with serious mental illnesses like schizophrenia and especially bipolar disorder. This is a result of earlier interventions that allow them to control their conditions at a younger age and enter college.
So NAU provides services, referrals and attention for people who need it. In doing so, the university must also respect these students' privacy, keeping silent unless they act out. And it must recognize its own limitations.
"We all have different roles, and the role of the university, of course, is protecting the safety and being able to conduct classes," Gunn said. "And I can tell you we have done very similar things here at NAU in terms of assessing students to be not dangerous to themselves or others, but their behavior being either so bizarre or so disruptive or so disturbing that we need to get them separated from the university."
Added Gunn: "We, too, have done that, and we, too, have contacted parents, and we, too, have put a demand that they have that evaluation before they come back. But we don't have enough evidence nor do we have the mental health system with the resources in the state of Arizona to be able to put somebody into a holding tank for a number of days to really get a full evaluation."
Gunn said that over the last 20 years stronger support and treatment systems have allowed more young people with serious mental illness to complete high school.
Oftentimes, students come to NAU already diagnosed and will identify themselves as taking therapy or medications. Some conditions -- like schizophrenia and bipolar disorder -- tend not to present until the late teens or early 20s due to brain maturation. Other conditions like major depression and anxiety disorders can be apparent in young children, although anxiety can be exacerbated by the transition to college and new stresses of adulthood.
Gunn said that psychosis -- marked by being out of touch with reality and sometimes involving delusions, visual and auditory hallucinations, or disconnecting with time and space -- is not a predictor of violence but definitely signifies that the affected person needs ongoing treatment.
On campus, they'll find traditional psychotherapy and have access to medical doctors and psychiatric nurse practitioners at Fronske Health Center, where they can get prescriptions. Counselors will refer students to private practitioners and, if necessary, the behavioral health center at Flagstaff Medical Center or The Guidance Center, Flagstaff's two inpatient options for serious mental illness.
Counselors also keep relationships with FMC's emergency department and the local police departments, who can facilitate commitments. Some commitments are voluntary. Some are not.
For a forced evaluation, the student would need to present an "imminent danger," such as making a credible verbal threat or standing on the train tracks to telegraph suicide. Gunn admitted that the line between bizarre and imminently dangerous is fine.
NAU Police Chief G.T. Fowler said that in 2010, NAUPD recommended five "Title 36s," or involuntarily psychiatric commitments, mostly for suicidal ideations. Another five people accepted voluntary evaluation.
He said there may be many more people on campus with serious mental illness than he and his officers meet because the patients are getting treatment.
MENTAL ILLNESS IS A DISABILITY
About two months before the mass shooting, Pima Community College stepped in. Worried about a video Loughner shot on campus, narrated in a rambling voice-over where he called the school "genocidal," police visited his home to deliver a letter of suspension. He already had a history of disturbances in class and at the college library.
Gunn said it's unfair to say that Pima Community College washed its hands of Loughner when officials, concerned over his mental health, suspended him -- no more applicable than taking Loughner's fellow gym members to task for not trying harder to get him care.
Barb Bartell, the president of the Flagstaff Chapter of the National Alliance for Mental Illness, sees it differently. She said the suspension from Pima Community College probably gave Loughner something else to be paranoid about. Getting kicked out of school was a rejection, and rejection and isolation wreak havoc on the ill mind.
"Just because you are not using crutches or a wheelchair does not mean you do not have a disability," she said. "A person with a mental illness is a person with a disability."
At NAU, Counseling Services works with campus police, student and residence life to determine how to intervene with a disturbed student. Campus emergency preparedness coordinators, who send out massive alerts for crises like severe snowstorms or the December robbery of the Chase bank just off campus, can alert the whole NAU community to a dangerous event involving a seriously mentally ill person -- but not unless it actually happens.
Humanity is imperfect. Gunn said that even if Loughner had been committed before the mass shooting, he probably would have been quickly released.
"I think we all have responsibility to take care of each other, and the harsh reality is that even if we recognize that responsibility, we take that responsibility, there's still going to be instances in which we cannot have full control and that is just unfortunately the human condition," he said.
Warning signs of adolescent major depression
As outlined in the American Psychiatric Association's Diagnostic and Statistical Manual of Mental Disorders, 4th Ed. (DSM-IV), a major depressiveepisode involves at least two weeks duration (and usually more) of reduced functioning with five or more of the symptoms listed below.
It is important to not dismiss any of these symptoms as "acting out" or "just a phase."
* sleep problems (commonly more sleeping);
* loss of interest or pleasure in formerly fun activities;
* loss of interest in friends;
* sadness or irritability;
* concentration problems;
* hopeless or guilty thoughts;
* body movement changes--feeling edgy or slowed down;
* persistent physical complaints and/or frequent visits to school
* suicidal thoughts or preoccupation with death.
Source: National Alliance on Mental Illness