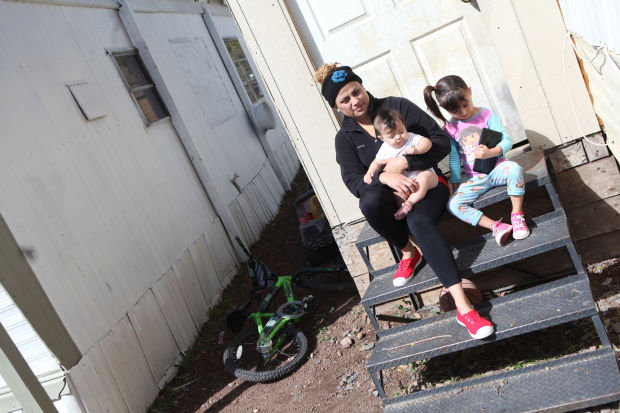 A local attorney representing 36 households at Arrowhead Village trailer park has made a counter offer to Landmark Properties' relocation package for the residents.
Instead of about $14,000 apiece, Kenneth Burford is asking for $35,000 in exchange for the residents dropping their opposition to the project that would displace them.
An attorney for the developers said the counteroffer made the residents look "greedy" and was "a form of extortion."
A total of 56 trailers in  the trailer park, located on Blackbird Roost, would be removed if a rezoning for the 650-bedroom student apartment complex is approved. The city Planning and Zoning Commission recommended denial of the rezoning for the project on June 25, but the City Council has the final say.
Landmark has offered the families a relocation package that averages about $14,000 per family.
It includes moving expenses and rental assistance, food assistance, and a  bus or taxi pass for 42 months. It also allows residents to live in the park rent free for up to 180 days. The relocation funds would be doled out of a trust fund
Landmark spokesman Joe Villasenor said the company has already had nine families sign up for the company's compensation package. He declined to release the names of the families for fear others might retaliate against them.
The counteroffer drawn up by Burford, a retired Flagstaff attorney, for 36 of the homes has many of the same elements as Landmark's offer.
However, it asks for each of the 36 families to receive $35,000 in relocation compensation instead of $14,000. That's a number that Burford says the residents came up with as a fair estimate of what it will cost them to move and for the loss of their homes.
The counteroffer letter also states, "The Arrowhead residents and those in each of their respective households agree to not oppose Landmark's application for a zoning variance when considered by the Flagstaff City Council. The Arrowhead residents further agree to timely cooperate with Landmark and its agents in the transfer of title and registration, where applicable, of mobile units, to otherwise assist in the orderly transfer of their mobile units to Landmark, and to peaceably vacate their units within 180 days of the date Landmark issues notice of the necessity to vacate.  Landmark will  accept all transfers subject to any encumbrances thereon."
Burford said that all the residents of the trailer park want is to be fairly compensated for what they will lose and how much it will cost them to move if the project is built.
Villasenor called the letter an attempt to get more money out of Landmark.
"All this time we've been told it's been about a social issue, a community issue," he said.
Landmark's zoning attorney, Nick Wood, apparently had similar thoughts. In an email included in a chain of emails forwarding a copy of the letter to various city officials and the entire City Council, Wood wrote, "This is good news.  Not only do they come across as greedy but, it is a form of extortion by demanded payment of money in exchange for support vs. opposition."
Attempts to reach Wood Thursday for further comment were unsuccessful.
Burford said he has not received an official response from Landmark but he was amused by some of the reactions from Landmark's representatives. He didn't think of the offer as a form of extortion.
"Thirty-six poor residents of a trailer park are going to try to extort a Georgia company that wants to build a multimillion-dollar project — it seems a bit of a stretch," Burford said.
If the project is approved, the residents are going to have to move, he said. They feel this is a fair offer.
Burford said he was also shocked to learn that his letter had been circulated beyond the people for whom it was intended.
The letter is addressed to Andrew Young, the senior vice president of Landmark, and was carbon copied to Wood.