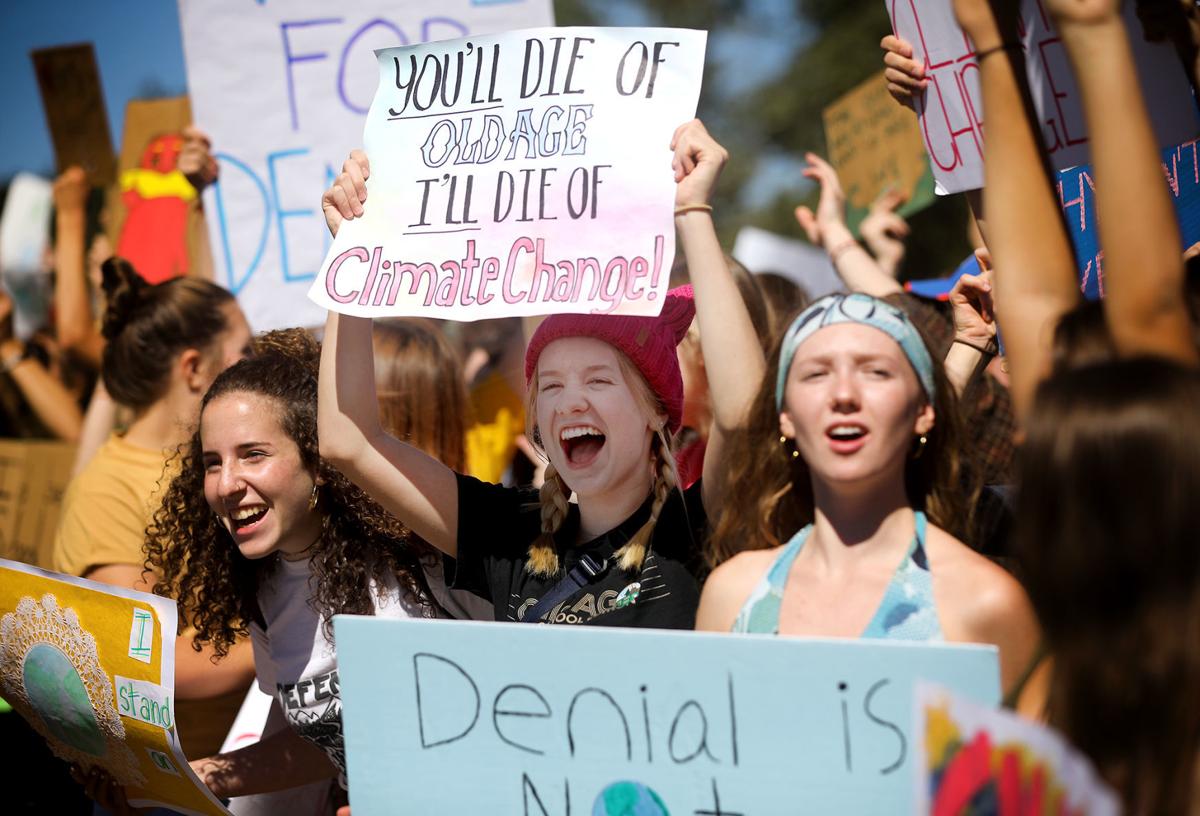 Climate 2020: Seven Generations for Arizona has been countless hours in the making. Organizers Kate Peterson and Bruce Hungate will bring to Flagstaff — in conjunction with University of Arizona and Arizona State University — two days of lectures, speakers, concerts and more, all centered around climate change and solutions. 
Only this year, the two are seeking to diversify the pool of speakers and activists by centering young people who have taken a stand in fighting global warming.
Among those will be 19-year-old singer and climate leader Xiuhtezcatl Martinez who will give a keynote speech as well as a hip-hop performance, and local and regional high school and middle school students. 
Registration for this two-day event is $25 for individuals, $10 for university and community college faculty/staff/students, and free of cost for K-12 educators and K-12 students. This includes: breakfast and lunch at the conference center Friday and Saturday, access to all summit events listed in program, a ticket to Xiuhtezcatl Martinez's performance Friday night at the Orpheum Theater and free parking at High Country Conference Center. 
The schedules for the days' events is as follows:
8-8:45 a.m.: Continental breakfast and registration
8:45-8:50 a.m.: Presidents welcome with Rita Hartung Cheng and opening remarks by Arizona Senator, Martha McSally. 
8:50-9:25 a.m.: Welcoming remarks with Bruce Hungate, Center for Ecosystem and Society at Northern Arizona University, Nikki Cooley, Institute for Tribal Environmental Professionals and Mia Armstrong from Arizona State University.
9:30-10:30 a.m.: Keynote Address: "Arizona's Climate, Past and Future" by Katherin Hayhoe of Texas Tech and Nancy Selover, State Climatologist or Arizona
10:35-11:45 a.m.: "Climate Change in Arizona: Global Connections and Cause for Concern" with Gregg Garfin of the Institute of the Environment and UofA, Jenni Vanos, ASU and Ann Marie Chischilly of the Institute of Tribal and Environmental Professionals
12-12:45 p.m. Keynote address: "Imaginary Borders" by Xiuhtezcatl Martinez
12:45-1:30 p.m.: Lunch
1:30-2:30 p.m.: Two separate panel discussions:
"Beyond Deadpool and Drought; The Future of Water in Arizona," and  "Preparing for a Hotter, Drier World: Wildfire, Infrastructure, and Emergency Management." 
2:45-3:45 p.m.:Two separate panel discussions
"Is Climate Still one of the '5 Cs?' How Arizona's Urban Centers are Contending with Climate Change," and "Human Health Costs of Climate Change: Migration, Labor and Agriculture." 
3:45-5 p.m.: The "Impacts of Climate Change on Arizona's Health" discussion will feature Vjollca Berisha form the Maricopa County Department of Public Health, Kacey Ernst from the UofA Zuckerman College of Public Health and Matthew Roach from the Arizona Department of Health Services.
Doors at 6, show at 7:30 p.m.: Performance by hip-hop artist and activist Xiuhtezcatl Martinez followed by a screening of HBO's "Ice on Fire" directed by Leila Conners with cinematography by NAU professor and filmmaker, Harun Mehmedinovic.
8-8:45 a.m.: Continental breakfast and registration
8:45-9 a.m.: Opening remarks by Bruce Babbitt, former governor of Arizona
9-10 a.m.: Three separate panel discussions:
The first will be "Higher Education's Role in Climate Action," the second discussion is "Protecting Arizona's Future: The Role of Conservation and Education" and the third panel is "Building Climate Resilience in Rural Arizona" featuring Senator Jamecita Peshlakai and others.
10:05-10:55 a.m. Three separate breakout sessions:
Session A: Climate Ready tribes, National Indian Health Board, will feature Shasta Gaughen from the Papa Band of Mission Indians.
Session B: "Learning and Teaching Climate Science" will Mindy Bell, former teacher at Flagstaff Arts and Leadership Academy and Mansel Nelson of the Institute of Tribal Environmental Professionals
Session C: "Building Community-Based Fire Resilience" with Michelle Medley-Daniel of the Watershed Research Center
11-11:50 a.m.: Three separate breakout sessions
Session E: "Developing Climate Action Plans: What to consider and where to start"
Session F: "How to Talk to Your Neighbors about Climate Change
Session G: "When the Village Gets Hotter: How to Achieve Broader Community Climate Action" with Jenny Nieman from the City of Flagstaff Sustainability program
11:55 a.m.-12:35 p.m.: Lunch
12:35-12:40 p.m.: Remarks by Capt. Mark Kelly
12:45-3 p.m.: Afternoon concurrent sessions including Youth Town Hall & Climate Action Session and informal networking at 12:45-1:30.
1:30-2:45 p.m.: "299 Days of Sun: Practice and Potential in Arizona's Renewable Energy Markets"
3-4 p.m.: The final event of the climate summit will be titled "'Meditations in an Emergency:' Telling Stories about Our Changing Climate" with Deb Krol, a journalist with High Country News and AZ Central, Harun Mehmedinovic, filmmaker and cinematographer for "Ice on Fire" and others as well as Liz Smith, producer for Barrelmaker Productions and Youth v Gov, moderated by Northern Arizona's Peter Friederici.
Get local news delivered to your inbox!
Subscribe to our Daily Headlines newsletter.