Overland Expo West, the western United States' premiere annual event for adventure travel enthusiasts, is taking over Flagstaff's Fort Tuthill County Park this weekend. In addition to a chance to tour, test and explore expedition and all-terrain vehicles, motorcycles and more, attendees will find demonstrations, outdoor education opportunities and the latest and greatest in camping and adventure gear.
On Wednesday, May 15 from 6-8 p.m. the expo will kick off with a free Beer + Gear event downtown. Local gear shop partners will be sampling beers from Flagstaff breweries and giving out free expo passes and more. Peace Surplus will be serving Mother Road Brewing, Aspen Sports will be serving Flag Brew, Mountain Sports will be serving Wanderlust and Babbitt's Backcountry will be serving Lumberyard.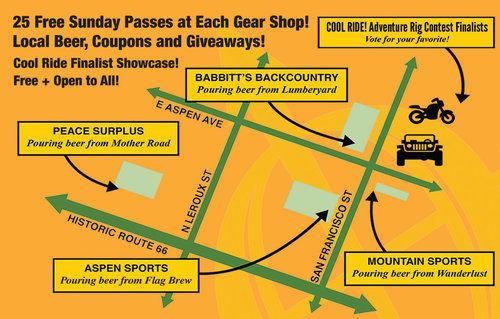 On Friday, May 17 the expo will have a barbecue competition, featuring Aussie's number one pit master, Michael "Mikey" Willcocks, versus multi-award winning USA pit master Sterling Smith. There will also be a film festival and Change Your World Fund raffle and fundraiser. On Saturday, May 18 there will be exhibitions, classes, programs, a film festival and motorcyclists' dinner and raffle. On Sunday, there will be exhibitions, classes, programs, a film festival and a banquet dinner for attendees, exhibitors and media.
A night of music and stories at The HeArt Box
The HeArt Box will host an evening of live music, spoken word and storytelling weaved together among emerging and established musicians and writers in an intimate, dedicated art space on Friday, May 17 at 17 N. San Francisco Suite 1B There will be performances by Tony Norris, Bill Burke, Elana Gonzalez and Jill Sans and a special reading by Malory Donahue of her story, "The Mountain".
The limited seating, capped at 20, creates an intimate experience where the audience is immersed in sound and voice. There will be chair and floor seating, for those who require a chair please make that clear in reservation. Ticket prices for this first time event are $15 and can be purchased at theheartbox.space. All ticket sales go to supporting the performers and the space. Doors open at 7:15 p.m. and there will be a brief intermission during the performance. 
Foresight Learning Center's family carnival
Join Foresight Learning Center for their annual free spring open house and carnival on Friday, May 17 between 5:30-7:30 p.m. at 8245 Koch Field Rd. This is a great time for parents and children from 2-6 years old to meet others in the school community.
Flagstaff Aerial Arts will have an interactive performance, there will be old fashioned carnival games for kids to win prizes and hamburgers and hot dogs will be grilling – so come hungry.
Please be sure to bring a dish to share and any serving items you will need. Make sure to label your dish with your name and if it contains peanuts, is gluten free, etc. RSVP to the center at (928) 527-8337 with the number of people attending in your party and the dish you will be sharing.