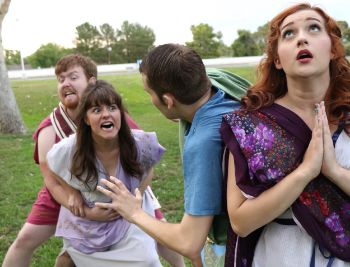 The Flagstaff Shakespeare Festival returns for a second summer with two Shakespeare classics for northern Arizona audiences. This year the festival will feature a comedy ("A Midsummer Night's Dream") and a drama ("Romeo and Juliet"), giving theatergoers the chance to experience Shakespeare in two very different ways.
The Flagstaff Shakespeare Festival partners with the Orpheum Theater in downtown Flagstaff to present "Romeo and Juliet," with performances Saturday, July 23, and Friday, July 29, at 7:30 p.m. with matinees Sunday, July 24 at 3 p.m., and Saturday, July 30 at 2 p.m. This version of "Romeo & Juliet" is set in the 1920s and is a special arrangement for eight actors, performed previously only at The Globe in London.
For comedy fans, the Flagstaff Shakespeare Festival will enter the dark enchanted wood with star-crossed lovers, tales of love-in-idleness, confusion and the spirits of the untamed forest with "A Midsummer Night's Dream." Performances will feature outdoor seating at the Museum of Northern Arizona's Research Campus July 22, 28 and 30 at 7:30 p.m. and July 23 at 2 p.m.
There will also be one matinee performance at The Arboretum at Flagstaff July 31 at 3 p.m.
Ticket prices are $16 for adults and $10 for children under 13. Tickets for performances of "Romeo and Juliet" can be purchased at OrpheumFlagstaff.com, Aspen Deli, Rainbow's End or Animas Trading Company.
Tickets for "A Midsummer Night's Dream" can be purchased at FlagShakes.com/tickets and in person at the Museum of Northern Arizona. Special discounts apply for audience members attending both productions.
Doggies and kittens and horses! Oh, my!
Wheeler Park will go to the dogs (and cats and horses) Saturday from 9 a.m.-3 p.m., with the annual Rescue Roundup. More than 40 different rescues, shelters and vendors are expected to participate. There will be dogs, puppies, cats, kittens and even horses available for adoption. Dog rescues vary in size from AZ Chihuahua Rescue to Great Dane of Arizona Alliance. The event will also include raffles, vendors, demonstrations and canine activities such as agility, disc dogs and herding.
Already have a dog? Grab your leash and take advantage of the low cost shot clinic from 10 a.m.-2 p.m. Animals can also be microchipped for $20 at the AZ Border Collie Rescue booth.
The Mustang Owners Club Of Arizona will be showing off some sweet ponies (cars) for visitors to view (these are not available for adoption) during the Rescue Roundup.