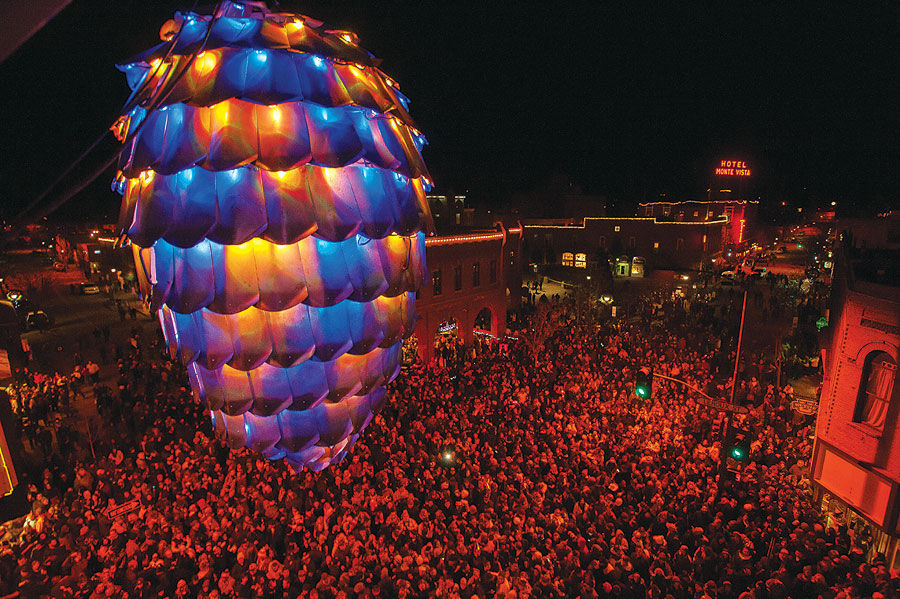 Downtown Flagstaff will ring in 2019 with a Flagstaff tradition and thousands to witness it. The Weatherford Hotel's Great Pinecone Drop has been a Flagstaff tradition for 20 years and a staple of the local holiday season. Thousands are expected to join in the countdown and celebration on the corner of Aspen and Leroux streets. Without fail (come snow and ice) thousands of holiday revelers pour into the streets of historic downtown Flagstaff to see the 70-pound, six-foot, lighted aluminum creation. The Great Pinecone will drop twice on New Year's Eve, once at 10 a.m. to coincide with the New York City ball drop, and again at midnight. The New Year's Eve event is free for all ages.
Bringing in the New Year, the Weatherford Hotel is offering "A Night to Remember" in the Zane Grey Ballroom and wrap-around balconies. Doors open for the formal gala at 8 p.m., with the celebration continuing through 1 a.m., Tuesday, New Year's Day. "A Night to Remember" includes appetizers, desserts, entertainment, dancing, a champagne toast and exclusive balcony viewing of the Weatherford Hotel's Great Pinecone Drop at 10 p.m. and midnight.
Tickets for "A Night to Remember" can be purchased by calling 928-779-1919 or visiting weatherfordhotel.com.
Free, extended bus service Monday
Flagstaff's Mountain Line bus service will offer free rides all day and extended hours Monday to promote a safe New Year's Eve. The last bus will leave the downtown transfer station on Phoenix Avenue at 1:15 a.m., Tuesday. All routes will run at peak service frequency during the extended service hours. For routes and schedules, visit www.mountainline.az.gov/newyears/.