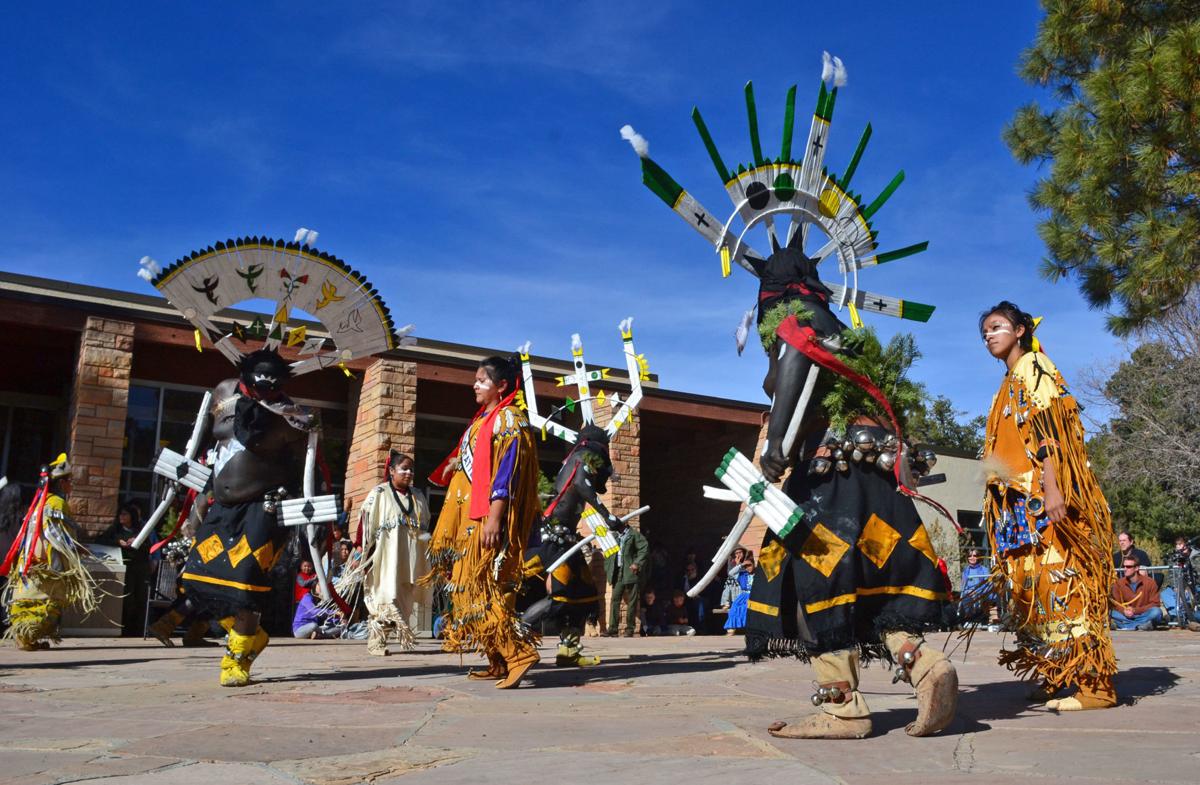 Grand Canyon National Park is hosting free Native American heritage and diversity events as well as offering fee-free entry in honor of Veterans Day in early November 2019.
Visitors are welcome to attend a diversity and inclusion themed program at the park's Shrine of the Ages building on Nov. 5, at 7 p.m. The evening program, titled "Engaging Difference: Remembering the Past, Dreaming the Future" features a talk by Carolyn Finney, Ph.D., about inclusion, diversity and equity on public lands. It is being offered as part of a larger inclusion and diversity workshop for federal employees.
On Nov. 6, a Native American Heritage celebration will be held at the Shrine of the Ages from 7 to 9:30 p.m. with special demonstrations by Apache Dishchii'bikoh Crown Dancers and Hopi Dupkia Hoyam Dancers and Antelope Track Dance Group. Grand Canyon National Park's extensive Native American histories make it an important place for the public to learn about, acknowledge and appreciate Native American culture.
The final fee-free day of the year is being held in honor of Veterans Day on Nov. 11. Visitors who arrive at Grand Canyon on Nov. 11 will be allowed to enter the park free of charge. Active duty members of the U.S. military and their dependents can also pick up a free annual pass using a current, valid military identification card.
The fee-free designation applies to entrance fees only and does not affect fees for camping, reservations, guided tours or use of concessions. Visitors who plan to spend time in the park beyond Nov. 11 will need to pay the regular entrance fee for the remainder of their stay. 
Grand Canyon's South Rim sits at approximately 7,000 feet. As a result, visitors should be prepared for appropriate weather conditions. For additional information, please call 928-638-7888 or visit www.nps.gov/grca.
Famed two-person circus act to perform at NAU
The Great DuBois describes itself as, "A fast-paced, high energy circus show for all ages...showcasing incredible feats of juggling, hula hoops, unicycle, aerial, circus stunts, contortion, magic and audience interaction all wrapped up in a blanket of comedy." 
And, on Friday, Nov. 1 the duo will perform at Northern Arizona University's Prochnow Auditorium.
Made up of Michael DuBois and Viktoria Grimmy, the act has five generations of circus performing between them and has performed countless shows at theaters, universities, cruise ships, fairs and festivals all over the world. 
Featured in Hugh Jackman's movie, "The Greatest Showman", The Great DuBois have amassed an impressive list of credits, including the Tony Award winning "Pippin" on Broadway, "The Tonight Show with Jay Leno", "Late Night with David Letterman", Britney Spears World Circus Tour, and the movie "Burlesque" to highlight just a few.
Get local news delivered to your inbox!
Subscribe to our Daily Headlines newsletter.