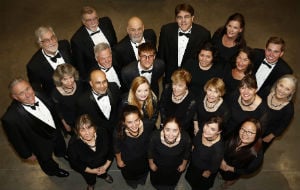 Echoes of Loss: Artistic Responses to Trauma is an invitational art exhibition that explores artistic responses to loss and catastrophe. More than a dozen artists from all over the world will participate with works of art in photography, textiles, sculpture, film, printmaking and installation art. Tracing a range of visual approaches to trauma, the exhibition uncovers the ways that works of art can draw us closer into losses that remain unknowable, bringing articulation to that which refuses to be articulated.
Echoes of Loss will open with a brunch reception at the Coconino Center for the Arts on Saturday, from 11 a.m.-1 p.m. It will be open during regular gallery hours from April 10 through June 9. Mimosas and breakfast foods will be served during the opening reception. The curators and some of the participating artists will be in attendance to talk about the exhibition with patrons.
The exhibition is curated by Bjorn Krondorfer and Tara Kohn. Krondorfer is the Director of the Martin-Springer Institute & Endowed Professor of Religious Studies at Northern Arizona University. Kohn is the Andrew W. Mellon Postdoctoral Fellow in the Department of Art History at Bowdoin College.
According to a press release, the subjects of Echoes of Loss are not limited to a human body in pain but include an expansive range of entities that artists employ to express severe violations of integrity and disruptive loss. The representations are figurative and conceptual in style, literal and elusive in their historical referencing. They depict loss as a form of physical, psychological and emotional suffering: as scars etched in the bodily, cultural, and natural landscape and as the intangible, ghostly remnants of past ruptures.
Participating artists include Ken Gonzales-Day, Arie Galles, Azin Seraj, Amos Kennedy, Gina Adams, Eric O'Connell, Jacob Podber, Shimon Lev, Karen Baldner, Tracy Templeton, Michael Davis, Ruth Liberman, Michelle Frankfurter, Bjorn Krondorfer and Gabriella Bullisova.
The exhibition is produced in partnership by the Flagstaff Arts Council and the Martin-Springer Institute at Northern Arizona University.
Elite choir to perform Saturday
Flagstaff Master Chorale and Flagstaff Arts Council will present the Arizona Mountain Chorale in concert Saturday at Coconino Center for the Arts. The concert begins at 1 p.m., following a reception for the gallery exhibition Echos of Loss: Artistic Responses to Trauma.
The Arizona Mountain Chorale, the Master Chorale of Flagstaff's elite choir, is directed by NAU graduate student Brad Beale. They will present a diverse program of music ranging from the 15th century composer Johann Walter to James Taylor to "Pure Imagination" from Willy Wonka & the Chocolate Factory. AMC is a vocal ensemble composed of sopranos, altos, tenors, and basses chosen by audition. This is their seventh season performing traditional and historical repertoire written for small ensembles.
Beale works with the Men's Chorale at NAU. He is finishing his Master of Arts degree in Choral Conducting. Originally from Illinois, he graduated from Luther College in Decorah, Iowa. He is actively involved with the American Choir Directors Association.
Tickets are free but reservations are required. For tickets, visit flagartscouncil.org or call 779-2300.