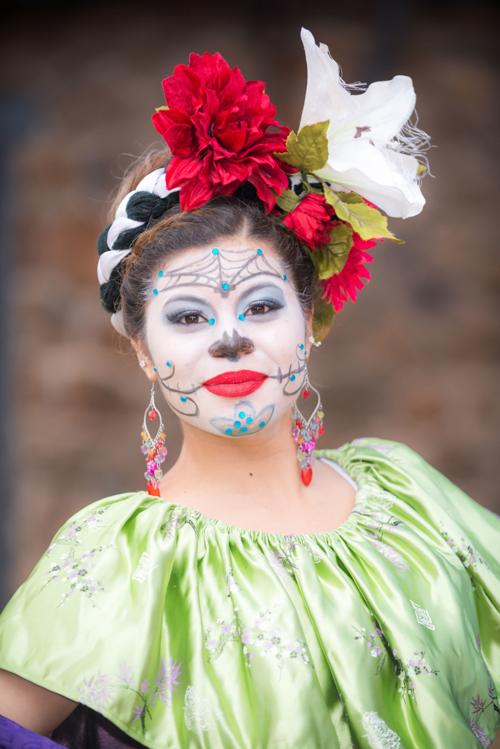 Celebrate Mexican cultural traditions at the 14th annual Celebraciones de la Gente, a Day of the Dead festival, Saturday and Sunday at the Museum of Northern Arizona. Rooted in community, this weekend-long event is presented in partnership with Flagstaff's Nuestras Raices. The festival will include fine art and crafts (folk art, pottery, beadwork, jewelry, textiles and more), music and dancing, colorful and elaborate ofrendas (altars), heritage programs and Day of the Dead inspired crafts including sugar skull decorating.
Saturday night from 5-8 p.m., visitors can enjoy an evening viewing of the community ofrendas (altars) against a backdrop of candlelight and strolling mariachi music. Mexican hot chocolate and pan dulce (sweet bread) will be available for purchase.
The festival will be Saturday from 9 a.m.-8 p.m. and Sunday from 9 a.m.-5 p.m. A festival weekend pass is $18 adult, $12 youth. Daily admission is $12 adult, $8 youth (11-17), student and American Indian (with ID), children under 10 free. Courtyard After Dark admission is included with festival admission or $5 per person. For more information, visit musnaz.org.
Public invited to historical photo process demonstration
Luther Gerlach is an artist working in historical photographic processes. For the past 30 years he has been involved in many aspects of the art form, including lecturing and demonstrating at museums, such as the J. Paul Getty Museum, universities including UCLA, and through workshops he leads in the United States and Europe. As an expert in historical processes, he has contributed to the Getty Museum's Encyclopedia of Photographic Processes. Gerlach's work is exhibited internationally and included in major private and museum collections, including the private collection of Michelle Obama and LACMA's (Los Angeles County Museum of Art) permanent collection.
Gerlach will be on the NAU campus today, Friday, Oct. 20, from 1-4 p.m., in the School of Communication, Photo Studio (Room 106). The photography department will host the event. Gerlach's talk is an event to experience with many of his historical (and usually very large) cameras and lenses. He will talk about and demonstrate some of the processes of the first 50 years of photography. His demonstration will include a drawing camera obscura and an daylight darkroom, which he made of red plexiglass so attendees can experience the process without actually going into the dark. Wet-plate collodion photos will be made during the demonstration.
This demonstration and lecture is free and open to the public. Participants are asked to RSVP to bklyneoc@gmail.com to accommodate seating. For more information, call 917-478-8853.
Taste of Flagstaff gets spooky
A Taste of Flagstaff, the annual fundraiser for Victim Witness Services for Coconino County, has adopted a Halloween theme this year and costumes are encouraged. This year's event will be held Monday, Oct. 23, from 6-9 p.m. at Flagstaff Ranch Golf Club, 3850 S, Lariat Loop. Twenty local restaurants and caterers will attend to offer samplings of their best dishes. There will be prizes for the best costumes. Tickets are $75 a ticket, $250 for 4 ticket or $500 for 8, and are available at www.eventbrite.com/e/a-taste-of-flagstaff-tickets-35573030893?aff=es.
Victim Witness Services supports vicims of domestic violence, sexual assault, sex trafficking, child abuse and death. For more information, call 679-7781 or visit vwscoconino.org/whats-happening/events/.
Community orchestra opens concert season
Orchestra Northern Arizona will kick off its ninth season Saturday, Oct. 21, at 7 p.m., at Flagstaff High School's Hurley Theater. The concert will feature local talent Alexander Burdiss, under the direction of Jeff Good, the community orchestra's new assistant conductor.
Burdiss will be joining ONA on Ferdinand David's Concertino for Trombone and Orchestra. The concert will also feature Richard Wagner's Die Meistersinger Overture, Tchaikovsky's Romeo and Juliet Fantasy Overture, and Samuel Barber's Adagio for Strings.
ONA concerts are free and open to all ages, with a suggested donation of $5 per adult. For more information about this concert or about ONA, visit www.orchestrana.org or email helloorchestrana@gmail.com. Flagstaff High School is located at 400 W. Elm Ave.
Students pitch ideas at PLATE
The students of FALA's National Art Honor Society will host the sixth annual PLATE dinner Saturday. The annual dinner is from 5:30 p.m. to 8:30 p.m. Oct. 21 at the Coconino Center for the Arts. Tickets are $30 for the public and $25 for students and teachers. Tickets are available at the front desk at FALA: 3401 N. Fort Valley Rd. or online at www.flagarts.com.
PLATE stands for Philanthropic Leadership Art as Transformative Education. At the annual fundraising and grant award dinner FALA students pitch projects designed to benefit the Flagstaff community in some way. Each project has to incorporate creativity, leadership, common good, critical inquiry, connection and collaboration and investment into its pitch. Diners vote on which project is the best and the winner gets a $1,000 grant to help fund that project.
Dinner is served by Simply Delicious. Each diner gets a hand painted plate created by a FALA student or local artist to take home. Diners also have the option to bid on art projects created by FALA students and local artists.