The City of Flagstaff Sustainability Section is challenging residents to pick up as many wrappers, empty bottles and discarded soda cans as they possibly can through the end of May.
Prizes await for those who collect the most trash and document it on their smartphones.
The month-long challenge, dubbed "One a Day in May," is facilitated through an Android and iPhone application called Litterati. Users download the app, join the group #LitterFreeFlagstaff and begin searching for rubbish. Every piece of litter that an individual picks up, photographs and tags will be logged into their personal "score" and counted up. The end result locally will be a map made up of every photo as it covers Flagstaff. In other words, a trash map. On June 1, the user with the most trash to their name will be announced.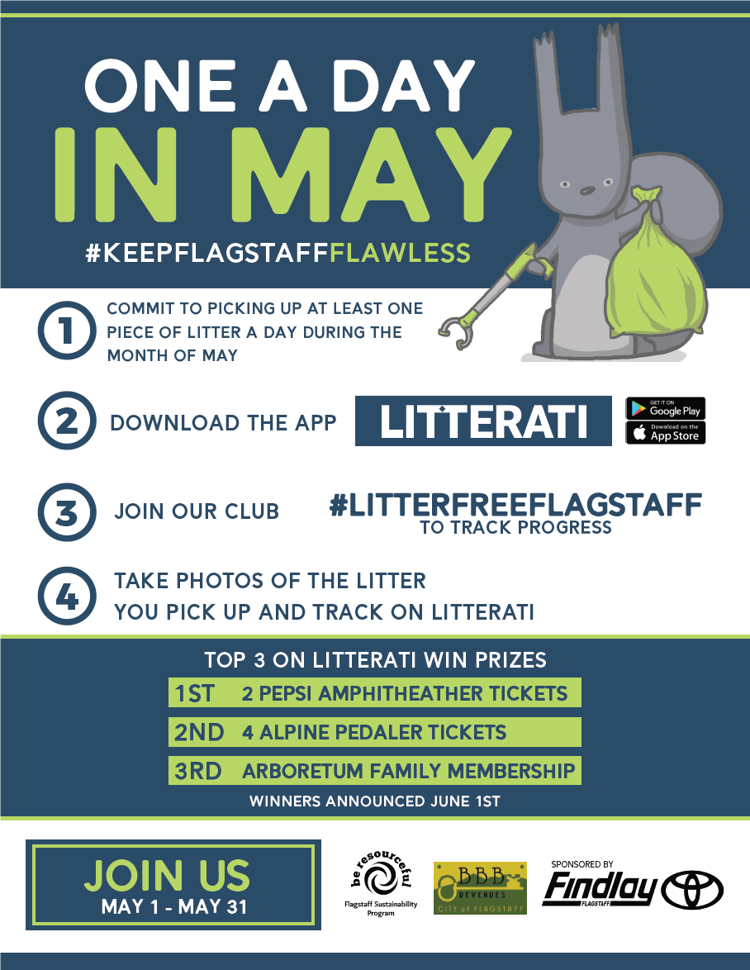 According to Litterati's website, the United States alone has picked up close to 1 million pieces of trash. Most commonly tagged items are plastic, cigarette butts and paper.
"Some of the benefits of this app is it helps people learn about the kind of trash in their community and where it's concentrated," said Maggie Twomey, volunteer and event coordinator with the City of Flagstaff Sustainability Section.
You have free articles remaining.
Register for more free articles
Stay logged in to skip the surveys
As of Tuesday there were 60 people using the app within the Flagstaff group; together they'd picked up a total of 400 pieces of trash. There is no particular area where the trash pickup is concentrated, according to Twomey, but she said the user currently leading the pack has picked up 158 pieces.
Albert the Sustainability Squirrel, the Sustainability Section's mascot, is currently sitting in second place with 42 pieces of trash.
Twomey is behind launching the Litterati group in Flagstaff. She discovered the app in a TedTalk earlier this year and decided she wanted to try to concentrate it locally.
"I'm always looking for new ways for people to be engaged in community and to make it a better place. So this app is just another way for the City of Flagstaff to try and engage the citizens and create awareness," she said.
Litterati was created by Jeff Kirschner and his then 4-year-old daughter. The two were on a hike when she noticed a box of cat litter in a stream and Kirschner took a photo. A little over a year later, the app is getting traction across the world and in Flagstaff -- where wind often blows trash into open fields or larger drainage washes, such as one near the Walmart on Woodlands Village Boulevard, Twomey said.