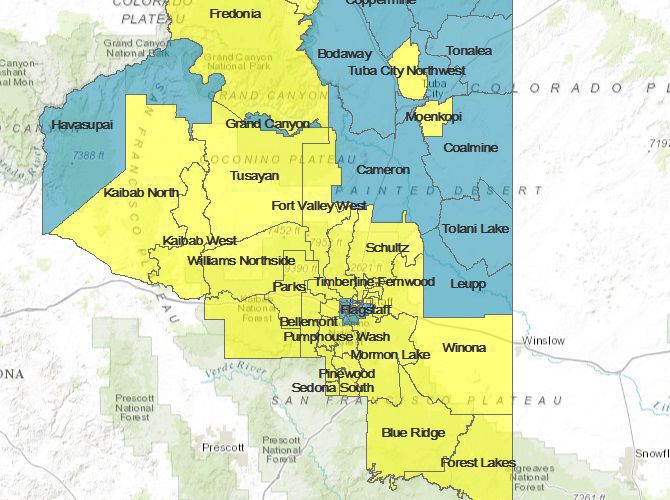 When Coconino Community College was considering whether to ask voters for the third time to approve a property tax override, officials reached out to Fred Solop, political science professor at Northern Arizona University, who has done analyses for other initiatives in the past.
"I took a survey of likely voters in Coconino County on their impressions and images of CCC," he said.
Many of them indicated that they believed the college played a "good role" in the community, but support had been stagnant over the years, he said.
"Generally speaking, people were supportive of community colleges, but CCC hasn't been building support," Solop determined, based on his analysis.
During the special election in 2013 when CCC last went to voters for an override, they focused on what would be lost if it didn't pass. The vote then was 54.8 percent against the proposed override and 45.2 percent in favor of it.
They changed their tactics this year, emphasizing instead what could be brought back or created if voters approved the initiative, including more vocational job training, support for veteran students and transitional programs for high school students.
The amount of taxes that would go toward funding the college was also different; they reassessed the cost of creating or expanding popular programs as well as the cost of hiring more full-time professors and asked for $3 million to be added to the operating budget rather than $4.5 million. And of the $3 million, $2 million would be a repurposing of existing tax revenues, with only $1 million in new taxes.
This Tuesday's election saw the override fail once again with 53.2 percent of voters against it and 46.8 percent for it, a slight increase in favorability compared to last time.
In his analysis, Solop determined that voters closer in proximity to the college's main campus in Flagstaff were more likely to approve the override.
"Flagstaff is more supportive while outside voters were more resistant to paying taxes," he said.
This was reflected in the results separated by precinct. Voters in 22 of Flagstaff's 26 precincts endorsed Prop. 410 -- the exceptions were  15, 17, 18 and 26. 
But even in Flagstaff, support for CCC was not as strong as it was for Hillary Clinton, who received 2,000 more votes than Prop. 410. Had Flagstaff voters backed the CCC tax override by the same margin, that swing of 4,000 yes and no votes would have carried Prop. 410 countywide.
Elsewhere, only 29 percent of non-Flagstaff precincts in the county voted to pass it compared to the 85 percent of Flagstaff precincts that were in favor.
After election results were posted to the Coconino County Elections website Tuesday night, the environment among CCC employees and supporters who had gathered at the 4th Street campus went from one full of hope and anticipation to silence as they read through the results on an overhead projector. Hopeful faces fell as they looked over the rest of the propositions, seeing what else Coconino County voters had decided on.
"What's really perplexing is that all of the other tax issues passed," said Nat White, CCC Governing Board member.
"Our job now is to make sure the college is sustained," said CCC President Colleen Smith. "Things are a little unknown at this point but I'm so proud of the work this team did."