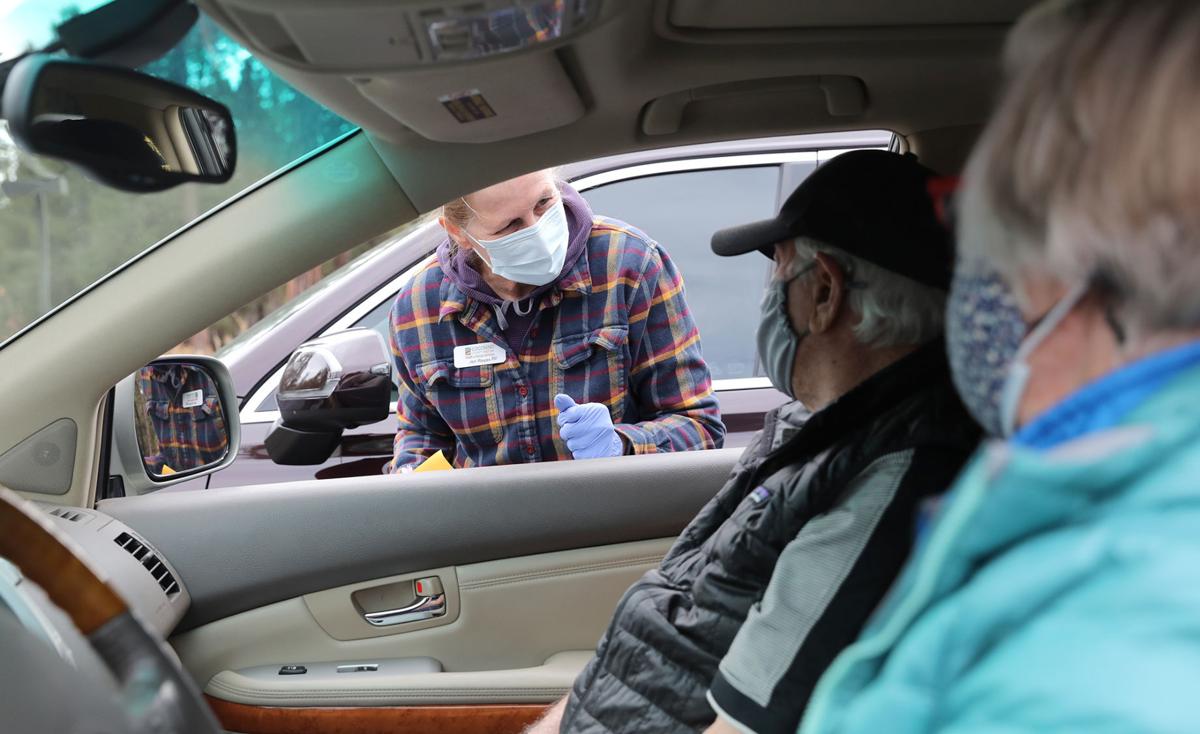 Coconino County will be opening an additional 200 appointments for COVID-19 vaccinations at Fort Tuthill. Registration will be available beginning at noon today for appointments occurring the week of Feb. 8-12.
Thursday afternoon, Public Affairs Director Eric Peterson told the Arizona Daily Sun the county had just received word from the Governor's Office that the state will receive 91,000 doses of the Moderna vaccine next week, and that it will be distributed statewide and will increase Coconino County's anticipated allocation for the week.
"They didn't have a number for us. They said it was a significant increase for Coconino County this coming week, but we are still operating weekly, not on a predictable schedule of weeks ahead or months ahead," Peterson said.
Vaccine doses received remain far below Coconino County's capacity for distribution. Since vaccinations began in late December, the county's weekly allocation has ranged from 600 to 2,500 doses. Up to 300 of those doses are distributed at Fort Tuthill daily, with the remainder distributed by partner healthcare organizations.
Peterson said the county has been advocating to state leaders for more vaccines on an almost daily basis — and is encouraging members of the public to similarly contact state and federal officials to request more doses.
Those interested in scheduling an appointment at Fort Tuthill can visit www.coconino.az.gov/covid19vaccine and click the link titled "SPECIAL REGISTRATION - Fort Tuthill, Flagstaff First Dose." Individuals without internet access or those requiring assistance can call the COVID-19 Information Line at 928-679-7300.
Registration is only open to eligible Phase 1a healthcare workers and long-term care facility residents and staff, and priority Phase 1b populations: individuals age 65 and older, education and child care workers and law enforcement and protective services.
According to an ongoing count by the Arizona Department of Health Services, as of Thursday, a total 19,621 vaccines have been administered in Coconino County, or 88% of its total allocation.
Coconino County added 93 cases and three deaths in Thursday's report, bringing its totals to 15,290 positive cases and 266 deaths.
Navajo Nation health officials on Thursday reported 110 new COVID-19 cases and nine more deaths. The latest numbers raised the totals to 28,668 cases and 1,047 known deaths since the pandemic began.
Tribal officials said President Joe Biden has signed a long-awaited major disaster declaration for the Navajo Nation.
It will provide more federal resources and prompts the release of federal funds for the reimbursement of emergency funds expended to address the COVID-19 pandemic on the Navajo Nation, which covers parts of Arizona, New Mexico and Utah.
The tribe has extended its stay-at-home order with a revised nightly curfew to limit the spread of COVID.
The Navajo Department of Health has identified 56 communities with uncontrolled spread of the coronavirus, down from 75 communities in recent weeks.
Kaitlin Olson can be reached at the office at kolson@azdailysun.com or by phone at (928) 556-2253. The Associated Press contributed to this article.