The frigid mountain air rushes past Dennis Grant's face as he skis down the San Francisco Peaks. His abdomen burns and his arms ache, but he has never felt more alive.
Grant is a double amputee, but that has not stopped him to soaring to new heights thanks to Snowbowl's adaptive program. This program teaches people with disabilities how to ski, and according to Alex Davenport, the Adaptive Ski and Ride School Supervisor, the program tailors their lessons to each student.
Davenport said that the program offers lessons for a variety of disabilities, such as people with cognitive disabilities, students with visual impairments, amputees, paraplegics and many more. Since the program's origin in 2011, they have taught around 1,400 lessons and have already completed 500 since November.
"We are a very legitimate program that is growing extremely quickly. Not just because we provide a needed service, but because that's what's right for our community," Davenport said.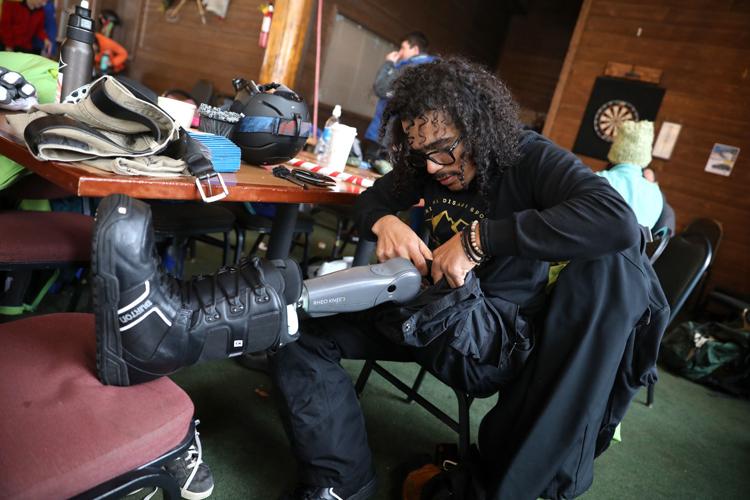 The instructors and volunteers that participate in the program go through a certification process, which is nationally recognized by a nonprofit organization called the Professional Ski Instructors of America. Additionally, they do an in-house certification that focuses on cognitive and developmental disabilities, as that is their largest demand.
Grant began the program eight years ago and now volunteers for the adaptive program, taking the time to instruct new skiers. Aside from the numerous techniques, Grant teaches his students a valuable life lesson.
"When I first started walking on prosthetics, I fell down a lot," Grant said. "But you have to get up. It's the same with skiing: It doesn't matter how many times you fall down, all that matters is that you get back up and try again. Failing is part of the process of winning."
Grant added that the experience is a tremendous self-esteem boost, and he enjoys the process helping others reach a goal they once thought unachievable.
You have free articles remaining.
This week features an event at Snowbowl known as the Skiable Adaptive Alpine Experience, which started Sunday and runs through Tuesday from 9 a.m. to 4 p.m.
Davenport said that many organizations will be involved. One of them is Arizona Disabled Sports, a nonprofit organization in Phoenix that is responsible for transporting about 12 students for each day. To help with the influx of students, they partner with Breckenridge Outdoor Education Center from Colorado. They come with equipment and instructors and help manage the event.
One factor that has helped increase the program's popularity is the process of snowmaking.
Davenport said that snowmaking enables the program to have consistent seasons, adding that having snow from mid-November to mid-April greatly helps the program.
"With that steadiness, I've been able to train staff and volunteers so that they can be qualified to teach people with disabilities," Davenport said.
The Northern Arizona Healthcare Foundation has been the underlying reason the program started and has been able to remain active, he added.
"NAHF recognized the importance of outdoor recreation for people with disabilities and invested heavily in our success from the beginning," Davenport said. "[They] continue to be our biggest sponsor every year."