Zombies will rise again this week in Flagstaff to celebrate both Halloween and Dia de Los Muertos.
After all, what would the spookiest time of the year be without hundreds of severed hands tumbling off a roof?
The Zombie Hand Drop and Blood Drive, which will celebrate its sixth year this week, encourages community members to purchase a numbered hand that will be dropped from the roof of the Heritage Square parking garage onto a crime scene body outline. The one to land closest to the missing hand will win $3,131 -- triple the amount of previous years. All hands will also be entered into a raffle for 30 prizes worth at least $45 each.
About 300 hands, at $50 each, have been sold so far. The goal is 500.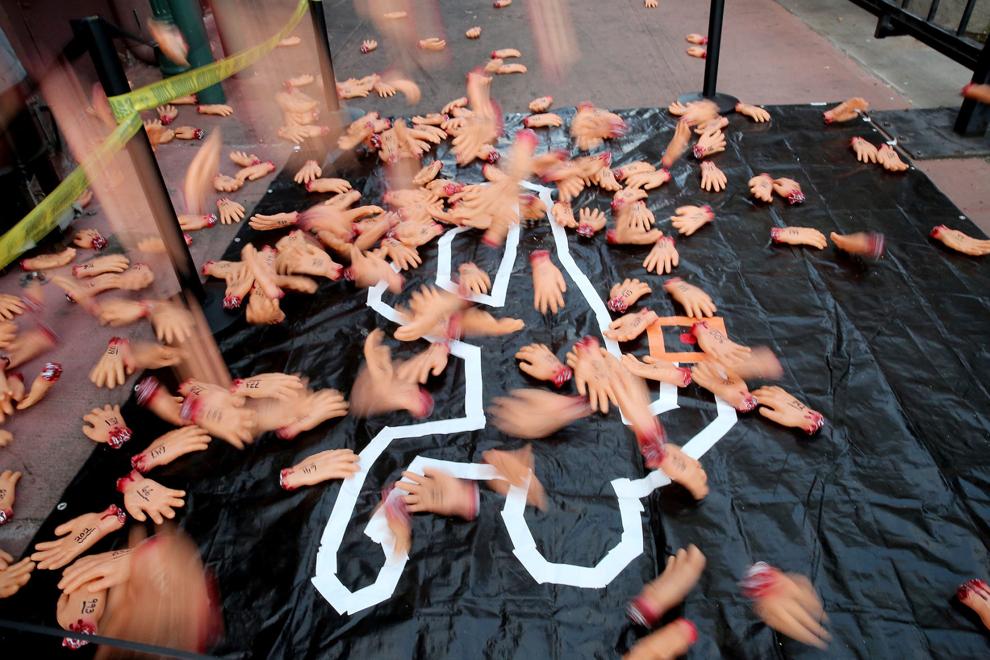 This year the event is hosted by and will benefit Acts of Kindness Flagstaff (AOKFlag), a nonprofit formed this year to serve the people who are impacted by suicide. The 17 volunteer board members create "bags of kindness" for these individuals to show support during the grieving process. They also help to pay for funeral costs and support first responders. This summer, its volunteers brought snacks and drinks to those who were managing the Museum Fire.
Cathy Flores, AOKFlag board member, said studies have shown that 150 people are directly affected by each suicide, a figure that is driving the efforts of the nonprofit.
"It's like a tsunami, it just keeps rippling out," Flores said. "Those are the people we don't want to be alone. The message we're trying to get to them is that we, as a community, are behind them."
The zombie event addresses another pressing local need: blood donations.
Carina Fors, senior donor recruitment representative for Vitalant, which manages all blood donations in northern Arizona and Maricopa County, said this month, Arizona's blood supply is in a significant deficit.
A high usage state as a result of its many travelers, Fors said Arizona requires 600 donations per day, but has not been meeting that threshold because regular donors are becoming unable to donate due to death, medications or other health concerns.
"The people who grew up with the wars had a dedication to service to the community," Fors said. "Sadly, a lot of the younger people just don't realize [the need] or they only come out when there's a mass shooting, but there are people suffering every day that need blood, from a vehicular accident to a cancer diagnosis. There is no substitute for blood."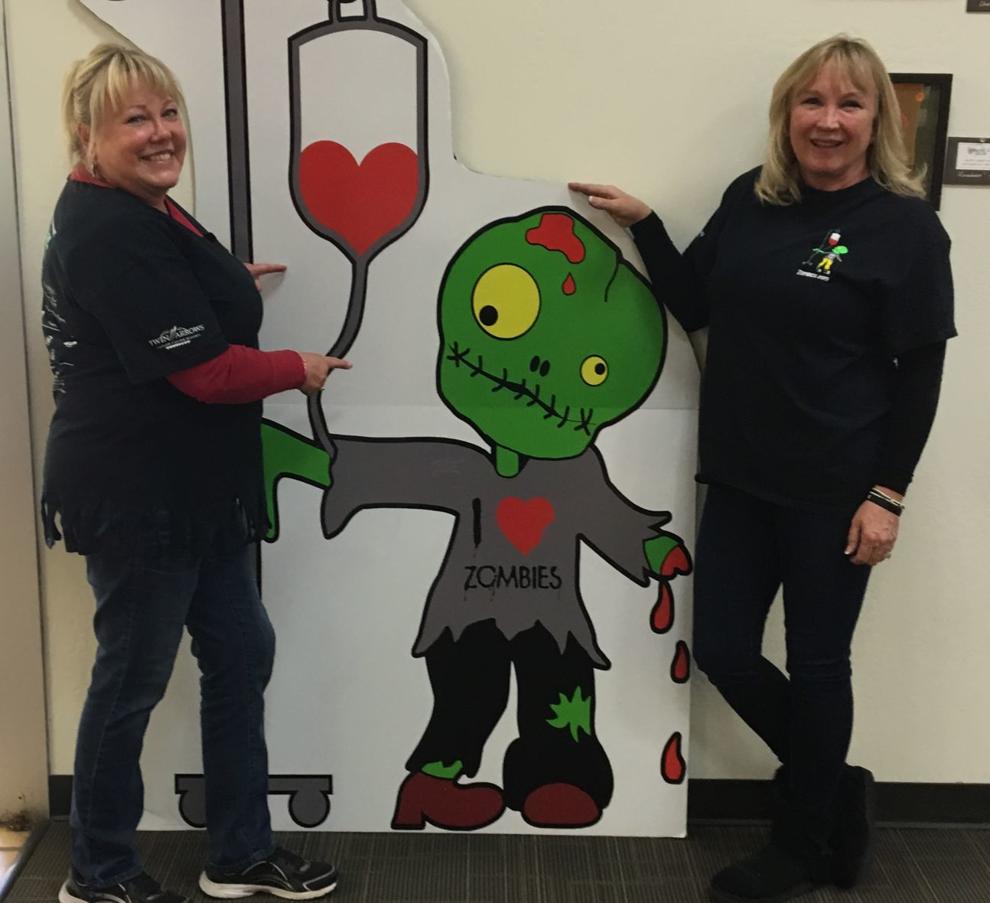 BBVA Bank Downtown, which will host the blood drive this week, has adopted a spooky setting to encourage people to "Find the zombie in you." Donors will be given a selection of "zombie treats," vouchers for discounts at local businesses and the choice of a zombie makeover.
Individuals who open a checking account with BBVA can choose a local nonprofit of their choice to receive royalties when opening the account and for every purchase with its debit card, a year-round option.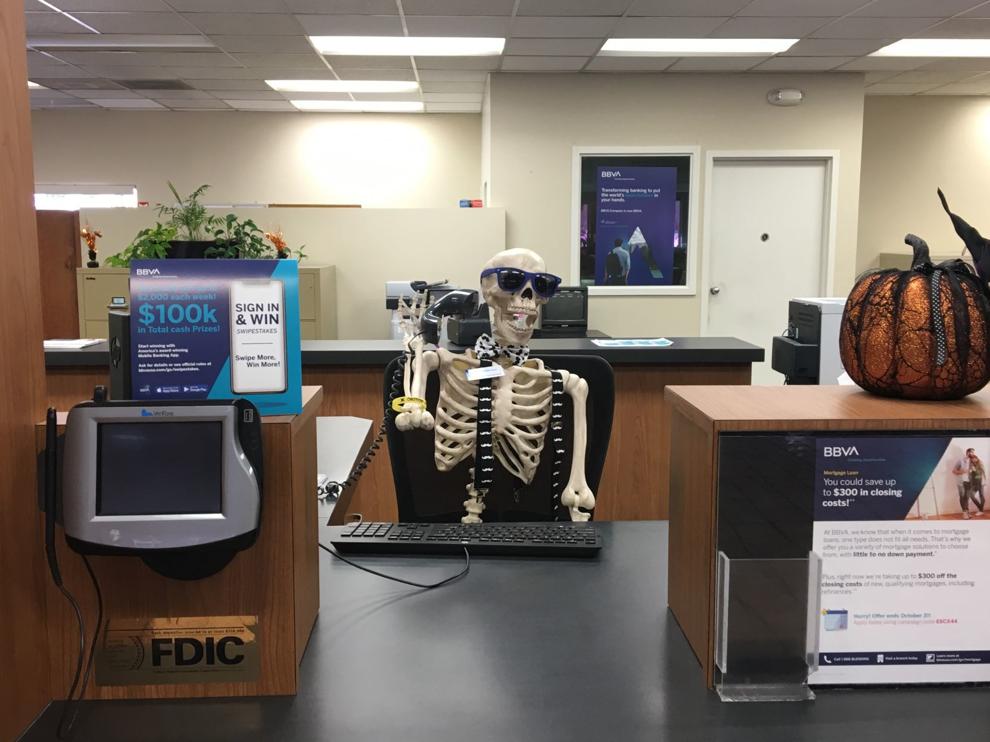 A history of zombies
The iconic zombie hand drop originated with Flores, who was inspired by the Zombie Walk in Phoenix, most recently hosted by the Arizona Hemophilia Association until its cancellation last year.
"It was just packed with people dressed like zombies," Flores said. "When I saw that, I thought, what a neat way to reach out to the community. Why don't we raise money for the community and give blood?"
For the last five years, Flores coordinated the event through Northern Arizona Volunteer Medical Corps, where she served as the vice president of the board. When she left the organization to focus more on local efforts through AOKFlag, she brought the event with her.
Last year, it was named the most creative blood drive in the world by ADPR, the international division of America's Blood Centers.
"The zombie brings out the good in people," Fors said.