Fitness-loving couple Cierra Winters and Florian Dotti were getting ready to sign the lease for their long-awaited cycle studio when COVID-19 hit Flagstaff and gyms and fitness centers throughout the state were closed.
They had been working on the plans for a Flagstaff studio for about two years and were at first derailed by the sudden changes, but after some consideration, they realized they didn't need a building to offer fitness classes. It would only be a limitation as the pandemic continued anyway.
They named their alternative plan The Spin Box to recognize their literal outside-the-box approach to pandemic-time group fitness: physically but not necessarily socially distanced outdoor cycling classes.
"We tried to create a product and a service to the community that would build friendships, bring people together in a time it has been a little difficult to do so, but also offer these physical-mental outlets," Dotti said. "Fitness is something that's necessary, especially in a community like Flagstaff. So it just felt right to start now."
The business operates using 15 stationary bikes, plus one for Winters, who leads the classes, that the couple has a permit to set up in the parking lots of mostly city parks, including Thorpe and Continental. They transport the bikes around the city in a trailer featuring their logo -- which helps to separate partially their workout space during classes.
Bikes are positioned about 10 feet apart from each other, and participants must wear face masks until they get to their bike and put them back on again when the ride is over. Dotti sanitizes all equipment after each class.
"We have a lot of family and friends that are high-risk to COVID, and so we wanted to respect that and give people that fitness outlet while also staying safe for their family. So we've designed our model entirely around that and the majestic outdoors of Flagstaff, because if you can cycle with a view of the Peaks, even if you're not going anywhere, it's still a lot of fun," Dotti said.
In its first month, The Spin Box had about 200 new clients who have continued to fill up most of its classes as locals look for a means to return to group fitness during the pandemic.
"It feels like the safest way to get a really good workout," said Kate Duffy, who has been frequenting the cycling classes over the last month. "You just get to be out in the sunshine and the fresh air and sweat and listen to awesome music. It's the best. After doing this, I don't want to go to a studio anymore."
She said she is glad that, because of the precautions in place, she is able to cycle without wearing a mask, unlike what might be possible in a more traditional gym setting.
Cassie Heffner was considering returning to her previous fitness studio, but did not feel comfortable working out inside, when she discovered The Spin Box, where she is now a member.
"This is what I needed in my life to keep me going and keep me fit," Heffner said, noting that she has never before been in involved in an outdoor group fitness class. "I love it. There can't be a better way to take advantage of being in Flagstaff -- just enjoying Flagstaff, the climate and the fall colors that have been so cool."
For Jennifer Brown, the social aspect of this class — what she called a "friendly atmosphere" — was just as appealing as the fitness benefits after all the time she has spent at home to prevent the spread of COVID-19.
"This is a way to be able to have some type of human connection but still socially distance, so that part has been really exhilarating because you do feel like there is still human life out there," Brown said with a laugh.
Stay on the move
Many of the business's current members followed Winters from another Flagstaff studio where she continues to work. She has taught various types of classes at local gyms and studios since graduating from Northern Arizona University's first Fitness Wellness program class in 2014, but for many years has wanted to open a cycle studio of her own to continue with the activity she calls her first love and the reason she pursued fitness as a career.
She leads all the cycling classes while Dotti, her fiancé, who studied English and statistics at NAU, manages the business. Together, they select and mix their own music for each ride, which Winters choreographs to align with specific moves such as sprinting or standing up on the bikes. She estimated she spends about 10 hours a week just preparing the music, plugging songs and beats into a formula the couple has developed over the years.
And while others may prefer actual mountain biking to stationary cycling in view of the mountains, Winters said group fitness is a different atmosphere altogether.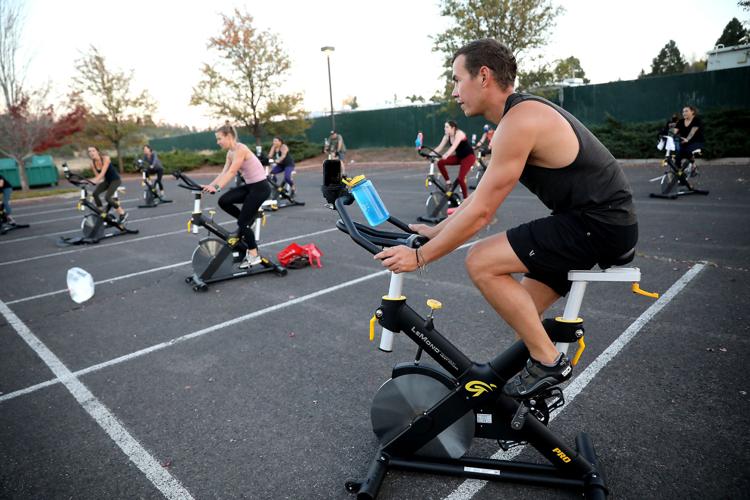 "If you were to work out alone, you could stop at any point and in the group atmosphere you have everyone around you, you don't really want to stop, you've got to keep pushing because everyone else is pushing," she said.
She explained the energy of the classes can also be a mood booster, especially during the pandemic. During a class Wednesday evening, she cheered on participants by name and even led the group in rhythmic clapping and a quick round of "helicopters" as they each twirled their towels over their heads.
The goal is to continue this mobile studio even beyond the pandemic, such as by offering classes to companies during lunch breaks, but as cooler weather approaches, Dotti and Winters are looking for a more protected space.
"Our end goal is to find a studio space, but not in the traditional sense. We're looking at a hybrid space, like a large warehouse that has doors that roll up in back, tons of free ventilation, but can be heated, can be protected from inclement weather," he said. "We really want to expand, to scale this idea and continue to grow with the community and find the right space."
Winters advised local residents to keep active during the ongoing pandemic by simply finding something they like to do that gets them moving.
"They don't have to put so much pressure on themselves to get a huge workout in. Any type of movement is good movement. Find something you like. It may not be the same as it was before the pandemic, but just move," she said.
Concerned about COVID-19?
Sign up now to get the most recent coronavirus headlines and other important local and national news sent to your email inbox daily.