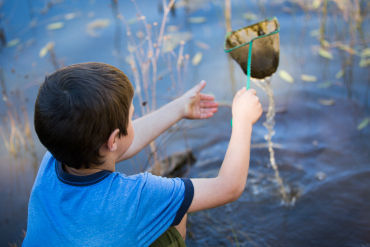 Summer is right around the corner; it's time to start thinking about summer activities for kids. The following is our annual list of selected summer camp options. We've also included a few non-camp, kid-centered events.
Flagstaff Arts Council and Flagstaff Aerial Arts host this camp in weekly sessions between Monday, July 20 and Friday, Aug. 7. The camp will be held at the Coconino Center for the Arts, 9 a.m.- 1 p.m. daily, culminating with a final performance at Heritage Square on Aug. 7 Kids will learn circus skills such as stilt walking, acro balance, tumbling, clowning, aerial dance and trapeze, juggling and more. For ages 7-18. Register at www.flagartscouncil.org. For more information or questions, call 970-560-9586 or email flagaerialarts@gmail.com.
Harkins Theatres' popular annual kid's movie program, Summer Movie Fun, kicks off Monday, June 1. Season tickets for all 10 movies are $5 and are on sale now at the box office of Harkins Flagstaff 11, 1959 S. Woodlands Village Blvd. Individual tickets are available the day of the show for $2 each. Doors open at 9 a.m. and all shows begin at 9:45 a.m. with movies running every weekday through Friday, August 7. Visit www.harkinstheatres.com/SMF for schedules, showtimes and more information. 774-4847.
Lowell Observatory Camps for Kids
Registration is now open for 1st through 8th graders. Weeklong camps allow children to explore the universe around. Elementary school camp sessions focus on three different astronomical topics. Middle school camp sessions revolve around an introduction to astronomy, allowing seventh through ninth grade campers to learn through interactive experiments. Tuition from $200 - $250. Scholarships available. To view session dates and to register visit http://lowell.edu/outreach/elementary-camp/.
Salvation Army Vacation Bible School
July 13-17, 11 a.m.-5 p.m., for ages 6-16. VBS is free and includes lunch and activities. Free pickups and drop offs are available. To register call 774-1403 or email ryan.miller@usw.salvationarmy.org.
Explore the history of the Spanish language in Northern Arizona in a hands-on, around-the-town, cultural camp. Aug. 3- 7, 9 a.m.-4 p.m. daily. Held at Mountain School; $180 for the week. For children entering 2nd grade in the fall and higher. For more information contact Michelle Galloway, michelleg@mountaincharterschool.com, 923-3177.
Bearizona's Explorers, Adventures, and Rangers (B.E.A.R.) Camp
Camp focuses on outdoor fun and environmental education and is jam-packed with fun hands-on activities that connect kids to animals of all shapes and sizes. For age 6 - 15. Camps will begin June 8 and finish July 2. Register at www.bearizona.com and follow the link at the bottom of the website. Each week has a different theme and each day has its own focus.
Rock Climbing Summer Camps
Flagstaff Climbing Center. Available for all ages and abilities. No experience required. Climbers have a great time climbing while learning how to set and achieve goals, develop climbing skills, increase strength, flexibility and endurance, meet other climbers their age and improve overall fitness.
Iwannaclimbalot: Half-day indoor camps,
8:30-noon, $135/week,
June 1-5, June 15-19, July 6-10, July 20-24.
Iwannaclimbalot Half-day Indoor Camps,
8:30-noon, $135/week,
June 8-12, June 22-26, July 13-17, July 27-31.
Rock Trips All Day Outdoor Camps,
8:30 a.m.-4:30 p.m., $349/week, 
June 1-5, June 15-19, July 6-10, July 20-24.
Scholarships available. Register at www.theatrikos.com or at the box office (MWF, noon - 6), 11 W. Cherry Ave., 774-1662.
Mainstage Jr. Summer Series 1: The Wizard of Oz (ages 7-14)
May 11-June 18. Performance dates: June 19-21.
Mainstage Jr. Summer Series 2: Les Miserables School Edition (ages 12-18) July 13-Aug. 13. Performance dates: Aug. 14-16.
Frozen Camp A (ages 4-6) 9-noon and (ages 7-12) 9 a.m.-4 p.m., June 22-26.
The Wubulous World of Dr. Seuss (ages 4-6), 9-noon; and (ages 7-12) 9 a.m.-4 p.m., June 29-July 3.
Act Dance Sing (ages 7-12), 9 a.m.-4 p.m., July 7-11.
Short Shakespeare (ages 7-12), 9 a.m.-4 p.m., July 14-18.
Frozen Camp B (ages 4-6) 9-noon; and (ages 7-12) 9 a.m.-4 p.m., July 21-25
The Kids Bowl Free program at Starlite Lanes kicks off May 11 and runs until Aug. 23. All kids ages 15 and under are welcome to bowl two free games every day, Sunday through Friday. Summer-long family passes are also available.
To register, go to KidsBowlFree.com. The exact hours and details of the program are posted online. For more information, call 526-1138.
Museum of Northern Arizona Discovery 2015 Summer Camps for Youth
Ages 4-13, June 8-July 31. (Ages 4-5, 9a.m.-1 p.m.; ages 6-13, 9 a.m.-4 p.m.) Prices range from $150-$250 per week. Each weeklong summer camp offers meaningful exploration and experiences with a focus on the natural sciences, art and culture of the Colorado Plateau. All camps take full advantage of the Museum's exhibits, outdoor spaces, and natural environment surrounding Flagstaff. Extended Care and scholarships are available. Visit musnaz.org for a complete listing of camps and to register online. For questions, please contact Jennifer Glennon at discovery@musnaz.org or 774-5211 x222. Junior Counselor program for youth ages 14-18, applications and instructions are at musnaz.org.
Arizona Music Pro Summer Rock Camps
For ages 10-25 and all skill levels. Camps from 9-noon, June 1-5, June 15-19, July 6-10, July 20-24. Play in a rock band, no experience necessary. Classes to include drums, bass, guitar, keyboards, vocals, strings/brass/woodwinds. Songwriting, recording, video production. Rock Camp will culminate with a concert each Friday night of camp. Cost: $250.00 per person per camp. Contact: Dean Neasham, 556-9054, lessons@azmusicpro. www.azmusicpro.com
Young Author's Camp at NAU—8th-11th grade. For teen writers who really enjoy the craft and creativity of writing and want a week-long opportunity to work with like-minded individuals. June 22-26, 9 a.m.-3 p.m. $150.
Young Author's Camp—4th-7th grade. For younger writers who really enjoy writing and want a week-long opportunity to learn new and creative approaches to enhance their writing. July 20-24, 9 a.m.-3 p.m. $150.
For more information contact Jean Boreen at 523-6765.
For ages 11-14, we have a Middle School Adventure trip from June 21-26 on the lower San Juan River for $700. For ages 15-19, we have trips on the Colorado River through Grand Canyon on June 10-18 ($880 upper half), June 17-26 ($980 lower half) and July 22-31 ($980 lower half). Contact: 773-7921; www.gcyouth.org.
Ages 5-13. Monday, June 8 to Friday, July 24 (Closed July 3). Weekdays, 6:45 a.m. - 6 p.m. Marshall Magnet School, 850 N. Bonito St. Each week has a different theme, including science, sports and spirit, and special activities. Fees: 1 child: $3.50 per hour (or portion of each hour); 2 children: $5.75 per hour (or portion of each hour); 3+ children: $8 per hour (or portion of each hour). Hourly rate is charged for each hour up to a maximum of 30 hours per child per week. Any hours beyond that in the same week will be free. Scholarships are available. 527-6180
The Y will feature day camps for various ages at 1001 N. Turquoise Road. Call 556-9622 for information.
Dates: Session I, June 1 - July 2; Session II, July 6 – Aug. 7. Full-day or half day (morning or afternoon), weekly or 5-week sessions. Camp hours are 8-noon and 1-5 p.m. Camp at NAU for kindergarten – 8th grade. The morning portion of the camp is dry-land, activity and educational-based, while the afternoon portion of camp is aquatic-based. Activities include field trips. Contact michael.przydzial@nau.edu; nau.edu/Campus-Recreation/Summer-Youth-Programs/.
Open to all youth in 6th-8th grade, and is limited to 20 campers each week. The Explorer's Camp venture around Northern Arizona University's campus, Flagstaff and surrounding areas through experiential education.
The City of Flagstaff has discontinued its summer camp program but offers drop-in services at its various locations including:
Aquaplex: 1702 N. Fourth St. 213-2300
Jay Lively Ice Arena: 1650 N. Turquoise Dr. 213-2340
Flagstaff Recreation Center: 2403 N. Izabel St. 779-1468.
Kids can enjoy a movie a week for 10 weeks, for $5. All adults must be accompanied by children. Tickets on sale now at the theater, 959 S Woodlands Village Blvd. All movies begin at 9:45 a.m. Info at harkinstheatres.com.
Flagstaff Athletic Club day camps. Call 779-5141 for information.
Cost is $70 weekly plus a $20 membership fee. Club located at 301 S. Paseo del Flag. Activities include robitics, hiking, arts and crafts, swimming and more.Scholarships are available. Ages 6-12. June 1-July 31, 7:30 a.m.-5:30 p.m. Registration at bgcflag.org, 266-0489.
Held at Mountain School. Day camp for kindergarten-exiting fifth graders. June 1 - July 10. Before and after care also available from 7:30-8:30 a.m. and 4:30-5:30 p.m.
Daytime Care (including pre-k), 4 years old - exiting 5th graders, 8:30-12:30 p.m.; $23 for the day (You may pick and choose days of the week). $100 for the whole week Activities at the school and neighboring areas. No field trips in vehicles.
Adventure Camp for kinders - exiting 5th graders, 8:30 p.m.-4:30 p.m. $35 one-time registration fee, per child, $37 for the day, $170 for the week. We will swim in Sedona, build forts on the Peaks, bike on the Urban Trail, spelunk in the Lava Caves, explore ruins, and play at parks.
During times at the school, we enjoy going on nature hikes, experimenting with science, making crafts, playing group games and cooking. E-mail Nicole Holst at holst.nicole.m@gmail.com for more information.
Eco Explorers Summer Camp
The Arboretum at Flagstaff offers a variety of outdoor adventure camps for campers ages 4 - 13. Centered around the ecology of the Colorado Plateau, camps are focused on four principal themes: scientific investigation, outdoor exploration, health, and stewardship. Call 774-1442 ext. 110, email Lisa.Doskocil@thearb.org, or visit thearb.org for more information.
Foresight Learning Center's Summer Exploration
Our Summer Exploration for students 2-6 years of age will include a
wide range of high-interest, hands-on activities, special on-site
presentations by Willow Bend, and backyard special events.
June 1-12 Ready-Set -Summer! Nature Appreciation,Summer Cooking,
June 15-30 "Go with the Flow" Water Exploration.
July1- 17 "Catch a Falling Star" Our Solar System.
July 20- 31 "Once Upon a Time" Kings, Queens, and Castles.
Thank you for adding our information!!
Foresight Learning Center
Flagstaff Cooperative Preschool Inc. summer camp in the facebook posting today!!!
We have a summer camp at Marshall Magnet Elementary and at the Murdoch Center every summer at both of our NAC nationally accredited sites. We have a super flexible schedule . .. hourly, daily and weekly rates, which is rare, and our camp teachers are all Az certified, experienced early childhood teachers. . . students
We serve 2 - 4 year olds at Murdoch in one classroom, and 3 - 8 year olds at Marshall in two classes.
Camp Gan Israel
Camp Gan Israel is part of the largest and fastest growing network of Jewish day camps in the world. Gan Israel enjoys a well-earned reputation as a trendsetter with innovative ideas, creative programs and new activities. Campers enjoy a wide range of activities, sports and field trips in a warm and exciting atmosphere. Gan Israel prides itself on combining fun and excitement along with friendship and meaningful educational experiences.
Camp Dates: July 20 - August 7 (join for one, two, or all three weeks)
Ages: 2-12
Time: 9:00 - 3:30 (early and after care available)
Location: Pine Forest Charter School, 1120 W. Kaibab Lane
For more information and to register, please visit www.jewishflagstaff.com/camp
Questions? email info@jewishflagstaff.com or call 928-255-5756
Martial Arts summer camps through out the summer at Sleeping Lion Martial Arts. Camps run June 1 - July 31 and we accept children ages 5 and up. A link to our website that explains everything in detail is as follows: http://sleepinglionmartialarts.com/?page_id=265. Please consider adding us to your running list of camps. We have held camps and regular classes for over 10 years in Flagstaff. Thanks again!
Sincerely,
Nina Wilson
Sleeping Lion Martial Arts
928-214-9974
NAU School of Forestry, could you please include us in the AZ Daily Sun listings for camp? Not sure why we weren't included this year, but if there is some kind of contact list for next summer, please add us.
Here is our url: www.nau.edu/CFcamps
We offer scholarships and are one of the only overnight camps in Flagstaff.
Here is a short description:
The Northern Arizona University Centennial Forest Environmental Education Programs include the Junior Forester Academy, Senior Forester Academy, and Outdoor Leadership Academy. The programs offer a hands-on introduction to the world of forestry and environmental science in the beautiful ponderosa pine forest surrounding Flagstaff, Arizona. Our unique programs provide an opportunity for kids to experience the wonder and beauty of nature through hiking, forest discovery, and nature-based art and games during week-long sessions of overnight camp.
(928) 523-6727
camps for all ages this summer here at Beta, and I want to ensure that we are included in your list. You can follow the below link to our webpage that will highlight all the details of our camps.
http://www.betaboulderinggym.com/kidscamps
Please call or email me at your earliest possible convenience.
Cheers,
Amylee Thornhill
Beta Bouldering Gym Manager
Membership Services Coordinator
495 S. River Run Rd. Suite 104
Flagstaff, AZ 86001
Phone: 928-266-0498
Don't see your favorite camp listed? E-mail the camp information to agripman@azdailysun.com to be included on the updated online version.