One year after a procession of decorated cars traveled down Fourth Street to honor graduates, pomp and circumstance returned to Flagstaff with in-person graduation ceremonies for the Class of 2021.
The Flagstaff Unified School District marked the end of the academic year by honoring 657 graduating seniors across Coconino, Flagstaff and Summit high schools on Thursday and Friday.
Though COVID-19 impacted this year's graduates as well, the trials of remote learning were outshined by the joys of celebration, and one could hardly escape the faint mumble of families and friends eagerly reconnecting before the proceedings commenced.
The graduation ceremonies were hosted individually, with limited attendance on the campuses of three schools. Here are some highlights across all three ceremonies:
Coconino High School
Graduating senior Abigail Chacon, who gave the welcoming address at CHS, said graduation comes on the heels of a year that has been anything but predictable.
"Today, we welcome you to a piece of normalcy and a celebration of what the exceptional graduating class has accomplished." Chacon said.
But that unpredictably was met with resilience by the 263 CHS students, according to Principal Stacie Zanzucchi. She said the 2021 graduating class will be remembered as the most "resilient to come through Coconino High School."
"This could have been devastating, but the Class of 2021 didn't let COVID-19 stand in their way. Instead, they took on the never-quit attitude," Zanzucchi said.
The CHS seniors collectively will graduate with more than $3 million in scholarships. From record-breaking track and field athletes to award-winning poets, Zanzucchi commended the grads for their accomplishments.
During the ceremony, student body secretary Delaney Merrick announced the retirement of Assistant Principal Steven Bonderud, known by students as "Bondo." Bonderud has spent 26 years with the high school after beginning his education career in California in 1978, Merrick said.
Bonderud will be remembered by students for his ability to keep them out of trouble, according to Merrick.
"We always avoided you when we were up to something, but we now realize you not only had our safety, but our best interests at heart and we thank you for that," Merrick said. "You have touched a lot of lives. The Class of 2021 and everyone else here at Coconino High School thanks you."
The graduating class also received an address from teacher dedicatees Janet Chavez and Dave Tessmer. The pair emphasized five important life lessons for the students as they venture into post-grad life.
An honor address was given by student Isaiah Hernandez, who graduated in the top 5% of the class. In closing, Hernandez quoted superhero Tony Stark, reminding his classmates that "part of the journey is the end."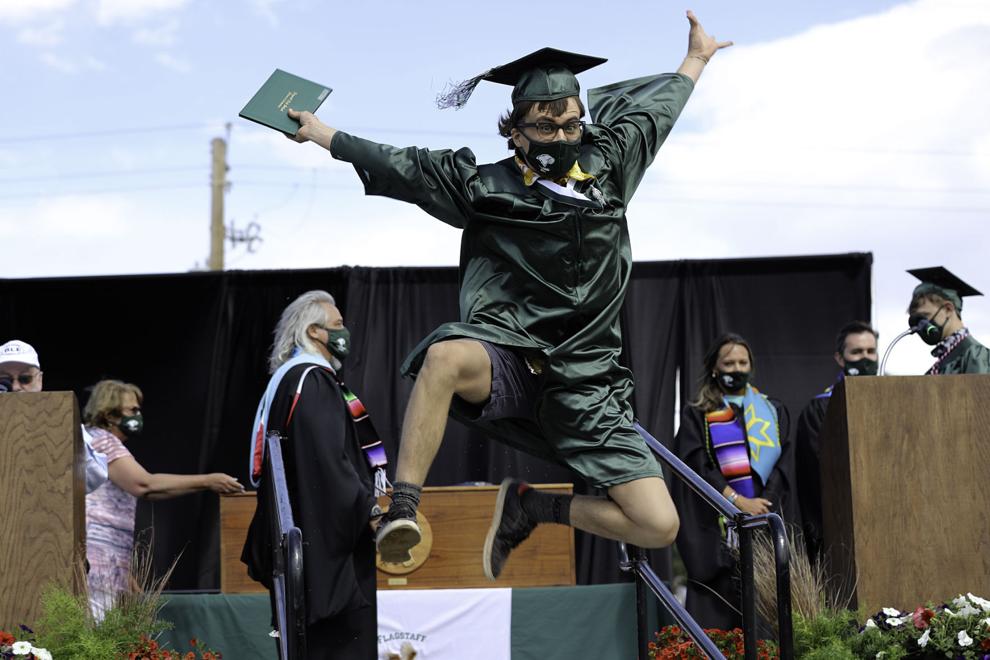 Flagstaff High School
Onlookers peered through the chain link fence alongside the FHS football field with balloons, air horns and signs in hand. Like the other ceremonies, attendance was limited, but that did not stop a small crowd from gathering just outside to celebrate.
Flagstaff's oldest and largest school was the last in the district to honor its graduates and was filled with plenty of enthusiasm from families and loved ones -- even as the weather took a turn. It was a rainy afternoon with plenty of wind when FHS honored the 363 graduates of the 2021 class.
Graduating senior Joshua Yordy, described by his peers as an exemplary scholar and leader, said his class made it through a difficult senior year with flying colors. He told his fellow seniors that it was up to them to become the person they want to be.
"The person you become in 10 years and 50 years is completely up to you. You should do what makes you happy, not what people think you should be doing now or what your test scores say you should be doing," Yordy said.
He suggested that the ultimate destination of life is the present.
"What really is the destination?" he asked. "It cannot be retirement. Living to retire is retiring to live."
The graduates of FHS earned a collective sum of more than $7 million in scholarships, according to Principal Tony Cullen.
Cullen offered his congratulations to the grads and recognized those who had made notable achievements throughout their high school pursuits. That includes the 20 students who will graduate from FHS with an advanced placement academy diploma.
Faculty dedicatee Kyle Gandy quoted Mike Tyson in his address, which served as a moment of comic relief for the crowd.
"Everyone has a plan until they get punched in the mouth," Gandy said. "As we saw, your senior plans have been derailed by a series of punches ... I want to say how proud I am of everyone that you've made it here."
Student body president Cyanne Henson also addressed the crowd and said she was proud of the way her classmates had preserved through the pandemic.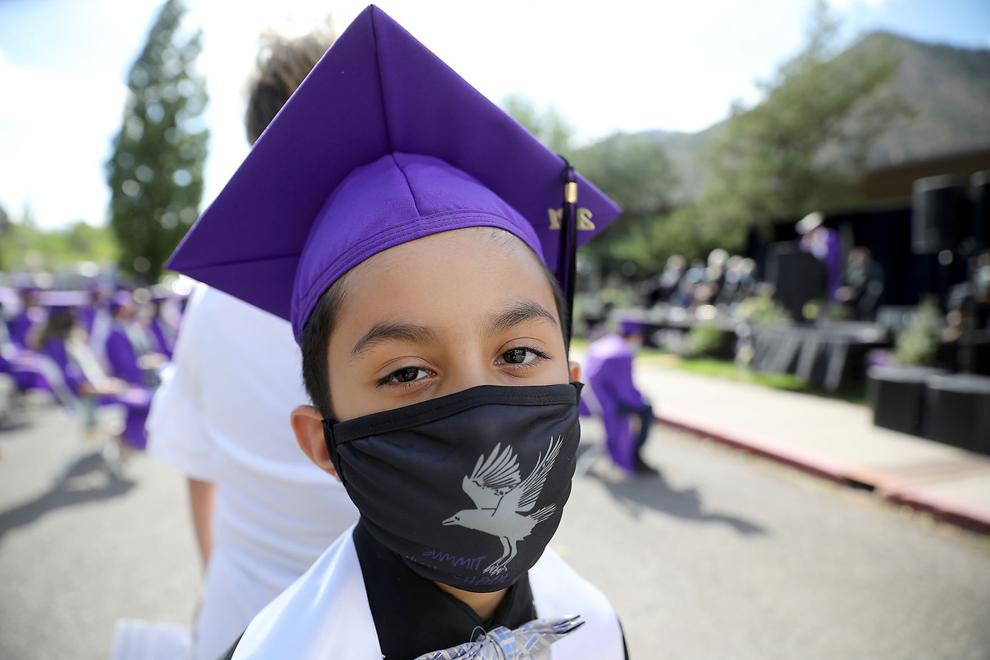 Summit High School
If you are ever told "stop dreaming and face reality" you should instead "keep dreaming and make reality." That was the advice given by SHS student Faithe Begay to her fellow class of 31 graduates during Thursday afternoon's student address.
"Many of our dreams first seem impossible," she said. "Pursue your passion, celebrate your mistakes and never stop following your fears. Success is no accident. It is hard work, perseverance, learning, studying, commitment and sacrifice."
Her words were followed by a faculty address delivered by Michelle Cathey, who is celebrating her 30th year teaching. The most profound lessons Cathey has learned in her decades of her experience have all come from students, she said.
Everybody has a unique gift, and the key to success is unlocking it, she said, pointing out to the graduates that "integrity" also contains the word "grit." That grit, she said, is evidenced by the perseverance, courage and strength of character that led to the students sitting in the graduate chairs.
"Life can be hard and we all know that, but in spite of it, happiness, integrity and success is attainable," Cathey said. "Little things become big things. So make sure to practice what it is you really are."
As Principal Chris Koenker announced the fulfillment of graduation requirements and the seniors crossed the stage, one "graduate" stood a little bit shorter than the rest.
Isaiah Burgos received a diploma on behalf of his older brother, Elvin Burgos Jr., who graduated in January and was deployed to Fort Benning in Georgia after enlisting in the Army. After the ceremony, the youngster said with enthusiasm that he was proud of his older brother.