Brandis Way in the Timberline neighborhood north of Flagstaff has been reopened after heavy rain caused flooding on the road Wednesday afternoon. Trees, limbs and boulders were washed into the road as debris backed up in culverts along roadside channels. 
County crews will be in the area Thursday to clear roadways, remove debris from channels, clear driveways and assess infrastructure and property damage. Further monsoon activity is expected later in the day and people are encouraged to follow the U.S. National Weather Service for alerts at www.weather.gov/fgz and be aware of flash flooding and avoid water flows in all areas.
Sandbags and fill are available at Tumbleweeds Store at 11985 East U.S. Highway 89 (across from the intersection of Copeland Lane and Highway 89) to help protect property from flood damage.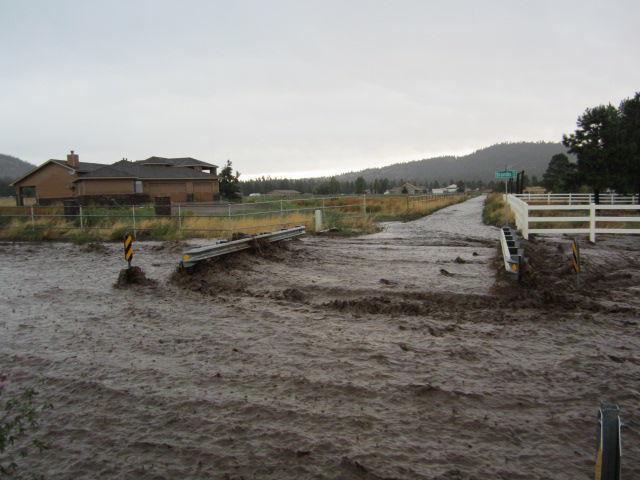 Residents affected by flooding are encouraged to call the County Call Center at 928-213-2990 to report any property damage so officials can connect residents with resources for recovery.
Wednesday 8 p.m.: A 100 to 200-year rain event that hit the San Francisco Peaks Wednesday afternoon sent torrents of water rushing down into the Timberline neighborhood, flooding roads and private properties and damaging roadway infrastructure.
The neighborhood sits just below the footprint of the Schultz Fire, which burned 15,000 acres on the eastern flank of the San Francisco Peaks in 2010. Forest vegetation that would help slow down floodwaters is still in the early stages of regrowth.
Rain gauges throughout the Schultz burn scar measured between 4.5 inches and 5.9 inches of precipitation from the storm, which lasted about three hours. Rainfall rates hit a peak of 2.5 to 3.5 inches per hour, according to Brian Klimowski with the National Weather Service.
Brandis Way, west of U.S. Highway 89, was closed to the public Wednesday afternoon after debris backed up behind bridges that span a flow channel next to the road and pushed water into the dirt roadway. There were 3 to 6 feet of debris flowing through the channel, which caused damage to the bridges, said Lucinda Andreani, interim deputy county manager and director of Coconino County Public Works.
Uprooted trees, limbs and basketball-sized boulders ended up on Brandis Way, said Liz Archuleta, Coconino County supervisor whose district covers the Timberline neighborhood.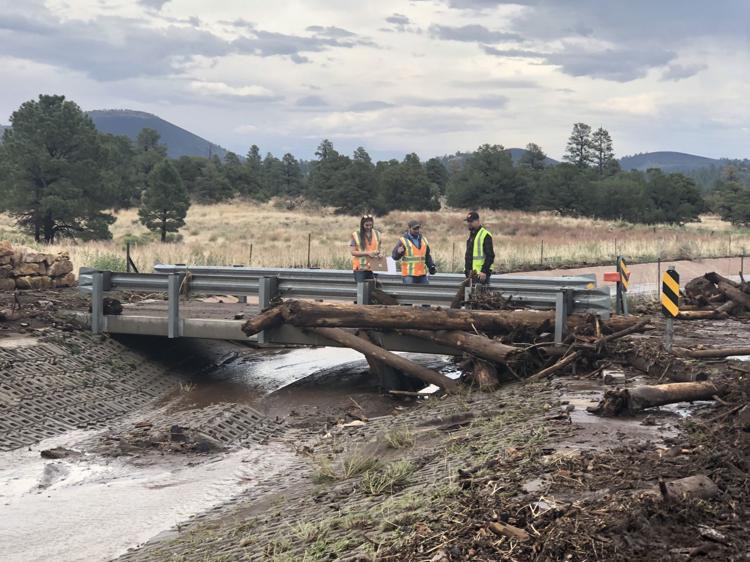 One lane of Highway 89 closed briefly when flood waters flowed onto the road, Andreani said. Several other roads north of Copeland Lane received flood damage and the county is monitoring that area as well.
The American Red Cross opened a shelter at Cromer Elementary School in Doney Park for those affected by the flooding. The organization said its volunteers will staff the shelter as long as there is a need.
Andreani said that teams doing an initial pass-through of the area saw three to six homes along Brandis Way that looked like they had seen some flooding impacts.
In anticipation of future monsoon rains, the county is giving out sandbags at the old Tumbleweed Store at 11985 U.S. Highway 89 across the street from Copeland Lane. Officials are asking residents affected by the flooding to call the county so they can help assess property damage and connect residents to resources like sandbags, flood barriers and debris removal services. The call center number is 928-213-2990.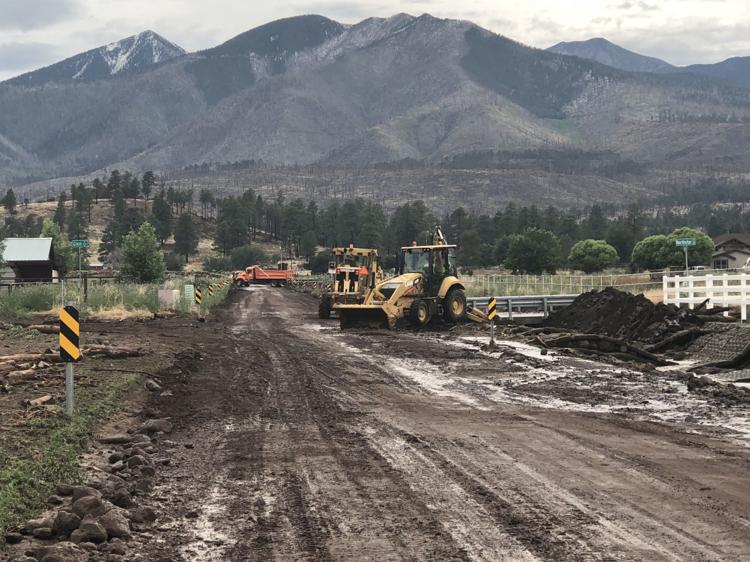 County crews will be in the area through at least Thursday cleaning up debris and assessing flooding impacts in the forest and in the nearby neighborhoods. Crews were working to reopen Brandis Way by Wednesday evening, Andreani said.
Going forward, the concern is that the ground in that area is now saturated, increasing future flood risk if more precipitation moves through before the soil has a chance to dry out, Andreani said.
"Now that we have a flood path created, if we get even smaller amounts of rain it could probably flood again," she said.
The Timberline area experienced extensive damage from flooding after the Schultz Fire and since then the county has spent nearly $30 million on flood mitigation work that covers five watersheds in the burn area.
That work included on-forest construction of log or rock-lined basins and alluvial fans which are wider, flatter areas in a water course that collect sediment while slowing and absorbing floodwaters rushing down from steeper slopes. The other component of the project is a network of lined channels, culverts, drainage pipes and detention basins that weave through the nearby neighborhoods.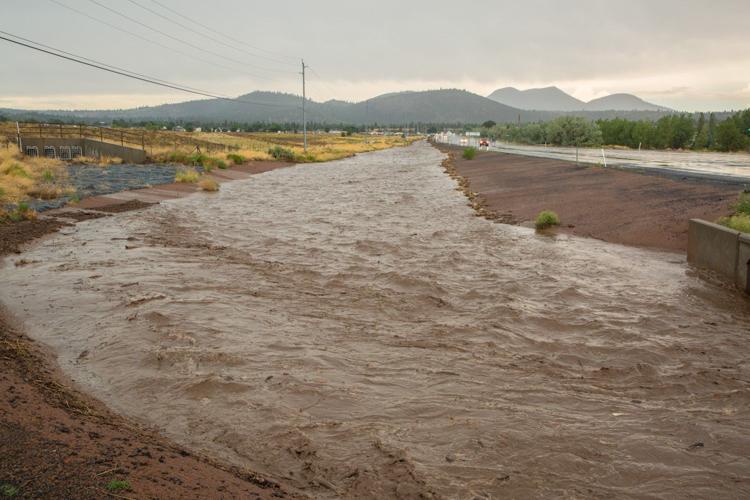 Most of that drainage infrastructure worked well during and after Wednesday's storm, Archuleta said.
"If we didn't have all that flood mitigation work we would have sustained immense property damage and infrastructure damage," she said.
While intense, the rainfall also was localized in nature. By 6 p.m. Wednesday, Flagstaff's Pulliam Airport had recorded a total of just 0.23 inches of precipitation.