As Northern Arizona football starts fall camp Wednesday, there is a bit of optimism around the program. With a first-year head coach in Chris Ball and a healthy Case Cookus at quarterback, the Lumberjacks have the talent to compete but also some big question marks.
So, let's take a look at what Northern Arizona is working with ahead of camp:
---
QUARTERBACKS
The offense starts and ends with Cookus.
When the slinger is healthy, he is arguably one of the best in the Big Sky and the FCS with a laundry list of awards to his name. The redshirt senior missed most of 2018 after breaking his right collarbone for the second time, an injury that derailed his team's season as Northern Arizona finished 4-6 overall.
Northern Arizona was forced to roll out three starting quarterbacks after Cookus's season-ending injury, including Daniel Bridge-Gadd, who tore his ACL midway through the season, Gino Campiotti and wide receiver Brandon Porter.
The trio combined to complete 145 of 271 of their passes for a 53.5 completion percentage as well as 12 TDs and 12 interceptions in their nine games played.
Bridge-Gadd, who is still nursing his ACL injury with no timetable for a return as of now, and Campiotti are still on the roster, as well as two incoming freshmen and transfer quarterback Keondre Wudtee from Oklahoma State -- who comes in with two years of eligibility.
With the four, or five if Bridge-Gadd is healthy, battling for the second-string spot behind Cookus, the Lumberjacks have some more bodies at QB in case of another injury.
RECEIVERS
Although there was a revolving door at the quarterback position that caused the passing game to slip, Northern Arizona still has big-play capability on the outside despite some massive question marks.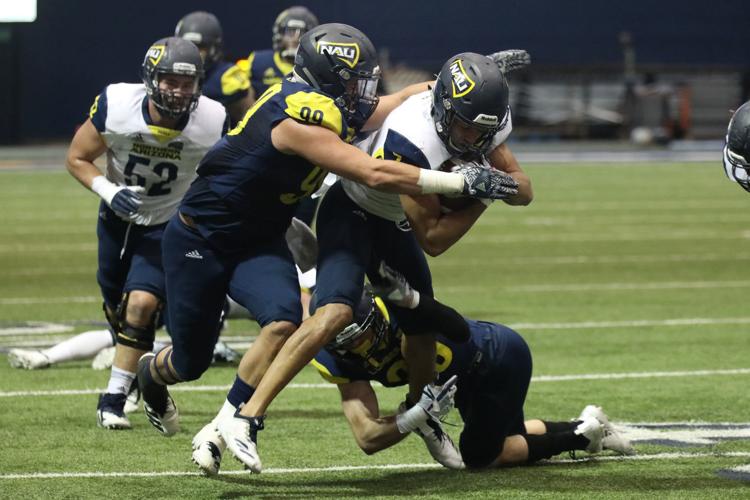 Now that Emmanuel Butler, one of the best receivers to play for Northern Arizona, has moved on to the NFL, the Lumberjacks need to find a way to replicate Butler's production.
Porter made massive plays as a receiver, including a 68-yard touchdown reception, showing his potential as a deep threat with his breakaway speed. His season at wideout was cut short because of the QB issues, as he finished with 28 catches for 325 yards and just one touchdown.
Chancellor Brewington saw his sophomore campaign take a dip following a solid freshman season. Last season he went for 23 receptions for 246 yards -- down from the 31 catches and 396 yards he posted in 2017.
Stacy Chuckwumezie and Justis Stokes also could be options on the outside, with the former missing most of last season after an early injury and the latter seeing a drop in production. Matthew Kempton has been a solid option in the red zone over the first two seasons of his career, combining for 27 catches, 278 yards and five TDs.
RUNNING BACKS
Joe Logan, Amaris Aldredge and Jacob Mpungi make for an intriguing trio of backs for Northern Arizona offensive coordinator Aaron Pflugrad to utilize this year.
Logan comes in as the top returning rusher after gaining 449 yards last year, second to Cory Young's 489 yards.
A healthy Cookus will mean less quarterback runs, letting the Lumberjack backs to show their worth after just 63 percent of the Lumberjacks' rushing attempts came from running backs last year.
Nate Stinson remains an option in the backfield, but the junior has struggled to stay healthy, suffering major injuries in two of his three years in Flagstaff.
OFFENSIVE LINE
You have free articles remaining.
Register for more free articles
Stay logged in to skip the surveys
The untimely death of starting guard Malik Noshi now leaves an unexpected hole on the O-line.
With just guard Luke Rudolph and center Chase Laurita as the returning full-time starters from last season, Northern Arizona will need to piece together a new line.
Some candidates for extended playing time are JaSean Harrison, who saw time at guard in eight games last year; left tackle Jonas Leader, who played in eight games; and Cole Habib, who started primarily at left tackle in 23 games in 2016 and 2017, returns from an ACL injury that held him out of 2018.
FRONT SEVEN
Possibly the most interesting thing that Ball brings to Flagstaff is his new defensive scheme.
Ball has the Lumberjacks running a base 3-4, with other looks shifting depending on formations.
The Lumberjacks have the personnel to run a 3-4 on paper, and it looked solid during spring ball. It is still early and not very clear who will play where in the new defense, but some players are easy candidates to fill new roles.
Carson Taylor, one of the Lumberjacks' top edge rushers last season with a team-high five QB hurries, fits well in his new role as a pass-rushing outside linebacker, or jack linebacker according to Ball, while nickelback Brandon Worthy slots in as a coverage focused outside backer, or ax linebacker.
Taylor played a similar style last season that he will play this year, dropping back into coverage at times from the edge.
Worthy was a do-it-all for Northern Arizona, finishing tied for first in forced fumbles, fourth in QB hurries, sixth with 4.5 tackles for loss and tied for third with five pass breakups.
Taylor Powell missed seven games with an injury and slots in at middle linebacker, but the staff needs to find his running mate, which early on could be Tristen Vance.
Much of the defensive line stays intact, with interior linemen Jalen Goss and Aaron Andrews coming back as two of the top returners -- joined by Washington State transfer Jonathan Lolohea.
Brandon Lawless, Chris Jules and Chauntez Thomas round out the options for a group that can sub in and out often to keep players fresh.
SECONDARY
Just two starters are back from a secondary that ended 10th in the FCS with 17 interceptions.
First-team All Big Sky corner Khalil Dorsey, who was responsible for three of those picks, and Anthony Sweeney, who filled in as a starter at safety when Wes Sutton missed two games, return to a secondary needing a No. 2 corner and another safety to step up.
Sweeney played often in three safety sets, gaining valuable experience that should translate with more chances on the turf for him. Elijah Orr joined Sweeney in seeing time in the three-safety looks, but played sparingly at times. Jamarri Jackson, who is listed at safety, played in the cornerback rotation with Marcel Myers.
Currently at corner the Lumberjacks have three sophomores and three seniors, with one of the seniors having only played in three games for Northern Arizona.
SPECIAL TEAMS
After former kicker Griffin Roehler left the program three games into the year last season, Luis Aguilar took over place-kicking duties and ended with a 4-of-8 clip.
DJ Arnson earned All-Big Sky third team honors as a punter, ranking third in the FCS in punting average. He dropped 15 of his 54 punts inside the opponent's 20-yard line.
Oddly enough, Northern Arizona has three punters on the roster with the addition of freshman Riley Pagel and incumbent backup punter Cameron Horsting -- who took kickoff duties once Roehler left.