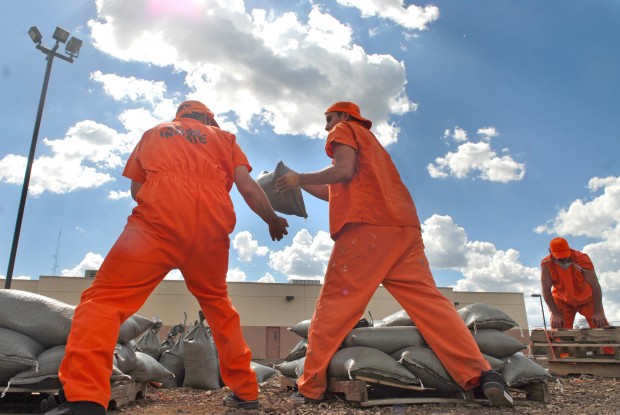 Ten men in orange jumpsuits toiled under the afternoon sun Wednesday at the Coconino County Detention Facility.
While some worked shoveling, others would hold bags for filling with sand. Another inmate would stack the bags on pallets. Twenty-two pallets already had been stacked with 55 sandbags each and were ready for shipping.
Their destinations are two distribution points near the Doney Park, Timberline, Fernwood and Wupatki Trails neighborhoods. Their purpose is to help residents keep at bay the stormwater that cascades the down the bare, steep slopes devastated by last year's Schultz fire.
"They were hurting for sandbags last year," said Sgt. Mike Wildermuth of the county jail.
So, in an effort to help, county deputies and other law enforcement personnel chipped in hours to fill sand bags for county residents affected by the flooding.
This year, in order to increase output by the time the monsoon season rolled around, Wildermuth said inmates were asked if they wanted to help. They did -- particularly the inmates from the Exodus in-custody drug and alcohol treatment program at the jail.
The staff running the Exodus program say the inmates get a chance to bond while doing meaningful work, which becomes a therapeutic element to their recovery from drug and alcohol addiction, Wildermuth added.
According to the sheriff's office, since January, the inmates have produced 30,700 sandbags, surpassing a goal of 20,000 that was set at the creation of the project.
"It's been working great," Wildermuth said. "We're just trying to help out, and it gives these guys something to do."
The inmates have put in nearly 120 hours of service to produce the bags. The sand, transportation and other needs are being provided by Tiffany Construction, which is under contract with the county.
Wildermuth said that, depending on the day and length of time inmates are available to work, inmates can get between 20 and 50 pallets of sandbags a day ready for shipping to the two distribution points for Schultz flood victims. The record for a single day is 77 pallets, or more than 4,200 sandbags.
The inmates will continue the project until the community need for sandbags is met.
Sandbag distribution points
-- Silver Saddle Store, North Highway 89
-- Summit Fire Department, 8509 Koch Field Road
The bags are free. If no filled bags are available, residents may fill bags from sand available at both sites.
CREC help for special need residents
The Coconino Rural Environment Corps is available to help residents who need support with delivering, placing or replacing old sandbags. Call the county Flood Hotline at 679-8390 for information.
Get local news delivered to your inbox!
Subscribe to our Daily Headlines newsletter.