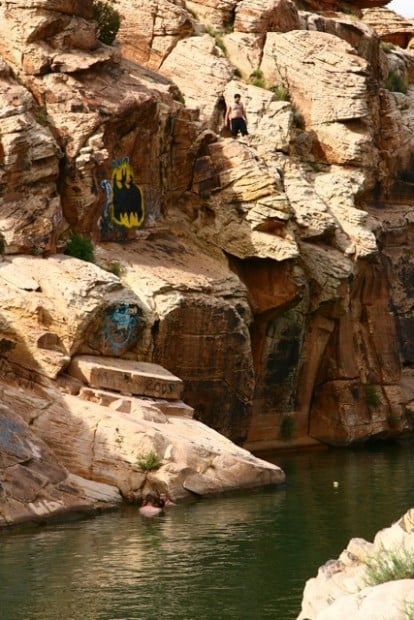 Red rock cliffs seem to stretch from the blue sky straight down to the clear waters.
The deep creek fills the slot canyon from wall to wall, providing a desert sanctuary just south of Winslow for kayakers, rock climbers, anglers, hikers and those simply looking to take a cool dip.
In recent years, East Clear Creek has also become a haven for partiers and would-be graffiti artists. Broken glass and spray paint are now found throughout much of the creek's upper reaches.
That has sparked 24-year-old Dallas Scott to organize an East Clear Creek clean-up this weekend. She's convinced about 15 people to spend their Sunday with trash bags picking up beer bottles and cans. Scott says she hopes others will join them, too.
The City of Winslow has committed to helping supply the volunteers with bags, gloves and dust bins for the broken glass.
"I'm not really sure what to do about the graffiti," Scott says. In some sections spray paint is pervasive from the water line all the way up the 30- to 50-foot cliffs. The graffiti consists of misspelled curse words, people's names and illegible tag marks.
One rock face bears a giant yellow and black Batman sign.
Scott says she's still looking for suggestions on how to get rid of the vandalism. It might need to be chipped off or sandblasted, she adds.
"When I was in high school I used to go to East Clear Creek and it was really pretty and really clean," Scott says. "I went back and it was really upsetting to me."
Despite the recent neglect, a typical weekend still entices a broad collection of recreationists. Rock climbers use the walls for deep-water soloing because the deep waters remove the need for ropes and harnesses. If you slip, all that happens is you get wet.
Kayakers love to paddle the tranquil waters, which flow almost too gently to notice. Anglers treasure the canyon for what the U.S. Forest Service claims is some of the best creek fishing in Arizona.
And Winslow residents use it as a summer escape to lie out on the rocks and cool off from the oppressive heat.
Scott says she likes to hike along the creek and explore.
She's hoping for turnout from a broad selection of people who use the creek.
"It would be nice if there was more people," she says. "There really is a lot of glass. I think it'll be tough to clean up."
Volunteers are to meet in a parking lot on the upper reaches of East Clear Creek just south of Winslow at 11 a.m. on Sunday. From Flagstaff, take Interstate 40 east to Winslow exit 252, drive through town and make a right onto Highway 87, turn left on Highway 99 and then turn right at the first dirt road.
Get local news delivered to your inbox!
Subscribe to our Daily Headlines newsletter.