As the clock struck 7:30 a.m. on Friday, the race to build new affordable housing in Sunnyside began.
Habitat for Humanity worked with JKC Inc. and Buzzard Construction to build two new affordable homes in the Sunnyside neighborhoods of Flagstaff from concrete to roof in just two days. The homes will eventually go to two separate candidates that Habitat for Humanity workers determine are in need of a home.
Normally a home can take at least two weeks to build with four to five crew members, but Brian Buzzard, owner of Buzzard Construction, created two crews of over 10 workers each to compete against each other and see which team could build the best home first.
"It's hard to believe we're only four hours in and we have almost all the walls up," Buzzard said. "I'm actually impressed with how fast everyone is moving."
Buzzard was wearing his hardhat while standing on-site, watching over the two crews of workers. He was there to help locate missing tools, ensure supplies went to the proper places and judge his workers' performance.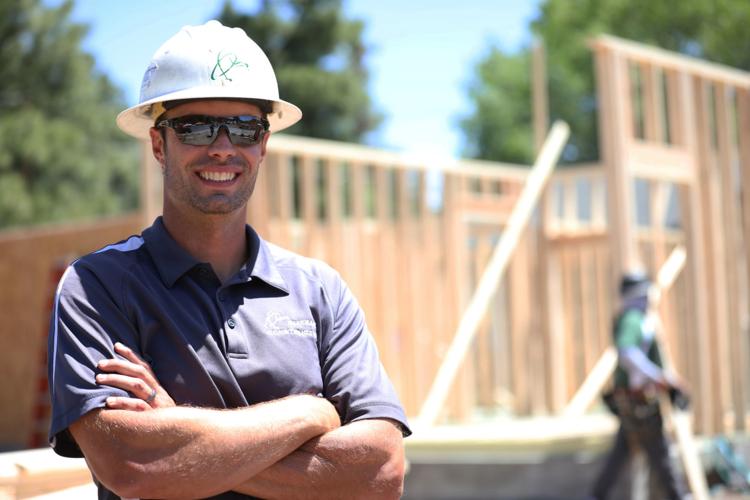 Buzzard said the workers had a lot of pride for the purpose of the build. He said the two crews had their different strategies for completing their work, but they would figure out which team was in the lead when the roofs were on.
The homes are over 1,200 square feet with three bedrooms, two bathrooms, a single-car garage and kitchen across the street from the Hal Jensen Recreation Center. Buzzard said the workers were proud of the work they were doing to create an affordable home, and they knew not to sacrifice quality and safety.
"It's cool to see two lucky families are going to be able to get these homes and be able to afford a home in Flagstaff, which means they're probably going to be able to stay in Flagstaff and not go somewhere else," Buzzard said. "I was born and raised here, so to help somebody stay here like what I'm going to do for the rest of my life is pretty cool."
While these type of construction projects do not happen often in Flagstaff, they're not unheard of for Habitat for Humanity. The blitz builds are projects that put up one or several homes within a short span. The type of builds are beneficial to get the home built quickly, but also because it saves the contractors time and money, Habitat for Humanity Executive Director Eric Wolverton said.
"The beauty is all those savings go to the future homeowners who will buy the home," Wolverton said. "They will actually be able to buy the home cheaper."
You have free articles remaining.
Register for more free articles
Stay logged in to skip the surveys
Habitat for Humanity, which is celebrating its 25th anniversary, raised the money for the two homes through community donations, and through its unique financial plan that involves buying and selling homes to people in need.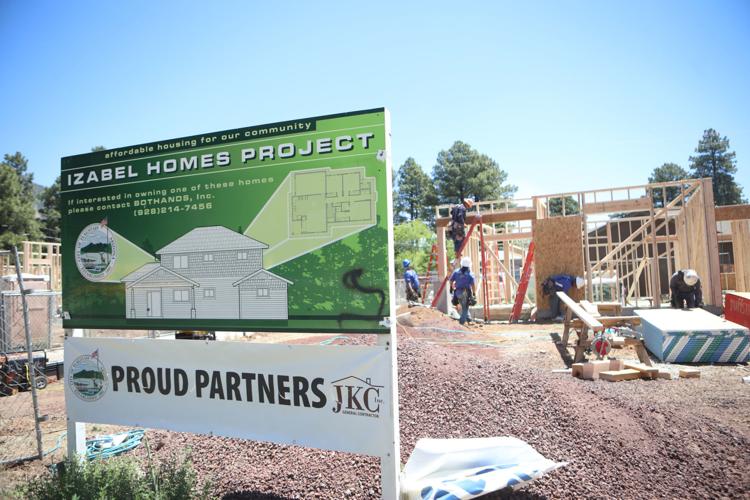 After building a home, Habitat picks a homebuyer out of their pool of applicants who need and can afford it. All of the mortgages they offer have zero interest and payments of around $600 per month. The mortgage payments that go to Habitat go directly into paying for more homes once enough money is raised.
All donations help Habitat reach its mission of providing more affordable housing for those in need. Kim Murdza, a board member who chairs family selection committee, said their process for vetting who is most in need of a home in Flagstaff can be difficult.
They define need on a case-by-case basis, factoring in aspects like if there are too many family members in a home or unsustainable costs for the family.
"Everyone has a story. All these families deserve home ownership. They're all wonderful people," Murdza said. "They're all working hard to improve their financial situation and improve the situation for their families."
Habitat has partnered with the City of Flagstaff for the North Izabel construction project, and plans to build a total of six homes in the plot of land. The last two homes to be built will be two-story homes, adjacent to the homes that were completed with this blitz build.
With the completion of these two homes, Habitat in Flagstaff will have built 20 to date. In order to have enough yearly income based off of mortgages to build one home a year, their goal is to reach 35 homes.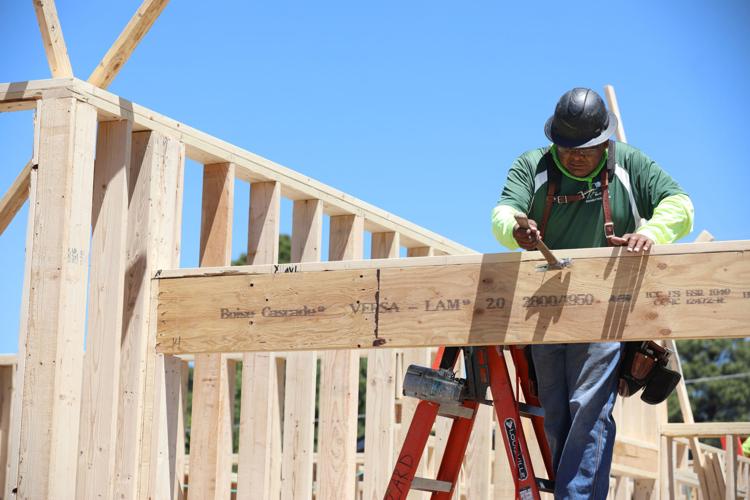 It has been two years since Habitat was able to build a home, Wolverton said. Along with the board of Habitat, he felt they wanted to get these homes done this year as a "shot of adrenaline" for the non-profit. He was excited to finally see them on the ground.
"When I'm watching these two homes go up, simultaneously, I just feel like I should pass out," Wolverton said. "Honestly, this is amazing. When you see the workmanship and the dedication and heart that is behind every nail that is going into this, knowing that the community invested in every nail that goes into these house builds, that's what humbles me."