Part one of a two-part series.
Before Literacy Center classes at the Coconino County Jail, inmate Kevin Wright's only formal schooling in his 35 years was his first day of kindergarten.
"I went home after school and I remember throwing my homework away. For whatever reason I didn't want to do it," Wright recalled of the incident in his Florida hometown. "I remember my parents telling me they didn't like the curriculum. 'Course, I just recently learned what that is."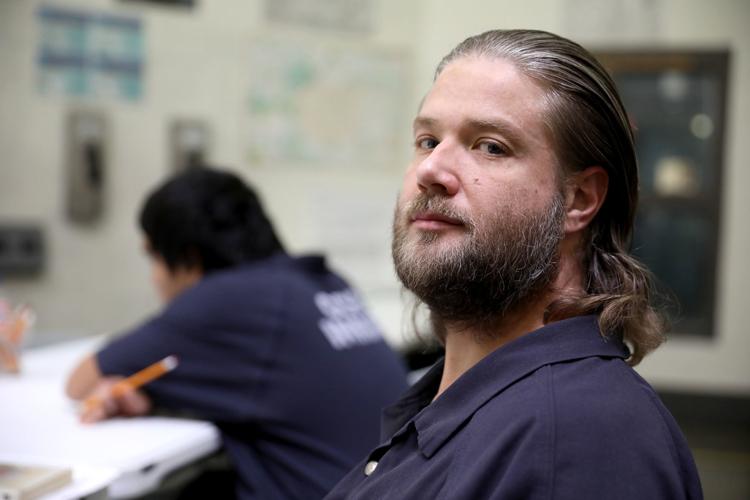 Wright's parents decided to home school him after that, but Wright described their teachings more as "life lessons," with Wright not learning to read until he was 13.
The unstructured time on Wright's hands and lack of accountability are what he said led him to make some bad decisions when he reached adolescence. Working as a mechanic by day and a mortician by night, Wright admitted that he struggled with drugs for over a decade.
"Thank god I got caught here," Wright said of getting cuffed in Flagstaff after he fled house arrest in Montana with his girlfriend's car. "Every time I've been in jail--and I've done about eight-and-a-half years--I've always been in a cell."
When Wright was booked in May 2018, he was initially placed in Pod A, the maximum security unit. By September of that year Wright's classification status had been moved down to medium, meaning he was not seen as a high safety concern and was allowed to apply for the jail programs. He was moved to the jail's Exodus unit, which helps inmates with substance abuse. In October, Wright graduated from Exodus and was recruited into the re-entry program after holding a one-on-one interview with Crystal Luna, the jail's inmate development specialist.
In the Exodus program, Wright "gained a healthy and strong appreciation for sobriety and the importance of self-development," explained Luna. "Once he entered into re-entry he was able to explore his previous life decisions and just how far one person's actions can affect others."
Luna, whose primary job is to provide educational development opportunities to all individuals in the facility, said Wright's personal growth was inspiring to many men in the program, helping them to open up and change themselves as well.
"I like to motivate people. Helping others helps me," Wright said. "This program here was my first experience with anything that was kinda like school. That's why its been really fun. I always wanted to go to school."
SCHOOL BEHIND BARS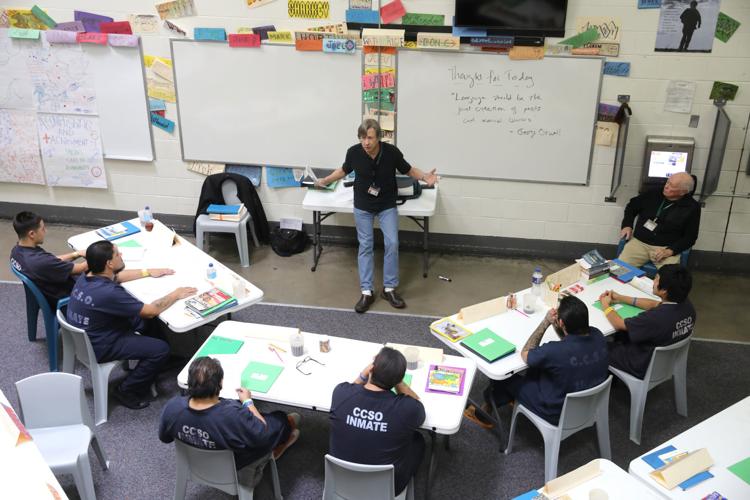 When Literacy Center volunteer Richard Parsons walks to the front of the Pod C lobby Jan. 17, it does seem like a classroom, albeit with a dress code of navy jumpers with "CCSO inmate" printed on the backs.
The 20 inmates offer each other chairs, place their hand-drawn name cards on the table in front of them, and ask around for spare pencils.
Before Parsons begins the lesson of the week, he explains what the Literacy Center is and the plethora of services that the Sunnyside establishment can do for released inmates, including waiving their $25 yearly learner fee, paying for GED practice tests, helping with resumes and writing letters to prospective employers, in which they need to state why they were in jail.
"Do you have SAT testing?" one inmate asks.
"No, but we can point you in the right direction," Parsons responds.
"Hell yeah," the inmate replies.
Parsons starts his lesson on irregular plural nouns, citing examples such as mouse changing to mice, man to men (not "mens"), foot to feet, etc.
Register for more free articles.
Stay logged in to skip the surveys.
"Folks laugh when you get it wrong, don't they?" Parson asks, adding that louse changes to lice. "Do you know what a louse is? I have a lot of them on my head." he jokes.
"Laos is a country," one inmate replies.
Instead of shouting at the inmate for speaking out, Parsons and the inmates laugh and move on to thesis and theses.
A retired USPS letter carrier, Parsons has been a volunteer tutor at the Literacy Center for over five years. Parsons said he likes the fact that the Coconino County Jail "places more of an emphasis on rehabilitation and reducing recidivism than most other jails."
Although like most jails, a library is available to inmates, Parsons said a library is not often enough for many inmates who previously spent little to no time reading.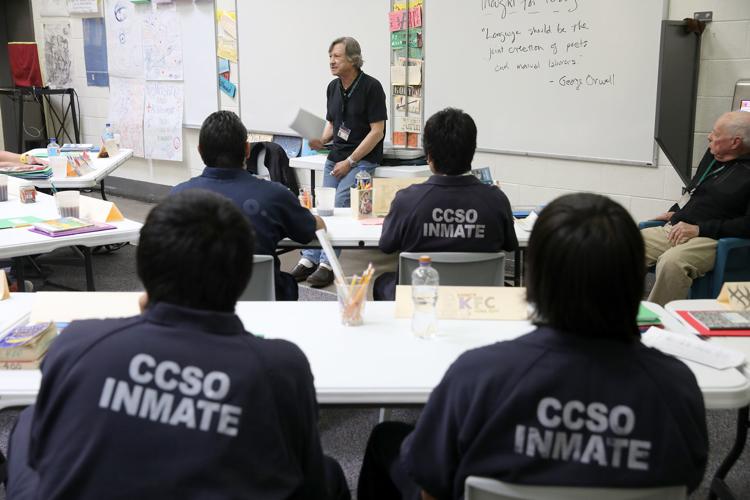 "Many of them have a very low level of reading ability. I feel that we provide an entrance point, a path to enjoying reading. Once they begin to feel the pleasures reading can provide, and see a larger world open up to them through literature, news of the world, poetry and critical thinking, I believe it may start them on a lifetime journey of becoming fuller human beings," Parsons said, adding that gaining communication and reading skills also helps inmates find and keep jobs.
Of the re-entry program's inmates in 2018, approximately 25 percent had not graduated high school or received their GED when they started. Around 33 percent had graduated from high school, 18 percent had their GED and 24 percent had some college credits or a degree.
GRADUATION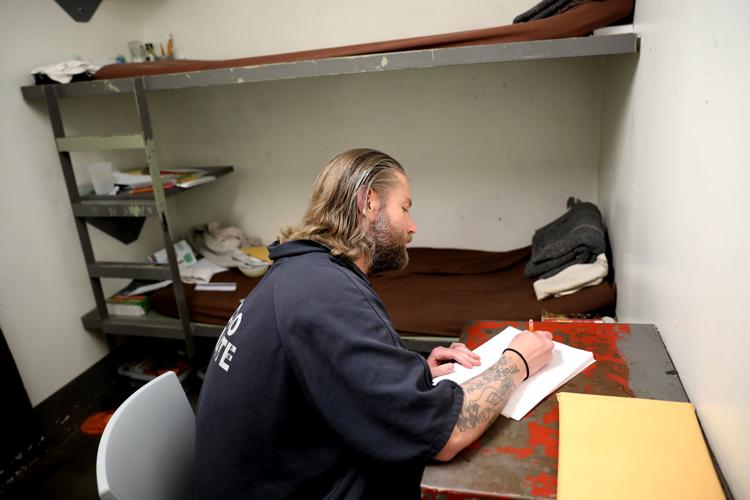 Wright's only experience in Flagstaff was speeding through the town before he got pulled over and arrested. But when Wright is released in the spring, he said he will stay in Flagstaff to utilize the Literacy Center's programs and other programs the city has to offer.
"Initially I'm gonna take advantage of these resources. I'd be crazy not to," Wright said. "I'm gonna be able to get out with absolutely nothing, and have somewhere to go. Normally I'd be left to the wolves, so to speak. And a person like myself – I may not have a choice but to make the same mistakes. This time is different."
Wright noted that he will be able to get a bus pass, an ID, as well as clothing and shoes with help from the Goodwill Career Center on East Route 66, which also assists released inmates with finding jobs and housing.
Inmates in the re-entry program are members for life, Luna said, being able to take advantage of the Literacy Center's one-on-one tutoring and the Goodwill Career Center.
After an inmate makes it through the seven-week re-entry program, there is a graduation ceremony for them the following Friday.
"We have special hats and certificates and there is a special moment for people to speak about each grad," Luna said. "We give the graduates a moment to speak as well. It's a pretty big deal and we try to go the extra mile."
Wright graduated from the re-entry program in December.
"This was my first experience with any kind of schooling, structure, accountability – it's life-changing. I'm a completely different person than I was," Wright said, adding that he has grown more in the few months in re-entry than he has in a decade. "I've never graduated anything because I never went to school. So what's cool, when we graduate here, we get to wear funny hats, and then everybody gets a chance to talk about you."
In the future, Wright hopes to help with the recovery community and find a way to assist single parents with their cars for little or no cost.
"There's so many people that have had a hand in my recovery [and] something I learned in AA is to keep it, you have to give it away," Wright said.