After 13 years working in the legal profession in Coconino County as both a deputy county attorney as well as most recently judge pro tempore, Judge Ted Reed started his job as an elected judge of Division 1 on Wednesday.
After former Judge Jacqueline Hatch retired at the end of last year, Reed has now been tasked with taking up her case load in addition to his own. As a judge appointed in the 2018 election, Reed will continue to work within Coconino County's Recovery and Juvenile Court in addition to now taking criminal and civil cases.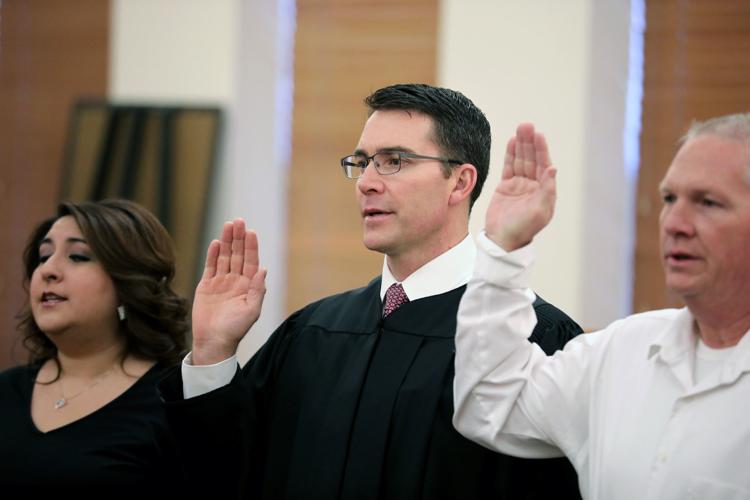 Despite his eight years on the bench, Reed has only overseen one jury trial, but the new judge is looking forward to this opportunity to oversee a diversity of cases.
"Excited, that's how I feel," Reed said. "I think we have many cases that are ready to be set for trial -- even this next week, where we're going to be setting cases to trial and calling juries."
The judge acknowledged that adding criminal jury trials to his caseload will force him to ensure that people are being treated fairly by attorneys and juries. When he has to decide a sentence, he will need to figure out the proper application of justice for both the person found guilty, but the community at large.
"That's part of the experience. It is figuring out how to hear about the bad things that are happening to people, and figure out how to ensure people's rights are afforded," Reed said. "When you have the opportunity to help shape behavior for a better outcome, you do that in light of protecting the community."
Reed explained that some of the family cases he has overseen as a judge have been in some ways more difficult than murder cases, because family cases can require creative solutions for the children involved in custody or divorce proceedings.
"That's all on the judge's shoulders. There is no help," Reed said. "You can bring in professionals and try to implement services, but that's all on the judge's shoulders."
He also felt that the experience he has gained in recovery and juvenile delinquency courts has been invaluable.
Recovery Court is one that is designed to help people who have a high risk for violating their probation and a high need for a court-supervised treatment program, Reed explained. He said the Recovery Court is built to intercede within the cycle of addiction and criminal incarceration, which does little to prevent continued addiction.
A judge is expected to act different in Recovery Court, including using a different tone than a regular criminal proceeding. Reed explained that many people in the court have a negative view of prosecutors, defense attorneys and judges.
"We try to reframe their view of the world by understanding that this judge cares about me, but they certainly won't learn that if they're being yelled at," Reed said.
Presiding Judge Mark Moran explained that Reed has spent his time in the Recovery Court improving it by increasing awareness, size and helping it receive dedicated funding. Moran said Reed's position as a judge pro tempore, or as a judge that can be hired and fired by the county, has allowed him to gain experience as he helps take some cases off of other judges' plates.
"Judge Reed has been with us cutting his teeth and doing everything except jury trials," Moran said. "He brings a very experienced and balanced background to that position, much more so than other judges moving from pro tempore."
Reed looks at this part of his life as a voter-appointed judge as his next "chapter," and sees it as one of learning.
"In this job, experience matters. When I took the position I was an experienced prosecutor and I had some experience in family law," Reed said. "Since then I've handled an extremely heavy case load in juvenile court and recovery court. Every case has its own dynamic. Every case provides experience."
After his election by the voters in 2018, voters will be asked whether they would like to keep judges like Reed on through retention elections. Reed expressed his appreciation for being able to work in Coconino for the voters, and hoped to remain retained in the future.
"I love Coconino County. I'm happy to raise my family here, to serve my career here. I'm honored to do so," Reed said. "I have no intention of serving anywhere else. I intend to work here until I retire if the community allows me to do so."