The trial to determine whether Jayda Fortune, 18, is guilty of second-degree murder for the death of Jaron James, 23, at the L Motel in 2017 began Friday afternoon.
Jayda Fortune is one of four defendants who were charged with James's death after he allegedly touched Fortune at a party. Two of those charged have pleaded guilty while the other, Mirelle Gorman, 18, is still awaiting her trial.
Fortune was also charged by a grand jury with underage consumption of alcohol.
After prosecutor Ammon Barker's opening statement on Friday, however, defense attorney Gregory Parzych asked for the jury to be removed so he could file a motion for a mistrial.
During Barker's statement, James' family members began crying in the courtroom. Parzych cited their cries as unfairly impacting the jury's sympathies. He alleged that there were no photos or content that elicited the emotional reaction.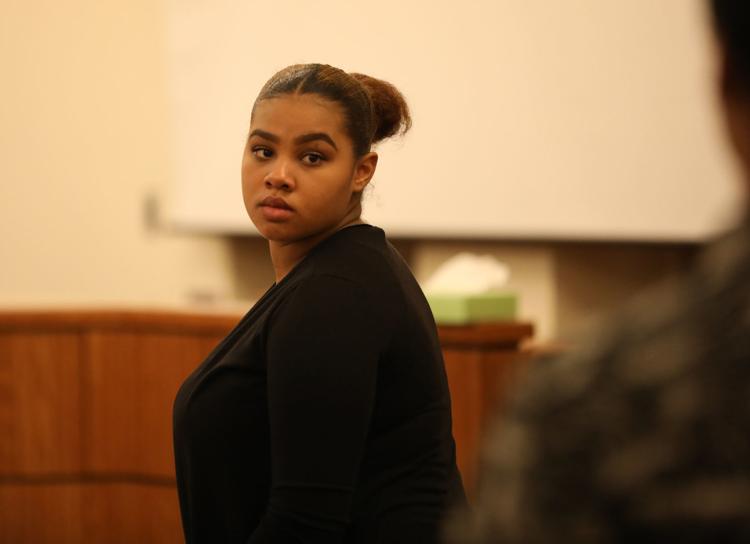 While Barker did not dispute that the crying occurred, he asked the judge to instruct jurors to remember that sympathy for the victim's family is not evidence, as opposed to declaring a mistrial. Judge Mark Moran denied the mistrial motion, saying that he understood murder cases can evoke emotion.
"I think there's going to be some emotion involved," Moran said. "I don't believe emotion was unusual or excessive where it affected the jury."
Second-degree murder comes with the possibility of a 10- to 25-year sentence. Lawrence Sampson-Kahn, 20, and Kayson Russell, 21, both accepted three years of intensive probation in their separate plea deals that involved negligent homicide.
You have free articles remaining.
Russell and Kahn are expected to testify in Fortune's trial.
Barker explained that James died after blunt force trauma to his head caused his brain to bleed, causing pressure to slowly accumulate in his brain.
James was left on the ground at the party after the assault, Barker said, and it was not until the next morning when people found he was dead.
In both parties' opening statements, they recounted the scene at the L Motel the night before James died on Sept. 6, 2017. After explaining the party scene in the hotel room, both brought up how people have alleged that James had touched both Gorman and Fortune, which led to an altercation.
Barker said witnesses' stories were going to change, as some lied and others were under the influence of alcohol. But despite those differences, he highlighted one factor that he believed was consistent in multiple witnesses' stories.
"The defendant Jayda Fortune punched and attacked the victim while he was vulnerable," Barker said.  "It's undisputed by every eyewitness in this case."
However, Parzych focused on the reason behind Fortune's actions, rather than attempting to refute the prosecution's characterization.
He alleged that witness testimony will show how James was being aggressive and trying to start a fight with people. He then alleged that James had groped and sexually penetrated Fortune with his hand, which led to Fortune and Gorman responding in self-defense.
"17-year-old Jayda Fortune — scared, crying, upset — was trying to defend herself from an angry, aggressive, drunk 23-year-old," Parzych said. "Jayda did not commit second-degree murder. She was just trying to defend herself."